China appears to be over the worst of the COVID-19 pandemic. But how has the country's resilient community of international NGOs adjusted its work to the unusual situation over the past few months? And what kind of future will they face? 
---
It is safe to say there is no aspect of life around the globe that has not already been impacted by the COVID-19 pandemic. Over the last few months ordinary work, study and social interactions have ground to a halt in country after country. NGOs and charities have been as heavily impacted by the crisis as any other sector. On-going projects have had to be suspended or stopped due to the need for social distancing and travel restrictions, and the worldwide economic crisis is making it harder for NGOs to ensure continued funding and financial sustainability.
At the same time, civil society groups across the world are repurposing their work to face up to the challenges posed by the pandemic. Many organizations have been collecting medical supplies and protective gear for overwhelmed hospitals, fighting disinformation and raising communities' awareness of the need for social distancing and proper hygiene, and providing food to poor people who have lost their sources of livelihood due to the lockdowns.
So how is China's small community of international NGOs coping with this unprecedented situation? In China the virus has already been fairly well contained, and life in much of the country is slowly creeping back to normal. On the other hand the economy is still severely impacted by the pandemic, just as in much of the world, and NGOs are also finding it hard to get their work back on track.
For many international NGOs in China, the COVID-19 pandemic came just as they had adjusted to another much less dramatic shift in their work environment, the passing of the Overseas NGO Law in 2017. The law mandates that all overseas NGOs that want to work in China have to register a representative office with the Ministry of Public Security. Up to now, overseas NGOs have registered a total of 528 representative offices. The organizations that have succeeded in registering an office have had to further contend with increased bureaucratic requirements and supervision of their work.
CDB spoke at length with the chief representatives of two international NGOs currently working in China. One of them is Haider Yaqub, the country director for China of Plan International. Originally from Pakistan, Dr. Yaqub has worked for Plan International for 20 years, and was Deputy Regional Director for Asia from 2011 to 2017. CDB reached Mr. Yaqub, who is currently back in his home country, via video.
Mr. Yaqoub recalls how, when it became clear that COVID-19 was going to be a big deal, Plan International's first reaction was to do a count of their staff in China, and make sure of everyone's whereabouts and whether they were safe. As he says, "in China you can obtain such information very quickly, because of the well-developed information system".
After ascertaining that everyone was doing fine, Plan had to decide how to continue its work. All staff was asked to work from home until mid-March, when it was decided that those with essential business to conduct could go back to the organization's office. By mid-April, around half the staff was regularly going to the office again. During this time, Plan held many team meetings online, and took the chance to update its systems and develop new programs and projects. Once a week, staff would come together online for a "virtual coffee".
In China, Plan International's main areas of work are early childhood education and development, and youth employment programs. Given that the entirety of China's education moved online after the Spring Festival, it was obviously not possible to carry out the NGO's programs in their original form. Plan started re-thinking its programs and renegotiating with its donors, while trying to keep up with the information available about COVID-19, which was changing every day.
As Yaqub puts it, "if we can't go to the schools, how can we run our robotics programs? How can we continue training girls on financial management if they are not going to school? We have trained migrant women on different jobs, but they have not been able to come back yet. They all had jobs, and now they are jobless". Fortunately Plan International's government supervisory unit, the Shaanxi Women's Federation, was sympathetic and immediately approved all the changes in the NGO's annual plan. The Public Security Bureau was also supportive.
Now that schools across China are starting to re-open, focus has shifted towards what "socially-distanced" schooling will look like. As Yaqub points out, in the rural areas where Plan International works social distancing will be much harder to realize, since classrooms tend to be overcrowded. This will widen the gap between urban and rural education, but it may also provide new opportunities to implement long-distance learning in rural areas.
When asked about the general impact of the pandemic, Yaqub says that in the long run it may have an impact on the flows of international aid, but for now he doesn't see that. There is still a willingness among donors to provide aid and support the developing world. He also says he was impressed with the Chinese foundations, which mobilized millions of Yuan very quickly. He predicts that this crisis may allow Chinese civil society to reach maturity and provide extensive services to the people, plugging the gaps that the government cannot fill. He adds that Plan International is very definitely not thinking of leaving China, in fact it is trying to localize its operations as much as possible.
The country's high level of Internet penetration, even in rural areas, clearly constitutes an advantage for carrying out projects at a time of reduced mobility.
Another person with whom we spoke is Michael Hermann, the Chief Representative of the Yunnan Representative Office of the Federation for Associations connected to the International Humana People to People ('HPP') Movement, a Swiss NGO which has three Representative Offices in Yunnan, Sichuan and Chongqing. The Yunnan office is based in Kunming. Mr. Hermann recalls how at the end of January, when the pandemic really got underway, Kunming was closed down and people were told they could not go out without face masks, but most of HPP's employees could not get hold of any.
For seven days Mr. Hermann went daily to several pharmacies, but all the masks were sold out. So HPP tried to source face masks from Germany, Denmark, Spain, India, Laos and Vietnam through local HPP member – but either they were sold out or the government had just issued export prohibitions. Finally he was told that a contact in Nepal had bought a large amount of masks, and Humana sent two people to Nepal to pick them up. When they arrived all the masks had gone, but luckily by going from pharmacy to pharmacy over two days they managed to buy and bring back 4,000 masks. They convinced customs to let them through because they worked for an NGO, despite Nepal just having stopped exports. HPP also managed to source 5,000 masks from Zimbabwe, so in the end each employee as well as project partners' employees received 50 masks as a gift, and the excess was given to project village teachers and local cooperation partners.
In China Humana People to People works on preschool programs in rural villages, mostly in Yunnan province. After the Spring Festival – in mid-February – the NGO was supposed to start a ten-day training program for teachers. Since everyone was locked down in their villages the training had to take place online, but it still went ahead.
As Mr. Hermann explains, there are currently four organizations in China using Humana's model, and their projects involve a total of 300 kindergartens and 9,000 children. In the first week of February all the organizations were asked to contact all their teachers, who in turn were asked to contact the parents and find out whether the children were safe and sound, provide COVID 19 health education materials and find out about the local epidemic situation and the risks to the projects' children. Luckily none of the project beneficiaries were sick, and only a few cases of sickness were reported in other non-project townships. Humana then followed up regularly with all the families for four weeks.
By the time we spoke to Mr. Hermann, in mid-April, Humana's preschool projects were not yet back to normal (the spring semester was originally supposed to start on March 2). In Yunnan the classes preparing for the national examinations – gaosan and chusan – started up again in mid-March, with social distancing and the children split over several classrooms, but kids in other grades were told to continue learning from home. Originally all classes were set to start up again on the 1st of April, explains Mr. Hermann, but then Yunnan had some imported cases and it was decided to postpone again. As of publishing time, preschools in Yunnan have still not opened, and 1.7 million preschool children are staying at home and require whole-day care and support from their families. The educational authorities are currently talking about allowing preschools to open in the second half of May, 'if the conditions are right'.
In the wake of the outbreak, Humana switched its focus from running preschool classes to parenting education, conducted via mobile phone through local teachers. As well as its educational projects, Humana also runs some income-generation projects for farmers, which remain on track, and an HIV/AIDS outreach project that started up again in late March with the support of the local government.
Mr. Hermann makes it very clear that Humana has no intention to discontinue its work in China because of the pandemic. As he says, "I don't think the pandemic would have an impact on our long-term work even if schools were closed for the whole year. We are lucky because in China there is very high connectivity, so if we need to do everything online we can do it, even if we will have to change our programs and budgets."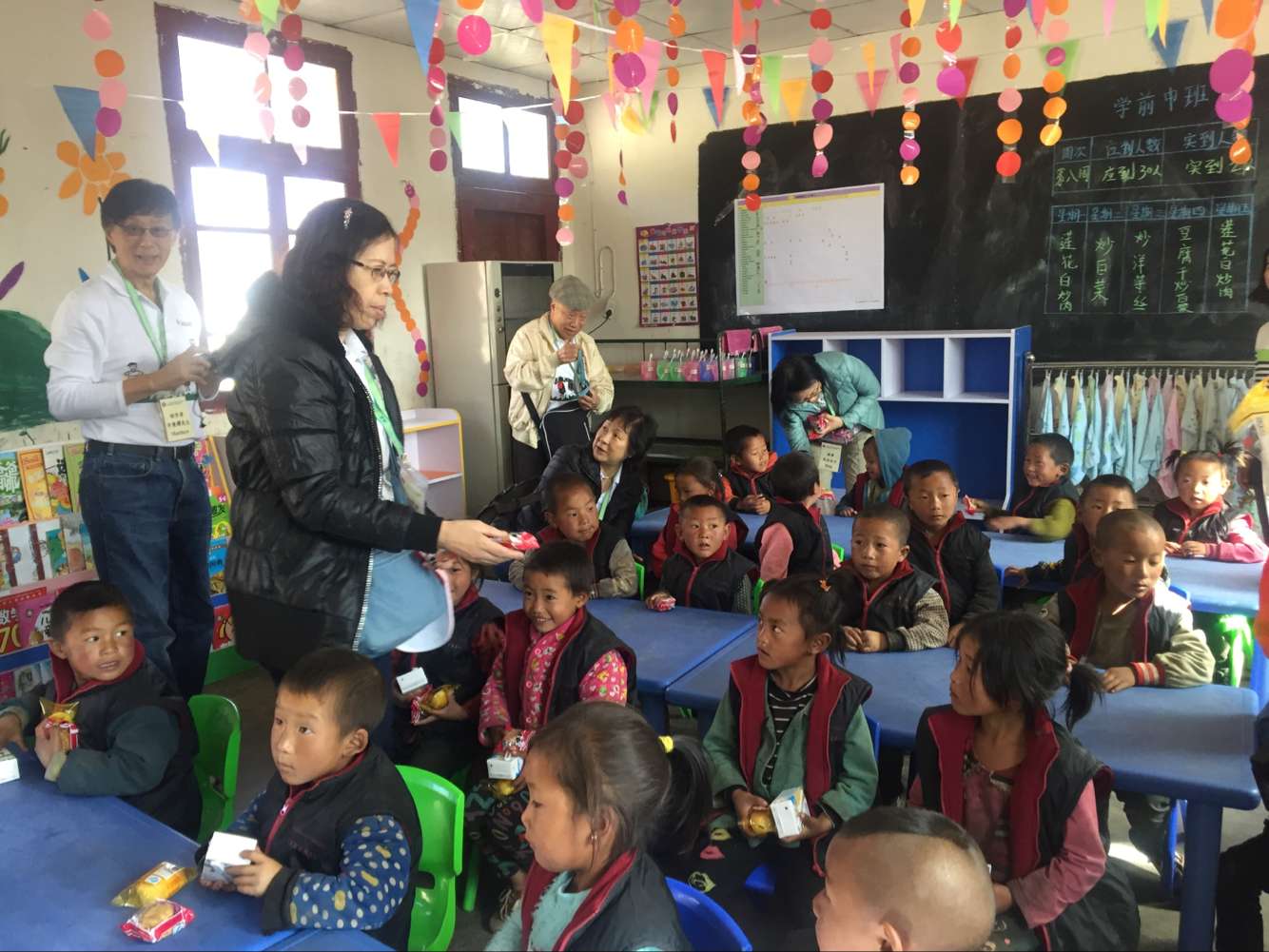 While Plan International and Humana People to People have both registered their representative offices with the Chinese government, other international NGOs with a long-term presence in China have found themselves unable to register since the new law came into force. The law requires NGOs to find a government department willing to act as their Professional Supervisory Unit (PSU) before they can register. This can be an insurmountable obstacle for organizations whose field of work is considered to be in some way sensitive, or for smaller NGOs that lack the prestige and human resources necessary to navigate the bureaucratic obstacles and find a PSU.
There is however another option for international NGOs wishing to conduct projects in China, which is to file a "temporary activity". In order to do this it is necessary to team up with a local organization that acts as the Chinese Partner Unit (CPU). Temporary activity permits are valid for a maximum of one year, but can be renewed. This method has been widely used by overseas NGOs as an alternative channel towards achieving legality for their work, as we reported on last year.
Greenpeace is one of the international NGOs that have been unable to register a representative office under the new law, in spite of being present in Mainland China since 2002. For the last few years, it has been relying on filing temporary activities to keep running its programs within Mainland China. By doing this it is has been able to run multiple projects, from a survey of urban air pollution and population health to an ad campaign in the Beijing subway to raise awareness of the need to protect the South Pole.
Yong Rong, head of policy and external affairs for Greenpeace East Asia, explained to CDB that since the pandemic began the organization has had to put most of its work in China on hold and shift to online activities. They did however find a way to assist one of their local partners, a local foundation in Yunnan working on a nature reserve, by providing them with personal protective equipment (PPE) against COVID-19.
Greenpeace had already worked with this foundation in the past, and became aware in February that the work of their patrols in the reserve had been severely affected by their lack of PPE. A batch of PPE was sourced from Hong Kong by Greenpeace, and then donated to the foundation. The Overseas NGO Management Office of the Yunnan PSB were highly supportive, allowing Greenpeace to first source the PPE based on an oral agreement and then later deal with the official "filing" of the temporary activity permit.
Other than this, Greenpeace has found it difficult to start new projects over the last few months, with local partners unwilling to act as the CPUs for their temporary activities because they were focusing on anti-virus activities and reluctant to start their usual projects. It was also not possible to process the paperwork for a couple of temporary activities that came to an end in February, since it was unfeasible to get the official stamps from the universities acting as local partners because their offices were closed. The PSB understood the situation, and allowed Greenpeace to delay the filing.
Yong Rong emphasized that Greenpeace has no plans to give up on China, and it intends to continue trying to register a representative office, which would make its work far simpler and enhance its legitimacy in the eyes of the authorities.
As the pandemic devastates many less developed nations, donors may shift their focus towards the countries impacted most severely by the coronavirus.
As the examples above show, many overseas NGOs based in China are finding ways to adapt to the new situation and carry on with their work. The country's high level of Internet penetration, even in rural areas, clearly constitutes an advantage for carrying out projects at a time of reduced mobility. For NGOs working in the field of education, of which there are many, shifting towards an online model is a natural step.
Moving forward, the crucial question for overseas NGOs in China over the short-to-medium term is how the COVID-19 pandemic will evolve worldwide. While China and some of its neighbours seem to have come through the worst of it, the pandemic is still raging in many parts of the world. The risk of imported cases has led the Chinese authorities to close the country's borders to almost all foreign citizens, as well as drastically reduce international flights. It is unclear when these restrictions will be lifted, but if they remain in place for too long it will become a real problem for overseas NGOs, which will be unable to fly staff in and out of the country.
Taking the long-term perspective, this pandemic is set to have devastating consequences in many less developed nations in Africa, Asia and Latin America. Most developing countries lack the medical infrastructure and the capabilities to bring this pandemic to heel any time soon. Even if the virus can somehow be controlled, or if a vaccine is found and then widely distributed, the economic fallout of the lockdowns and of the coronavirus-fueled global recession will hit these societies very hard. Over the last few years international donors have already been getting more reluctant to fund programs in China, which is seen as a country that has the means to help itself, and more interested in funding programs in countries with a lower level of socio-economic development. The pandemic may well accelerate this trend, as donors shift their focus towards the countries impacted most severely by the coronavirus.