This article profiles Sun Heng, an emerging NGO and community leader. Sun is founder of Migrant Worker's Home, an organization that could be called a NGO or social enterprise because it incorporates a business model for earning income to sustain and expand its operations in pursuit of its mission to create a community for migrant workers. 
Migrant Worker's Home is one of a growing number of NGOs devoted to helping China's vast "floating population" of migrant workers which is estimated around 150-200 million, depending on the source being cited. China's migrant workers were runner-up to Ben Bernanke, the U.S. Federal Reserve Chairman, for Time's Person of the Year in 2009 and have been a major factor behind China's economic boom. For those who can read Chinese, this article also provides a window into the changing Chinese lexicon for migrant workers. We use the English term "migrant worker" which does not capture the various permutations used in the original Chinese. Instead of the older term "floating population" (liudong renkou), they are referred to throughout this article as "nongmin gong" (agricultural workers), "dagongzhe" (manual laborers) and "gongyou" (worker friends).
Editor's note
In 2010 the Narada Foundation (南都公益基金会) started the pilot program of "The Gingko Partner Support Plan" ("银杏伙伴支持计划). Selected Gingko Partners receive 100,000 RMB every year for three years as well as specially tailored learning plans. China Development Brief interviewed four of these partners in hopes of sharing their personal and organizational growth history, as well as giving follow-up information about each individual's plans for using this support.
Sun Heng: Continuing the Search with the Migrant Worker's Home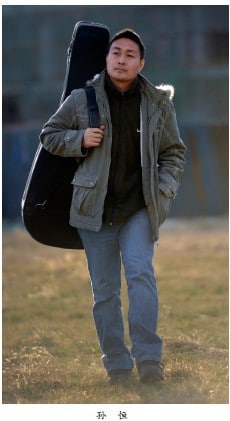 Up until 1998, Sun Heng was a music teacher in his home province, Henan. In order to pursue his musical dreams, he moved to Beijing. This was a perplexing time in his life; how would he survive in this city, let alone find meaning in his life?
In 1999, while Sun was working as a performing artist, he came across the migrant worker children's school, Mingyuan Elementary, and started volunteering there. While at the school, he worked with volunteers from all over the country. In 2001, he took a trip to a construction site near the Tianjin University of Science and Technology and performed for local workers. His audience received him enthusiastically, and found that they could identify with his music. He was disturbed by how the migrant workers worked hard all day, but had few opportunities to enjoy their free time. He decided to gather a group of like-minded individuals from all over the country and start a performance group. Sun continued working days at Mingyuan, and nights, weekends, and holidays rehearsing for performances.
On Labor Day 2002, his performance group officially established a migrant worker art society (打工艺术团). At the time the art society would accept anyone: many college students signed up, but there was also a large number of migrant workers. Its main goal was to enrich people's lives outside of work while the search went on for a more suitable location. Sun had noticed how many of the workers were not getting paid, and how their children had to attend low-grade schools. He often felt hopeless, awkward, and depressed: "As soon as we're done singing, everyone returns to their poverty. Their lives haven't changed at all."
At the same time, he also realized that once migrant workers come to the city, they lose their social network and have to rely completely on themselves; this is an extremely arduous process. Why not create a "family," so that outsiders can help each other?
Hence, the migrant worker art society took it to the next level, and the Migrant Workers Home (工友之家) was born. On November 1st of that year, they established a library to train workers in computers and labor law at Mingyuan Elementary. These activities continued until 2004. Sun and the art society recorded an album sung by the migrant workers themselves, called "The Workers of the World are All One Family." It was a great success, selling over 100,000 copies and bringing in 75,000 RMB in royalties.
How was this money used? Sun agreed to spend it on the organization, but wanted to make sure the money was put to good use. Recognizing that migrant workers' children lacked access to schooling, they decided to start their own school. It was to be situated in Chaoyang district's Jingzhan township's Pi village at the site of an abandoned arts and crafts plant, which they rented at 60,000 RMB per year. In the summer of 2005, Sun and more than a hundred volunteers from all over the country cleared the area and transformed it into the "One Heart Experimental" school ("同心实验"学校). This migrant worker school currently serves all children from preschool until the sixth grade. Sun recalls, "Looking back on it, I had no idea how hard it would be to run a school." ((Editor's Note: A growing number of migrant workers are bringing their families with them to the city, but find their children cannot attend public schools because their household registration (hukou) is based in the village or town where they came from. Generally only families with a hukou in the city can send their children to public schools. Over the last decade, the government has gradually opened up public schools in major cities to migrant children, but many are still not able to get in for various reasons.   As a result, many migrant families send their children to private schools, such as the one set up by Sun Heng. These schools, however, fall below the standard of public schools in terms of their facilities and staff. There are also very few private schools for middle school students and almost no private schools for high school students. As a result, many older migrant children must either quit school or return back to their hometown if they want to continue their education and prepare for the college entrance examination.))
With this new base of operation, Sun wanted to create a residential area and gathering space for migrant workers. He discovered that in modern society, there are plenty of useful resources lying idle and many who could make use of them. In 2006, the Migrant Workers Home opened a second-hand store (同心互惠商店) as a way of cleaning up unused goods and reselling them, providing affordable products to people living in the area. These second-hand goods consist mainly of clothes and are typically sold for under ten RMB.
Today, the second-hand store has expanded to seven locations, two of which are in Pi Village, and even one store in Xi'an. Currently the Pi Village stores have eight employees who keep things running smoothly. Sun stated that in 2010 the store's income reached 300,000 RMB, with over 50,000 RMB in profit. Resources from the store were used in the residential area and school to save over one million RMB, and the store also serves as the sole livelihood for its eight employees.
On Labor Day 2008, the Migrant Workers Home established a migrant workers art museum (打工艺术博物馆) in Pi Village to exhibit the lives and experiences of workers since 1978. Sun stated that the purpose of founding this museum was to "record the history of migrant workers, and advocate for their respect." Since ancient times, workers have been the driving force behind history, but have been left out of the history books. Similarly, in the thirty years since the reform era began, the contribution of migrant workers has been enormous, while their recognition has been miniscule.
The Migrant Workers Home has been called by Sun, "a new workers' community." He hopes that by advocating for greater respect for migrant workers, prejudice towards them will diminish. The way Sun sees it, the most important reason for recording the stories of the countless migrant workers is to change history. What they are doing is creating their own cultural codes, and changing society's image of this group from a political, intellectual, and cultural perspective.
Sun remarked that he wasn't particularly affected by his selection for Ginko's program. He understands, however, that the power of the program lies in its focus on individual support rather than on the level of program or organizational support. He has said that after being chosen as a Gingko partner, his life will not change much. Since many of his workers earn less than 2000 RMB a month, he refuses to use the Gingko funds to pay himself the considerably higher salary suggested by the foundation. Instead, he plans to use the money to subsidize other programs which have yet to find stable funding sources.
These past few years, the Migrant Workers Home has toiled along humbly. Its programs have increased in number as it has developed, so the organization must strengthen its management and figure out how to develop its social enterprise. Sun hopes that during his period as a Gingko partner, he will have many opportunities to go out and learn about other organizations, in order to broaden his field of view. These opportunities will prove invaluable for his organization.
When asked what he thinks about how Gingko partners will be treated in the next three to five years, Sun responded that these community leaders are not created by the Gingko Plan, but rather "the development of such people started long before they were selected by Gingko; on what grounds could you say that all their success is due to Gingko? That wouldn't be fair."   However, he is enthusiastic about the benefits he has received from Gingko: thinking about the future of his organization, he plans to study community organization, construction, and workers' social movements­.
In the residential zone of Pi Village, the walls are draped with posters of Che Guevara. Sun is a big fan, hoping to bring Guevara's spirit to Chinese soil. He hopes that through Gingko's support, he can travel to the sites of Latin American revolution, such as Bolivia and Cuba, and even some European and American countries to learn about their labor movements, as well as its relationship with corporations and society.
In Sun's mind, societal change is a long-term process, and his next three years are just one stage. He's aware that after reflecting on his anticipated experiences abroad, it will be no small task to find out how to apply them in a new environment.  In 2010, the Migrant Workers Home founded the One Heart Innovation Training Center (同心创业培训中心), beginning yet another new experiment. He hopes that in the future he can help similar organizations to develop.
According to Sun, "once you've got influence, you should use it to support others. Eventually, more and more people will start to participate, and real change starts."