Editor's Note: This article originally appeared online in 2012 and we are re-publishing it to mark the  2014 International Day of Persons with Disabilities which focuses on the role of technology in creating enabling working environments.
The growing popularity of social enterprise and social innovation in China is a reflection of multiple developments.  One is the government's recent push for social innovation to manage the varied interests and tensions in Chinese society. Another is China's globalization which is introducing international concepts and practices such as social enterprise and social investment. Still another has to do with the gradual mainstreaming of civil society in China, which has been remarked upon in other recent articles, and manifests itself in growing interactions between NGOs, on one hand, and the business and government sectors on the other.
It is unclear when news of Friends of the Disabled (FOD) as a successful social enterprise spread like wildfire in NGO circles. Even more surprising is that it is a well-known high-tech social enterprise, yet Zheng Weining, FOD's founder, for a long time had no idea what a social enterprise was. They just ended up here, without any influence from the outside world.
"The World's Second, China's First" social enterprise
FOD was started as a company by Zheng when he was already over 40 years old, and has been developing for 13 years. He endured a great deal of hardship to turn a small enterprise of just a few people into a high-tech  group that has tens of millions in assets, branch offices in Shenzhen, Zhuhai and Hainan, and initiatives in software development, cartoons and animation, e-commerce, and other areas. What people admire even more is that this miracle was created by people with disabilities with Zheng as their representative. At FOD they unleashed a huge potential force that is often overlooked.
FOD has just relocated to the Lotus North district. Before this, they were located in a residential building in Jingtian North district in Shenzhen's Futian District. In the new residence, one floor of hallways and rooms has been transformed to become a barrier-free office facility. There, disabled employees from different places all over the country come together to fight for their dignity and value. On the entrance wall eight characters come into view and the slogan "the more disabled you are, the more beautiful you are" is written. This was inscribed by Zhang Heidi, before she became the Chair of China's Disabled Persons' Federation, and has also become the Zhang Weining's motto. Zheng, who is tall and large, is often found sitting behind his desk working on the group's affairs. He speaks in a loud and clear voice while smoking. One cabinet on the wall of his office is full of honorary certificates and photos of him with leaders.
In the early 1990s after the death of his father, Zheng, a hemophilia patient moved south with his mother from Wuhan to Shenzhen in order to obtain blood for his therapy. At that time Shenzhen was the only city relying on voluntary blood donations for clinical use. In 1999 the passing of Zheng's mother came as a serious blow, and he became suicidal. But with the support of his wife and daughter, he decided to use his inheritance of 300,000 yuan, a seven-passenger vehicle and two homes, to  start his own business.
Zheng though did not know where to start to find other entrepreneurs with disabilities. He made a phone call to a well-known local private volunteer organization – the Shenzhen Volunteers Association. The Association was able to identified five people with different disability types who came together with a "come and see what happens" mentality.
Liu Haijun, the CEO of FOD, recalls the situation in those days. "Although it wasn't easy to act, as long as there was an opportunity we would go after it, Our members were unified and not easily dissuaded". Zheng's innate understanding of the disabled is an important reason that FOD was able reach earnings in the tens of millions with a staff turnover rate of only 0.72 percent. Partly due to personnel stability, FOD has been able to maintain specialized standards in its scientific research and was authorized by Carnegie Mellon University's Software Engineering Institute the rights to use its software and systems engineering platforms.
In the beginning, Zheng used his own home as a space to launch the business, bought some computers and tested the water for his new life's first step. During the start up period he used his own vehicle to take some of the founding members from every corner of the city to his place of residence that was being used as the office. To make it easier for all and save on gas, everyone came to eat and live together, learning and using new technologies.
In 1999, the "Chinese Disabled Persons Network" was officially founded to provide services such as rehabilitation guidance, matchmaking, employment advice, and psychological counselling. In addition it acted as a internet service provider to disabled people both in China and overseas. The site was later said to have become the social welfare website with the highest 'click' rate within the Chinese community. In January 2001 the Chinese Disabled Persons Network established a joint stock company for the disabled that became the predecessor of today's FOD.
With the website's successful start, everybody saw that they had the ability and strength to succeed, but found that this kind of work brought no real income. With Zheng's mother's 300,000 inheritance rapidly diminishing, they came up with the idea of a "network to support the network". In May 2001, after the Shenzhen Municipal Government granted internet café licenses, their website began running "Care Shelter" Internet cafes and the staff began to enjoy a 600 yuan a month salary.
However due to a lack of core internet technology the 'Chinese Disabled Persons Network' was unable to make a breakthrough. It was not until October 2002 when a young man named Li Hong joined them that circumstances began to change. Li Hong was a graduate from Peking University where he had studied physics, and was seeking work but due to his disability had yet to find an opportunity. He was running out of ideas when he received a message from Zheng and decided to travel south and join him. Thanks to his understanding of internet technology, he quickly improved the Chinese Disabled Persons Network's operations and laid out the high-tech direction that FOD would later take. The team led by Li Hong began to undertake website design projects from the corporate and government sector to expand their sources of income. After gaining recognition, FOD's start-up team slowly gained confidence and strength. Some customers even started coming to them to request help in developing applications software.
Later, as more specialists came in, and it became certified as a national and international high tech enterprise, FOD gained the ability and capacity to take on almost any business. FOD's scale continued to expand, eventually resulting in the FOD Group with 28 offices in Shenzhen, Zhuhai, Hainan and other places around China, over 1200 disabled employees and a sales revenue in 2010 of over 94 million.
In 10 years there are two facts that Zheng is particularly proud of: "First, I never received any financial support from the government's Department of Civil Affairs, and secondly, I never applied for bank loans."  Of course, FOD received other support from the local government such as free space for its headquarters and branch offices, and government contracts during its early website construction phase.
FOD utilized new technologies that enabled the disabled to make full use of their own special skills and strengths, gain economic independence and realize their self-worth, developing into a mature support model for people with disabilities. More local governments have invited FOD to help them come up with business models to address employment problems in the local disabled population. Zheng realised that FOD alone could not solve the problem of unemployment for so many people with disabilities and needed to get more people involved. So FOD put forth a "High-tech Employment for the Disabled" model: FOD acted as an incubator for new social enterprises, providing start-up funds, branding operations and enterprise-community management models and barrier-free guarantees. They relied on the local industrial environment, using idle resources from local Civil Affairs departments, and commercial methods to achieve the societal goal of employing disabled people in local high-tech enterprises. This FOD model is known as the "social enterprise incubator" and is gradually gaining in popularity.
FOD's model received high praise from Xu Yongguang the chairman of the Narada Foundation: "Due to its international innovation, FOD is not only China's most successful social enterprise but also outstanding internationally. If Professor Yunus' Grameen Bank for the poor in Bangladesh is the world's first social enterprise, then Zheng's 'Friends of the Disabled' is the world's second."
How does FOD, a "national high tech enterprise", bear any relation to a social enterprise? This all goes back to 2009, when Zheng in his "big brother" role, made a major decision to use FOD to make a huge profit while remaining a non-profit organisation.
The "Zheng Weining Charitable Foundation" as Part of "One Body, Two Faces"
From the time he started the Chinese Disabled Persons Network, Zheng decided to orient FOD's goals toward that of a welfare-type enterprise. No matter how it developed, it should serve the disabled. At the same time that FOD expanded, Zheng began to reflect on a critical question: what would happen to FOD if he was no longer there? How would the FOD Group maintain its plan for the disabled to participate jointly in work and life? Would FOD gradually become more commercialized? This was Zheng's concern.
In 2009, after surviving a major physical condition, Zheng made another major decision: in the presence of a lawyer as a witness he wrote in his will that all his shares be donated to the work of the disabled, rather than be inherited by his family. A feasible approach was to set up a private foundation, which also meant donating all of his 90 percent personal holdings in FOD and his 51 percent share in all FOD branches, as well the value of the trademark brands of "Friends of the Disabled" and "Zheng Weining". In November that year, Zheng founded the Shenzhen Zheng Weining Charitable Foundation under his own name. Also in 2009 the Ministry of Civil Affairs and the Shenzhen Municipal Government signed the "Ministry-City Agreement" encouraging the first foundation to be established after Shenzhen's promotion of the comprehensive Civil Affairs reform ((Editor's Note: In 2009, as a result of the "Ministry-City Agreement", Shenzhen became an experimental site for the registration of social organizations and foundations. Soon afterwards, Jet Li's One Foundation which had been trying unsuccessfully to register in Shanghai as a public foundation, was able to finally register as a public foundation in Shenzhen.)).
A major strategic decision of the 'Zheng Weining Charitable Foundation' was to comply with the "Shenzhen City Zheng Weining Charitable Foundation Constitution" which was drafted before its establishment, and give responsibility to a governing board. The first board had nine members who came mainly from FOD and the Shenzhen Volunteer Team to ensure the charitable nature of the Foundation's future development. By means of a transfer of shares, the 'Zheng Weining Charitable Foundation' became the property of FOD and its branches which assumed the controlling share.  Within the board, all members, including Zheng, had equal decision-making rights.
In addition, Friends of the Disabled then established several social welfare organisations. In 2005 they founded and registered a social organisation – the Shenzhen Information Accessibility Research Council. And in 2009 they founded a civil non-enterprise unit – the Shenzhen Friends of the Disabled Social Work Services Center, and the Chinese Disabled Persons Services Network Volunteers. Zheng is the legal representative for all these groups. Although each group's registration methods and content of serving society are not the same, their nature and objectives are; namely, the maintenance and promotion of information and interests of the disabled and their equal participation and integration in society. These social organizations together comprise one of the "faces" in the "one body, two faces" governance structure, with FOD and the Foundation making up a complete system. The Foundation is responsible for decision-making, and FOD is responsible for the commercial aspects, while FOD's social organizations are responsible for its services. Today, FOD has formed the framework for a "trinity": the Foundation manages the head, and the social organizations and FOD manage the development of the other two nodes ((Editor's Note: "One body, two faces" is a rough translation. The idea seems to be that Zheng Weining has created a single entity with multiple forms, some profit making and others non-profit in nature.)).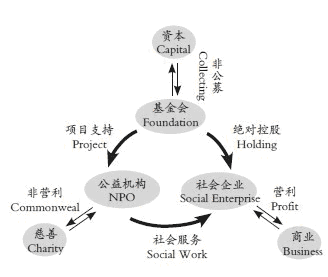 Next Stop, the 'Friends of the Disabled' Model
In the Foundation's decision-making, the hope for the future is that FOD will spread their experience and work model so that more people with disabilities can benefit from their experience. This has already become the focus of FOD's future work.
According to FOD's social enterprise incubator model, the local government is responsible for solving the problem of office space, and FOD is responsible for the output management model, a mature program, and technical training. The prerequisites for this cooperation are that Friends of the Disabled must maintain a 51 percent controlling stake in each branch and the branch general manager must be appointed by the Foundation and the FOD Group. The Group decides the direction of the branch funds, and must meet the employment requirements that the proportion of disabled people employed at the branches is above 70 percent. Zheng stated that if these conditions are met, each branch can be expected to be profitable within eight months of establishment. Then it can be handed over to the local disabled staff to manage. Furthermore, for these branches, (except the Shenzhen branch) all profit made will remain locally to ensure the branch's sustainable development.
Following the growth of FOD's social enterprise incubator model, Zheng is actively seeking the introduction of external funding. He is more inclined to rely on loans or investments of shares rather than donations. He thinks, as a social enterprise, they must have the ability to make a profit and make repayments or else they will have difficulty expanding.  But who is going to invest? This is the problem that Zheng needs to think about.
Zheng is very wary of investments by the business and government sectors. On the future of investment in FOD, he worries that if the proportion of business investment is too high, then too much emphasis will be placed on profit. At the same time, he is worried that government investment may turn FOD's social assets into government property. Therefore Zheng hopes to have more foundations and public institutions with similar values and missions invest in Friends of the Disabled to help maintain its public interest nature. For this reason, FOD and Zheng Weining are in the process of discussions with leading foundations such as Narada Foundation and YouChange Social Entrepreneur Foundation to actively seek their support.
Under Zheng's lead, FOD's "one body, two faces" structure is strongly guaranteeing the  normal operation of Friends of the Disabled. This allows thousands of people with disabilities to take advantage of the high-tech platform to develop their lives and work for the better. It helps people with disabilities gain the first step to survival and development with dignity. Finally, it serves as a lesson for public interest organisations interested in exploring the road of localizing social enterprises.