The 100th Huayi Brothers' free cinema for children opened in Lijiang, Yunnan Province, on October 26th. Government officials and CEO of the Huayi Brothers Group Wang Zhonglei attended the opening ceremony, alongside local children dressed in striking ethnic minority costumes.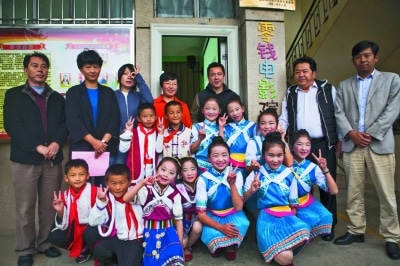 The free cinema project is one of the Huayi Brothers Foundation's most important ones. Its aim is to help children in impoverished regions access free movies. Over the past five years, 100 free cinemas have been built in a number of provinces including Henan, Yunnan and Qinghai. About 150,000 children have benefitted from them.
The free cinemas have played a significant role in enriching children's inner world, not only by showing free and suitable films but also by providing space for multimedia and art classes. The Foundation hopes that free cinemas can help children develop a comprehensive understanding of the world and encourage them to fulfil their dreams.
During the opening ceremony Wang Zhonglei stated that over the past five years his foundation has developed a strategy to bring more happiness to children and influence their lives in a positive way through "creativity charity". As opposed to traditional direct donations of supplies, "creativity charity" is an innovative and sustainable model of charity that puts more emphasis on cultivating children's creativity and enriching their inner world. Wang promised that the Huayi Brothers Foundation would keep contributing to children's life through this model in the future.