Editor's note
This is CDB's translation of an article which originally appeared on the 新华视点 Wechat account. The article recounts the story of Qin Yuefei, an exceptional young man who, after graduating from Yale, decided to return to his homeland and become a village official in Hunan province. During his six years as an official in a remote mountain village, Qin Yuefei has started a non-profit called "Serve for China", and become a representative to the local people's congress in Hunan province. His grassroots approach to tackling the problems of rural China has inspired many across the country.
He is a Yale graduate but also a village official in a mountain village in Xiangxi, China.
When recalling the moment he became a village official six years ago, Qin Yuefei still feels like it was a surreal dream. This important change in his life was achieved on the back of a drastic change in place. One summer night in 2011, a motorcycle carrying a young man who had just come back from the United States arrived at the entrance of Hejia village, Hengshan county, Hengyang municipality, Hunan province, after a two hour ride in the mud.
Qin Yuefei jumped off the motorbike's back seat, and examined the village in the guise of a village official for the first time. The owner of the motorcycle, surnamed Chen, is also the town's party secretary, and was observing Qin Yuefei at the same time. Chen silently took out a pair of Jiefang shoes (解放鞋) from the back of the motorcycle, handed them over to Qin and said, "you will need these here".
— Ten days previously, Qin Yuefei had flown back to Beijing from New York's JFK airport. A few days from his departure, he was wearing a red and blue striped tie and Ray Ban sunglasses, taking group pictures with his Yale friends and saying goodbye to America.
— More than 100 days previously, he had earned the Yale University Bachelor of Arts degree. He double majored in economics and political science.
— More than 1000 days previously, when he still had long hair and wore a flat hat, he had created a rock band with his Yale classmates. He was wondering whether to be the drummer or bassist. An African-American friend of his joked: "buddy, the drummer is the most popular among girls".
He once wrote a song for his band, called A Lonely Heart Will Not Break. Later on, he often recalled this song.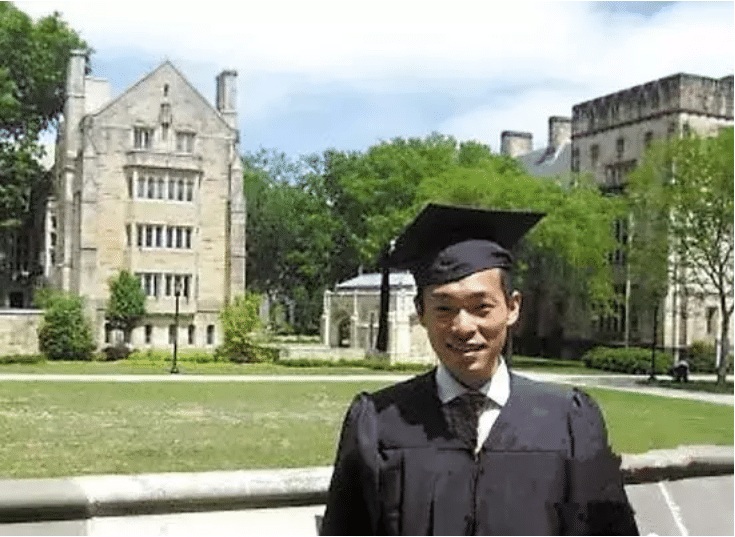 Before his departure for China, taking a picture on campus while wearing a bachelor's gown 
But the chapter of his life in America's East Coast had finally came to an end.
While the vast numbers of graduates and students returning from overseas generally crowd into the so-called "Beishangguangshen" (taken from the initial syllable of China's four metropolises: Beijing, Shanghai, Guangzhou, Shenzhen), Qin Yuefei took the traditional green train to a mountain village in central-southern China, holding a Hunan Province College Student Village Official Recruit Registration Form and an acceptance letter.
The unbroken mountains and green paddy fields extending in front of him on arrival made him think of a painting.
(1)
Hejiashan village used to be entirely dependent on nature for its survival. It is very different from New Haven, Connecticut. If you want to drink at Starbucks, you need to borrow a motorcycle and drive nearly 100 kilometers to get to one. It is also entirely different from his birthplace, the modernized city of Chongqing. This is a village which only has 800 elderly and young people left behind, and is 35 km from the closest town. Walking around the village you see mostly young children, in addition to white-haired elderly. It is not easy to find a strong thirty or forty-year old man.
"That's where you'll live" said Party Secretary Chen, pointing to a low and old red-bricked house not far away. Later Qin Yuefei learned that this was the Hejia government building, built in 1950. Once you open the door to this eight or nine square metre room, you can see an old wooden cabinet and a bed, and on the opposite side two public urinals placed in front of the mottled yellow wall. Just after the rain, there are no tiles on the roof but only a couple of layers of nylon polyester bags. Raindrops fall along the edge of the shed.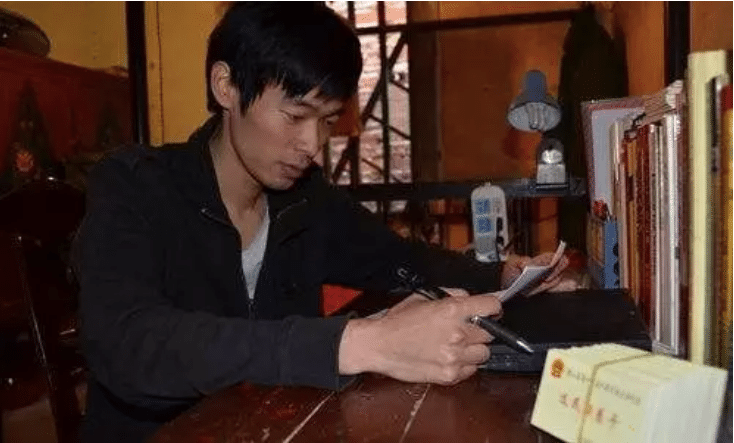 In his room built in the 1950s, dealing with the villagers' requests 
Qin Yuefei's youth was thus nailed to this place. With no extra benefits, no "five insurances and one fund" (as the typical welfare provision for employees in China is known), Qin only received a 1,050 yuan monthly salary ($154). The new official with a university degree did not especially catch the attention of the villagers, who all hang the portraits of the nation's founding father on the walls of their homes.
Lao Kang, a butcher in the village, recalls that there used to be a village official who was a local girl with a university degree, and she would occasionally follow the village officials when they walked around the village, but later he did not see her anymore. "She did not interact with us so I don't even know her name".
Qin thus became the assistant of the village director of Hejia mountain village. There was no ceremony to mark the occasion. No one knew his name, or that he had graduated from Yale. However he quickly became well known.
The second morning after he had settled in the village, Qin grabbed his toiletries and went to the bath after waking up all sweaty. Taking morning and evening showers — Qin's year-long habit seemed odd to villagers. The news about his two showers a day immediately spread around the village.
"Taking two showers in one day? What a waste of water". "Does he think our village is too dirty?"
This was the first impression Qin Yuefei made on the village.
(2)
Qin Yuefei realized that what was even worse than his habits being misunderstood was that the villagers viewed him as an outsider. If things went on like this, and he continued being unaccepted, he could get nothing done. From that moment, he decided to integrate into the village in every single aspect.
Since then, Yuefei has never taken a shower in the morning. He took off his ECCO shoes bought in the United States and changed them for some Jiefang shoes. He also wore his T-shirts with writing on them inside out. He learned to pull his trousers up to his knees and wear a worn-out pair of Jiefang shoes. During the winter, he asked for a military coat (军大衣) from the villagers and tried to only wear black so that "it would be easier for the villagers to recognize me".
When he had time he would walk around the village. Although he did not understand much of the Hengshan dialect, he would laugh with people when engaged in conversations. When villagers handed over a cigarette, he learned to accept it and then place it behind the ear. Later on, whenever Qin Yuefei saw that villagers were about to pull out a cigarette, he would immediately take the lighter from his pocket and light a fire for them, "faster than a western cowboy pulling out a gun".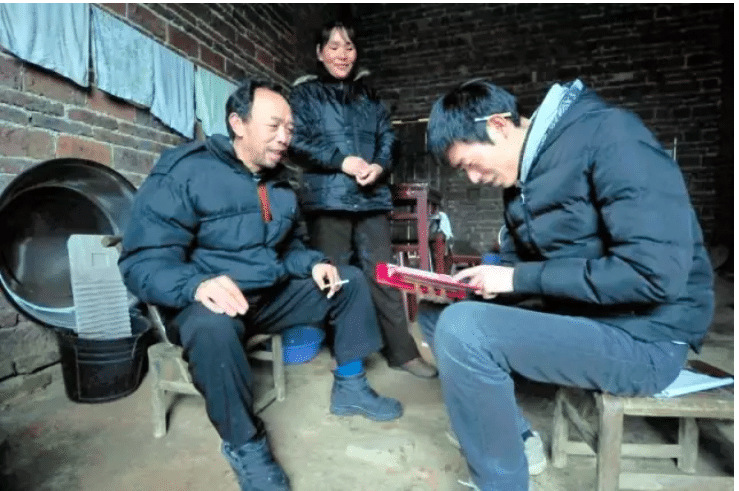 Qin talking with villagers in their home
Several months later, someone knocked on Yuefei's door for the first time, saying "the water heater in my house is broken. Can you fix it?" Qin Yuefei smiled — he felt a form of acceptance.
From then on, the door had been opened.
Villagers came with all kinds of problems: Little Qin (小秦, a common way for an elder to address a young person), my roof is leaking. Can you fix it? Little Qin, can you help my son who is 30 years old find a girlfriend? Little Qin, my granddaughter doesn't know how to solve this exercise. Can you help her? Qin described this feeing as similar to "getting married into the village".
Gradually, Qin came to know very well whose family had just slaughtered a pig, whose knee was hurting, whose hen had gone missing, whose daughter had just taken the Gao Kao (college entrance exam) this year, and whose family was still worried about their kid's tuition.
There were many issues that Qin Yuefei could not solve, but he tried. He wrote down each of the villagers' needs in his notebook and crossed one out whenever he had solved it.
(3)
Qin always thought about doing more construction for the village. He asked the Party Secretary Chen if there is anything they needed to build, and said they could worry about the money later.
After having a thought, Chen said that they could build an irrigation drain, but the village was unable to provide the money.
"What about fundraising in the village?"
"Seven out of every ten people have left the village to work. Who could provide the money?"
Qin Yuefei decided to try the dull way. He took off his Jiefang shoes, changed back into his ECCO shoes and put on the suit and tie which he had not touched ever since he came to Hejia mountain village. He then went to the city to raise money.
"It would be more suitable to call it 'asking for alms'". He succeed once or twice in a hundred times. Sometimes, he was treated as a liar. Finally, with the help of his old friends from Beijing, after running here and there dozens of times, repeating his story about going down to the countryside and filling out commitment forms multiple times, Qin brought 100,000 yuan back to the village.
After returning to the village, Qin realized that spending the money was harder than raising it. The building of the drain needed to be approved via voting. Building an irrigation drain involves issues related to both personal relationships and regulations. "Be careful, because you might get caught up in it", people warned him.
The academic habits Qin had grown in Yale paid off here: he drafted proceedings and decision-making procedures — how to construct the entire project; when to start, who should carry it out — and let the villagers bring up whatever comments they had. "The plan was passed with forty or fifty votes". The whole thing went quite smoothly.
However Old Liu, who was absent at the voting, suddenly quit. He went around telling villagers not to agree with the construction, and assured them that they would benefit that way.
Due to Old Liu's exhortations, the villagers who had originally agreed no longer dared to say anything. Village officials suggested to Qin that Old Liu was really after money. Technically, according to the procedures, absence at voting is viewed as a waiver, and people could start the construction right away. However, the villagers highly value community and friendship. With a sigh, Qin began to visit Old Liu on a daily basis and persuade him to give his approval, until after a week Old Liu finally relented.
In order to build the drain, Qin Yuefei wore his T-shirt inside out and worked along with the villagers in the fields.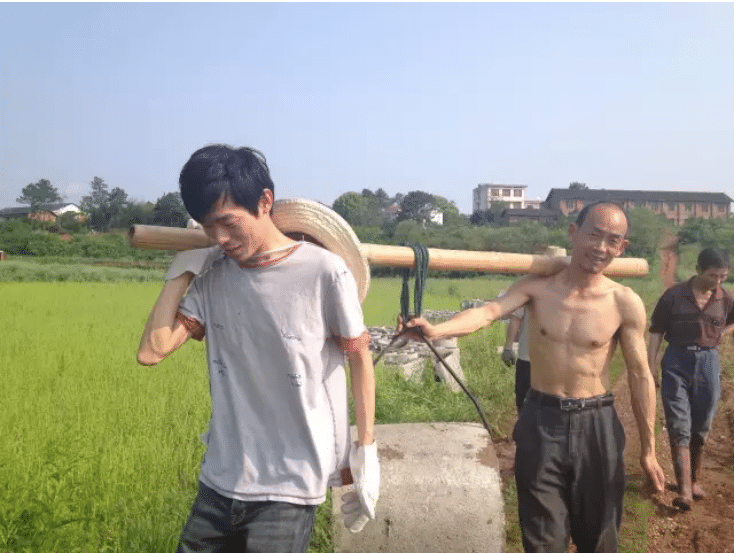 Qin working together with the villagers while wearing his T-shirt inside out
After the completion of the irrigation drain, all the villagers who fish, farm, and use water were overjoyed. Using the same strategy, Qin Yuefei carried forward other programs, including the construction of a centre for the elderly, street lights and even the digitalization of education.
"You cannot solve the village's affairs by relying solely on voting or solely on relationships. The rules and the reality, neither can be ignored." Yuefei said that his friendship with the villagers and local officials grew as they rubbed shoulders together. He understands and respects them.
"Yale graduate Little Qin is very capable", said a villager named Chen Yunzhi. "Despite the fact that Qin is around the same age of my grandson, my grandson does not have Qin's skills".
Chen Yunzhi's neighbour told her that Yale University is excellent, and several American presidents graduated from there. So how could you expect any less of Little Qin?
(4)
If not out for business trips, Qin will stay up until at least 2 or 3 AM mulling over the villagers' problems in his little home, classified as a "1950 third-level dangerous construction". Local people who are in the know say that while little Qin is trying to solve the village's issues, he is piling up more trouble for himself.
One time when a TV station came to interview him, some villagers started quarrelling in front of the camera. Qin Yuefei remained quite composed and said: "this is the villagers' way to express their ideas and emotions. They are not hostile or targeting anyone. Instead, they also want to solve the problem".
Rural life reshaped his looks, talking and manners. Some people saw him washing his hair while squatting on the ground with his head thrust forward, using a tea cup to scoop water from a large red plastic washbasin at his side and pour it over his head, with another grey washbasin on the ground to collect the dirty water.
"Qin Yuefei ruined a hand of good cards", his Yale classmate say of him in regret. To many people, Qin's life before turning 26 closely followed the script for becoming one of "life's winners". To continue down this path would not have been difficult. Like the rest of his classmates, Qin Yuefei just needed to choose one between Morgan Stanley, Goldman Sachs, BCG… step by step, just following the flow.
One by one, his classmates are getting married, buying houses at prime locations in the first-tier cities, upgrading their cars and enjoying a happy family. Qin has attended hundreds of friends' weddings. As he says, "I admire the fact they can fulfil their duties of filial piety".
One fact won't stop following him: after graduating from Yale seven years ago, Qin Yuefei is now 32 years old now, living in the countryside and unmarried.
Last year, when Qin Yuefei visited his parents over the Chinese New Year, he brought a few bags of white rice and some seed oil which was produced by the cooperatives that he created with a few villagers. "The villagers knew I was going back to Chongqing for the New Year so they insisted on giving me rice". Qin thanked the villagers for their kindness and paid them back according to the market price for rice and oil.
On October 24th 2012, Qin Yuefei was elected as a representative of the National People's Congress (NPC) for Hengshan county via direct election. "This is my first time participating in an election". Yuefei received 3027 votes out of 3547 people, and engraved these numbers on his heart. "My victory was cast vote by vote". Yuefei says he was happier than when he got his acceptance letter from Yale.
The title of county representative at the NPC provided a "golden pass" for Qin Yuefei to win over construction projects for the village. Beneficial programs have landed on the village one by one. During his first three years in the village, travelling around via green train, Qin Yuefei successfully raised 800,000 yuan and built the irrigation drain, street lights and a centre for the elderly. He then renewed his three-year term in Hengshan county.
Old Kang the butcher's monthly salary has increased from 2,000 yuan to more than 3,000, and teacher Mo's salary went straight up to 4,000.
(5)
"As a graduate from Yale, why would Little Qin come to our village?", many villagers started quietly asking each other. Some suggested that he might be the son of some big governmental official, coming to the village with a changed name in order to practice his skills. Party secretary Chen was "assigned" to visit Qin's hometown, Chongqing, to find out about Qin's family background. Chen's finding, that Qin's parents are both just ordinary workers, was surprising to everyone.
Qin's former classmate Zhou Wei said that, while Qin was in Yale, he participated in a year long exchange program in Moscow, where several close buddies of his paid for the tuition. In the view of others, his is a "Don Quixote" sort of behavior, but Qin is unperturbed: "I am not a visionary, I believe in action. Rural areas of China are a 'blue sea'. Someone should come here and help farmers to create wealth".
Public statistics show that in just over ten years, China's urbanization rate has increased by 18%, and more than a quarter of the rural population is employed in the urban areas. They earn money in the cities and spend most of their time in the cities. Correspondingly, many villages are left with only white-haired elders and the very young.
"Why can't we use industrial support so that the villagers can make money and attract migrant workers to return home?" After his arrival in Baiyun village, Qin Yuefei started a professional cooperative with the local villagers, replacing the food crops in the field with xianglian (香莲), tea seed and other cash crops. He has also brought some college students in to assist the villagers' entrepreneurship, and plans to raise the income per capita within the 15 local impoverished villages by 3140 yuan.
Qin Yuefei has been invited to participate in the "Fortune" Global Forum, the Yabuli Entrepreneurs Forum and has also been a guest at the Bo'ao Forum for Asia and the APEC Youth Entrepreneurs Summit. He has sought every opportunity to speak about and raise money for new rural construction. Jack Ma and Zhang Yaqin have become his Wechat friends. Many public celebrities and entrepreneurs who are enthusiastic about philanthropy follow him on Weibo.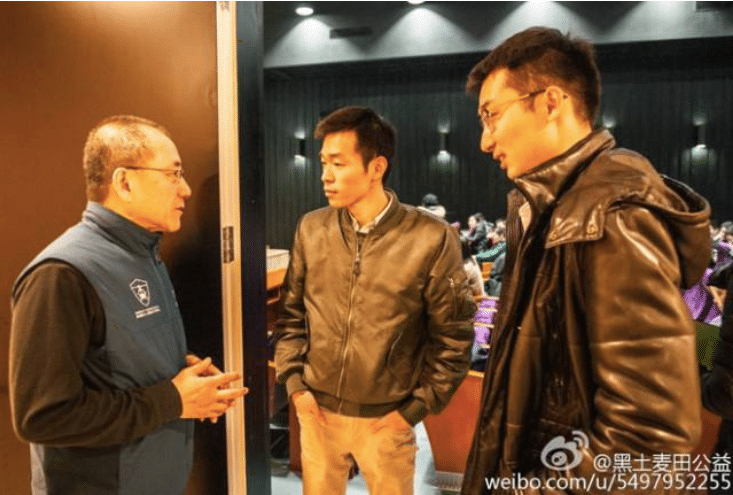 Qin attending a Forum, talking to professors 
One Yale alumni wrote on Zhihu (a Chinese question-and-answer website) that starting as a village official at the grassroots level is, after all, a classic path to achieve your value.
Party members from the local Organization Department came to Qin Yuefei and expressed their hope that he could thoroughly consider a transfer or a promotion. Qin Yuefei kindly rejected them and said: "the countryside and the fields are what fits me. My values stay at the grassroots level".
Qin has a deep understanding of the fact that 29.485 million rural families live below the poverty line in China. China has about 4000 villages without electricity, tens of millions of families without clean water and some people who can only eat meat three times a year. Poverty alleviation and development effectiveness have, for the first time in the records, been included in the assessment of Party leaders. Government departments at all levels set out poverty alleviation "military pledges" (军令状, an ancient form of pledge according to which one is willing to accept a severe punishment if they cannot complete their mission) and dedicate themselves to helping people out of poverty.
Qin Yuefei, after running this way and that, finally registered a charity named 黑土麦田, meaning "black earth and wheat fields" (its English name is "Serve for China"), under the ministry of Civil Affairs. This charitable organization plans to take advantage of villages' own resources, create special rural professional cooperatives and help farmers make more money. Qin has also tried to recruit graduates from Harvard, Oxford, Tsinghua and other famous universities who are willing to come to the countryside and work on rural public services.
He spent his 1450 yuan monthly salary on making international calls. He says "young people should have the countryside in their lives. The issues of the countryside and farmers are the concern of the whole nation".
(6)
In the summer of 2016, a plan for bringing people to the countryside was quietly started up. More than 30 "rural innovators" departed from Harvard University, the Australian National University, Tsinghua University, Fudan University and the Chinese Academy of Social Sciences and went to the countryside. They settled in more than 10 poor counties in Hunan, Jiangxi, Shandong, Guangdong.
A year later, batches of "sour baogu" (苞谷酸, a type of local condiment) homemade by rural households were being sold in cities for a good price, allowing the villagers to make a profit. Traditional Miao embroidery, combined with big brand design, not only gave local folk elements new popularity, but also realized the slogan "a bag leads ten people out of poverty" .
The country's first bike rental rural professional cooperative was also established. From then on visitors have been able to shuttle back and forth freely along the six kilometre road between the two villages.
Entrepreneurs have become an interface between the mountain villages and the real world, as well as the internet. The most advanced market concepts have entered the villages, while the villagers' response has enriched these young people's lives.
A good friend named Xu Jiru asked Qin Yuefei where he planned to go, now that the second of his three-year terms is about to come to an end. His reply was: "I'll remain in the countryside". Qin Yuefei loves from the bottom of his heart the feeling of "growing up" out of the mud, and says that the past six years have felt especially meaningful to him.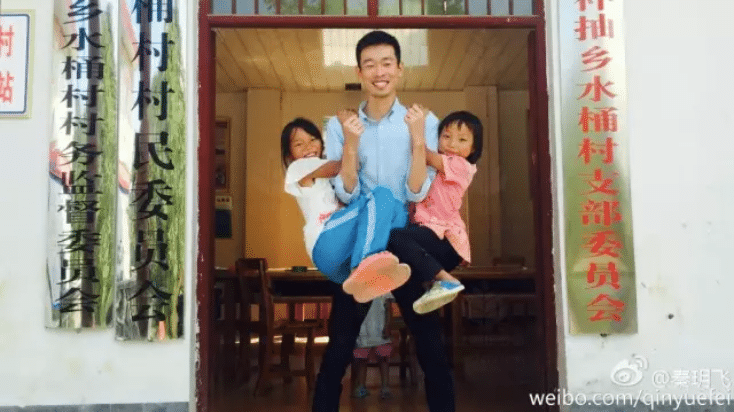 Qin loves hanging out with kids and is able to name them all
A lot of people ask Qin Yuefei "what motivated you to spend six years in the villages?" He gives a simple reply: "everyone has the desire to pursue a better life. I hope that our villagers can achieve it". The ground is full of "six pence", but Qin Yuefei looked up and saw the "moon", and treasured it.
Qin Yuefei's words and actions have quietly influenced many people. Thousands of people leave comments under videos of Qin's speeches on Weibo, saying things like "a practical idealist, that's him".
There are two books under Qin's pillow. One of them, which is pretty much worn out, is the English version of The Unbearable Lightness of Being. Open a page, and you find a phrase like this: "we have been confused by the sky for too long, and we seem to have forgotten that the earth is where we live, and where we will eventually return to. In fact, the heavier the load we carry, the closer our life is to the earth, and the more vivid its meaning".