On July 21st, "Shang Xue Lu Shang" (上学路上) held a news conference presenting its third "White Paper on the Psychological Condition of Chinese Left-Behind Children". As a prominent research guide on left-behind children in China, both the media and the public have become used to awaiting the release of the White Paper on Left-Behind Children every summer since 2015. This year's White Paper is based upon the results of a survey that included 14,868 questionnaires, covered 20 provinces across China and Japan, and lasted for 312 days. Both in terms of the total number of questionnaires and the research model, the 2017 White Paper is more wide-ranging compared to the previous two years.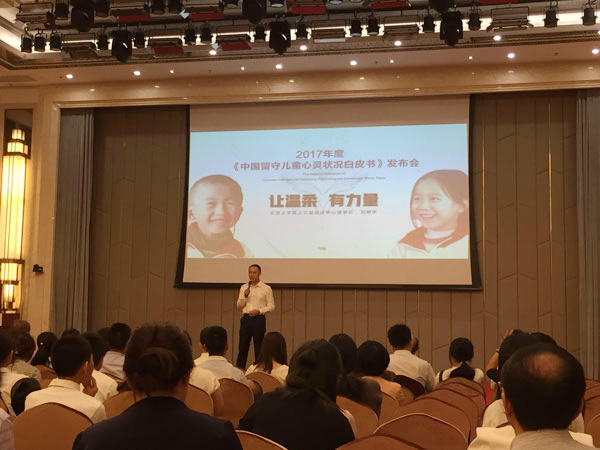 Liu Xinyu, the CEO of Shang Xue Lu Shang, making a speech
Professor Li Yifei from Beijing Normal University, the academic executive of this project, revealed some of the most important findings of this year's White Paper: among the students in rural schools, children who are left behind due to their parents working away from home account for 30% of the total student population. Within this group of children, over 10% get to meet up with their parents less than once a year. Other findings included are that around 9.7 % of the surveyed students said that the death of their parents would have almost no impact on them; completely left-behind children (with both parents absent) who are bullied account for up to 58% of those surveyed; and left-behind boys are more vulnerable than girls.
Li claimed that "in the past, we paid more attention to the kids' internal psychological state; but this year, we also wanted to understand the impact of being left-behind on the children. From the perspective of family bonds, the results do not leave much space for optimism when a large number of children show indifference towards the life of their parents. This goes well beyond internal family problems".