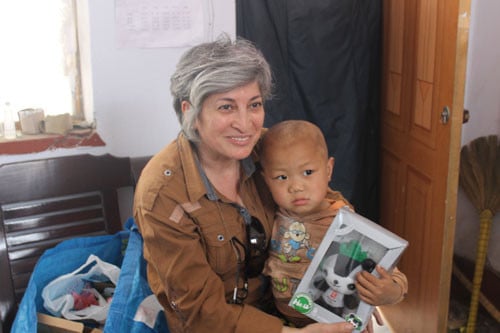 Helen Boyle is the founder and director of the Migrant Children's Foundation, an NGO that helps the children of migrant workers in Beijing, focusing particularly on their educational needs. Originally from the UK, Helen first came to Beijing in 2008. After visiting a school for the children of migrant workers and being struck by the lack of resources, but also by the children's enthusiasm, she took the brave decision to stay and dedicate herself to working in this field. In an exclusive interview with CDB's Gabriel Corsetti, she tells us a bit about her organization and the important work it carries out.
CDB: First of all, I was wondering if you could explain to our readers how or why you decided to start a foundation to help migrant children in China.
Helen Boyle: I came to Beijing about ten years ago, and my background was in education in the UK. And so I took a one-year sabbatical ten years ago to come to Beijing purely because my daughter was already here, so my husband and I decided to not only visit our daughter but also travel around China. As it happened, within two weeks of my coming to Beijing, I came across a migrant school. I was really fascinated because when I went to see the school and the children, it was really surprising to me that these kids and the school had very little resources, but the children were really keen to learn, they really wanted to speak English and they were full of life and enthusiasm. So from that point, I decided that I would like to come back and see if I could support them.
I suppose as a mother I felt that my daughter had been here for such a long time and she had a lot of Chinese and expat friends and they were all very supportive towards her. So when I came here, I felt I wanted to give something back to the community, so from that moment I went back to the school every week and gradually people heard about what I was doing. Every week we had more volunteers wanting to come and help. So it came close to the end of my sabbatical, and I was supposed to go back to the UK to carry on with my work, but I felt I couldn't just drop everything and go because I had not only so many volunteers waiting for us to go every week and teach, but also I felt that it was unfair to these children to say "well I've been here for only one year and now I'm going". So I decided to ask for an extension of my sabbatical period and they disagreed. They said I needed to come back. I asked for redundancy, and they rejected my request. As a result, I quit my job.
I started working with these children and going to their schools, and in 2010 I went back home and set up the foundation. Then I came back and since then I've been working here. And to be honest, I'm really happy that I've come back. It's been really fulfilling. I'm doing something I enjoy. Not that I didn't enjoy what I was doing in the UK, but it's just that life has a different meaning. That's how I started.
CDB: That's a fascinating story. Could you briefly describe what your foundation's main activities are right now?
HB: Over the last ten years, we have expanded and we do different programs, but when we started we were mostly teaching English. Actually it wasn't so much about teaching English, because these children have very little chances to utilize the English language that they learn. It was about sharing and communicating and learning from one another. So we were teaching very basic-level English and then that led on to giving them eye checkups, purely because after so many months we realized that some kids were still hesitant to actually get involved in the activities, and we were told by some of the children that they couldn't see properly and that was why they didn't want to get up and do the activity with us.
So we started these eye check-ups and so far we have provided over 400 glasses for children. And then that led on to health checkups, and over the last five to six years we've done over 2,500 health checkups for the children. As a result of our health checkups, we saved a boy whose name was Tao Song, whose picture is on our website. He had heart disease, which the parents and the school didn't know about, so he had two operations. And that was sponsored by Beijing United Family Hospital and Beijing United Foundation. Now he is 16 and healthy.
Then we started working with the Institute of Physics, which run our physics classes, and the World Society of Chemistry, that run our science classes. So they come to our schools and teach these two subjects hands-on, obviously in Chinese. We have school outings. We took a group of fifty students to Madame Tussauds in Qianmen and that was a really fascinating experience for the children because they've never been to places like that. We work very closely with Dulwich College and we have MAD Day, the "Make A Difference Day," and we've been doing that for the past five years. This year it's taking place in June as well, and we're taking over 200 migrant kids to different places for an outing in Beijing.
CDB: I didn't imagine that even in Beijing there are kids who need glasses but don't have them. Is this because their parents lack the money to buy glasses or is it more that they don't realize it is necessary?
HB: To be honest, it could be lack of money. But at the same time, it's lack of knowledge and understanding. I think that the parents are so busy working that they hardly spend time with the children, so their children never actually talk about not being able to see or having difficulties. So that's one issue. The other issue could be, from my own childhood I know that one of the reasons you could have bad eyesight could be the lighting. It could be a combination of things, rather than the parents not having the money. And children don't understand or talk about it. So it gets to the stage that they have difficulty and they sort of accept it and adjust themselves. I think that's the issue.
CDB: When it comes to these health check-ups, do the parents just not have the idea to send their kids?
HB: Again, when Tao Song had problems and we found out that he had problems with his heart, he had three holes in his heart, but when I told the school and his parents, they thought he was just lazy. They assumed that that boy was lazy and he didn't want to take part in work or any activities, but that was just an assumption. They never even investigated why it was like that until the hospital found out that he does have a real problem. In fact, after he had the first operation, the hospital said he had even bigger issues with his heart. They said it was a matter of months that he had to live. And this was all new to the parents. They had no idea that this boy had such a big issue with his heart. And now he is happy. So I think it's partly that his parents did not have enough time because they were too busy working and providing the family with food and a place to live. They don't have the chance to actually sit down and talk with the kid. But also it's the knowledge.
CDB: Out of all the children that you've encountered throughout the years, is there one specific case that really gave you the greatest satisfaction and where you really felt you had turned this child's life around?
HB: Well obviously they all had a different impact on me, but there is a little boy who I have known for about four or five years. After conducting a health checkup we will go to the child's school with the doctor and the nurse and meet the parents so that they can actually look at all their son or daughter's medical documents. And if they have any questions, they can ask the doctor. At one of these meetings about four years ago, I met Fan Fan. He is an eight year-old boy and he suffers from cerebral palsy. He could not walk, he could not talk, he could not move, he could not eat by himself, so basically he was very limited. And so I spoke to the mother and we decided that we could support him. And again, since that time four years ago, we have been providing Fan Fan with therapy (acro-therapy, speech therapy and physiotherapy) and it has all been sponsored by the Beijing United Foundation and Beijing United Hospital. And this boy went from only sitting and not being able to walk to walking three meters on his own. That for me was a huge achievement, both for me and for him, because I made a difference in his life.
CDB: So the Beijing United Family Hospital agrees to treat these children?
HB: Yes. Beijing United Foundation has been very generous and very, very supportive, so I'm really grateful to them.
CDB: What are the sources of funding for your foundation?
HB: We work with a lot of international schools, like the British School of Beijing in Sanlitun. They've been absolutely amazing. The parents' association and the children have been very active and supportive. The Australian Embassy, the social club and the spouses of the embassy workers have been very generous, active and supportive. And we work, like I said, with Dulwich College, and with BSB in Shunyi, which is still in Beijing. Beijing City International School also works with us, and now we are adding more to our team. We are working with a lot of international schools. Roundabout has been very good with us as well. They have been very supportive. So we work with different communities and organizations.
CDB: Since you've been working with migrant children in Beijing for years now, you probably know the situation quite well. What would you say are the greatest issues in the lives of migrant children in the city? 
HB: I think these migrant workers come to the bigger cities for opportunities, both for their children and for themselves. But primarily I think it's for their children. Again as a mother, any mother or parent would do anything for their children to provide more opportunities. But I think the problem is that these parents don't have the opportunity to give as much as they wish to their kids. So therefore, in their own mind, they think if they come to a bigger city and work harder, then their kids will have an opportunity for a better life. The problem is, that comes at a cost as well. They come here and they work hard, but again they don't see their kids that often. They are working hard purely because they think that getting more money they can provide a better life for their children. So I think that also is an issue, and we need to educate the parents that money is not everything. Working hard and getting more money does not necessarily mean that you are providing an opportunity for your kids. So this is again going back to educating these families and making them understand that there is more to these kids' life than just providing money.
CDB: So in a sense the parents want to give their children a better life and future, but they neglect to give them a good life right now.
HB: In their own way, they think they are. But at the same time, you need to stop and think: "Is that what the child needs? Or is it quality time that you give the child? How do you get the right balance?"
Even though migrant parents wish the best for their children, sometimes they get too caught up in money. Children want to run around outside and play in the mud and dirt. If you take that away from them when they are little children and make them study instead, this is not real happiness. This does not benefit them. I go to many schools around Beijing. When I go to schools where most parents are wealthy urbanites, the students just stare at me, not daring to come over and interact with me. When I go to schools where the parents are migrant workers, the children run over to me smiling and trying to talk to me as much as they can. Money doesn't enrich their childhoods.
This phenomenon isn't unique to China. I've seen this in the UK too actually. For example, when I decided to come to China, I gave away all my possessions and gave up my comfortable life to come help migrant students. When I told my friends, none of them could understand why I would leave my house, my car and my cozy life. They couldn't understand that I wanted more purpose from my life than these material possessions.
CDB: Are your volunteers usually foreign or Chinese?
HB: It is a mixture. When we started, we had a lot of foreigners, but now we have a lot of Chinese, which is really incredible. They want to give back, they want to get involved. So we have a mixture of both foreigners and Chinese.
CDB: So do the foreign volunteers usually teach English?
HB: Not only, the Chinese also teach English. Because to me MCF is a platform of opportunity for everyone. It is not just for disadvantaged children, but also for expats, foreign volunteers, international students. So we have Chinese students as well that teach English. For them, it is practicing their English. But also, it is building confidence.
CDB: Did your foundation have difficulties registering in China?
HB: We are actually registered in the UK, where we are a legitimate charity. In terms of China, we have been working here for the past ten years and have had no issues. We are not registered in China, but we are working towards that and we are in the final stages of working under an umbrella of Chinese charities. So touch wood we have not had any issues so far and I'm hoping that we can carry on like that. But hopefully once we work with our Chinese partner charity, then that will solve itself.
CDB: Are there any cases of these children coming back to look for you and thanking you after they've grown up?
HB: Actually, we worked with one specific child who was from Tibet, supporting his mother and him. We had a volunteer working with him one on one because he was struggling in school. He is now sixteen and wants to come back with us to work as a volunteer and give something back. So we have had cases like that, and some of our volunteers themselves are here as migrants. So they are coming back and helping migrant children. It is really good news to see that these people are coming back and sharing their experience and expertise and knowledge, also to give something back to these kids.
CDB: Are there any plans or projects that your organization has for the future?
HB: A future plan for me is to expand to a different part of China. But like I said before, because we are based on volunteers, it is very hard to expand. My dream is to expand and work in a different part of China and help children. I would really like to go to a rural area. I think one thing that will probably happen is that now that we are working under a Chinese charity organization, we will be able to do that more because we will have better resources, so we will be able to spread our manpower.
CDB: You could also help the left-behind children.
HB: Yes, for sure. But really migrant issues are not just an issue in this country, but in any country. In the UK alone, we have migrant kids. So the next step after that would be to support these kids in other countries, and not just in China. But that's thinking too far ahead. That's if I'm still alive and able to do it.