Editor's Note
This is an abbreviated and adapted translation of a report published by the WeChat account of 尖椒部落 on the 11th of July 2018. You can find the original here.
The 11th of July is World Population Day, an annual event that seeks to raise awareness of population issues. This article discusses the issue of population ageing in China, and presents some of the strategies that eleven second-tier cities and four first-tier cities around the country have used to deal with this issue.
In 2017 the proportion of elderly people was 17.3% and the birth rate was 12.43.
The international definition of an ageing population is when the proportion of people over 60 years of age reaches 10% of a country's population, or the proportion over 65 reaches 7%.
The 2017 census estimated China's over-60 population at 240 million, or around 17.3% of the population. Further statistics estimate that by 2020 the figure will reach 255 million, over 17.8% of the population
The following infographic shows the predicted growth pattern of the elderly population from 2011 to 2020, both in terms of raw numbers and in percentage.
At the same time young people are not having a lot of children. China's birth rate in 2017 was 12.43 for every thousand people.
Since 2016, the proportion of the population between 0 and 14 years of age has been below 6% (the blue section of the graph below). This is a sharp drop from the current proportion of the working population (the green section of the graph). This means in the future there will be an obvious drop in the proportion of the working population, and an increase in the elderly.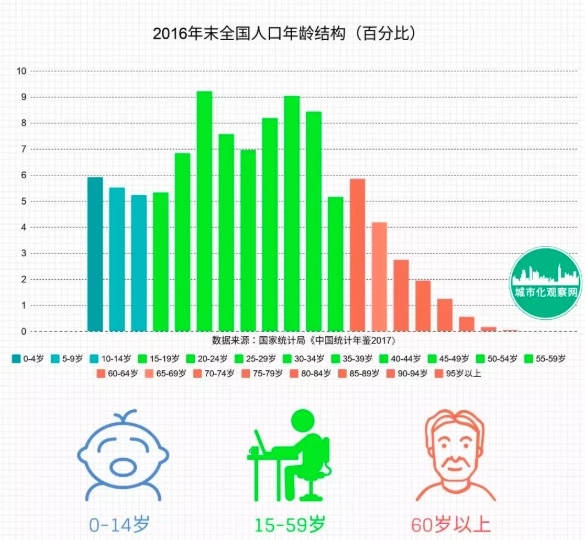 "The scramble for people": the proportion of elderly people in cities is reduced by migration from outside.
Out of the first and second-tier cities, Shanghai has the largest elderly population at 33.2%, with one in three people over the age of 60. However if all long-term residents are included (including people without a local hukou), then this proportion decreases to 22.3%. In May, a report by the city's statistics bureau commented that the younger migrant population is slowing down the city's ageing.
In light of the current situation, many cities are looking for a "shortcut" in order to maintain the youthfulness of their populations, thus resulting in a struggle to attract more people. Since 2016, many second-tier cities have been promoting policies to encourage migrant populations to settle as long-term or permanent residents in their cities in order to offset the population's ageing.
Below we describe the "scramble for people" of eleven second-tier cities where the elderly population is over 20% of the total. We then present the situation in four first-tier cities by way of comparison.
Suzhou – Elderly population: 25.85%
The 2017 census shows that Suzhou has an over-60 population of 25.85%, expected to increase to 27.5% by 2020. In order to fight for a younger population, Suzhou implemented policies in 2016 that stipulated that men under the age of 40 and women under the age of 35 from other areas holding bachelor degrees could immediately gain permanent residency. Moreover, those who held vocational degrees/junior degrees (大专 da zhuan) with over two years of work experience can also gain permanent residency.
Dalian – Elderly population: 24.99%
Although Dalian has become the most important economic centre of Northeastern China, it still faces the issue of an ageing population; the elderly population has grown at an average of 0.9% over the past five years, reaching 24.99% in 2017.
In order to encourage young workers into the city, Dalian has lowered its standards for permanent residency to vocational degrees/junior degrees for the main city area and vocational secondary school graduates (中职 zhongzhi) for the new city area.
Ningbo – Elderly population: 24.29%
In 2017 Ningbo's population over 60 was 24.29%. In 2018 the local government introduced a new policy lowering the requirements of permanent residency to include those with vocational degrees/junior degrees and labourers.
Something worth pointing out is that the new policy also states that the elderly (those over 60 years of age for men and 55 for women, but excluding those over the age of 80) who want to join their adult children in the city must live in a property where there is over 18m2 per person. That is to say if there was a family of five who lived in a property under 90m2, any elderly person under the age of 80 would not be able to live there permanently.
Tianjin – Elderly population: 23.43%
In 2018 Tianjin city implemented a policy that took advantage of its status as the best city to take the college entrance exam, as it has very few students but many higher education institutes. Due to its location the city has also become the best hope for lots of migrants to neighbouring Beijing, where it is very tough to gain residency. Taking advantage of these factors Tianjin lowered its requirements to undergraduate degrees for professionals and technician qualifications for skilled workers.
Hangzhou – Elderly population: 22.16%
Since the elderly population passed the 20% mark in 2015, Hangzhou lowered its residency requirements to undergraduate degrees, and professional/vocational college degrees for fields in which there is a short supply.
Qingdao – elderly population: 21.9%
In 2018, the Qingdao city government introduced a policy lowering the threshold for residency to a bachelor's degree and leaving opportunities for technical workers. Something of note is that it is still possible to gain residency in Qingdao by buying property, however it must be over 90m2.
Chengdu – elderly population: 21.18%
In 2017 Chengdu's elderly population reached 21.18%, which was a decrease from 21.41% the previous year. This could be due to the policy introduced in 2017 which lowered the requirements for permanent residency to a bachelor's degree, and also allows skilled workers recognised by the Human Resources and Social Security Department to gain residency.
Wuhan – Elderly population: 20.95%
In 2016 a policy was introduced that those with qualifications above and including a bachelor's degree (and under the age of 30) can gain residency in any area of the city, while for the developing areas of the city there is no educational or qualification requirement, except to have paid social security contributions for over two years.
Nanjing – Elderly population: 20.85%
In 2016 policy amendments lowered the qualification threshold for residency to vocational/junior college degree level. Then in 2018 a further policy was changed, increasing the age of bachelor's degree holders eligible for residency from 35 to 40 years of age.
Chongqing – Elderly population: 20.76%
In contrast to other second-tier cities, Chongqing is losing people. In 2016 the number of local residents was 33.92 million, while the number of long-term residents was 30.48 million (these figures include the whole municipality, which covers an area much larger than the city itself). Policy amendments lowered residency thresholds to junior vocational (专科 zhuan ke) or professional degrees (初转 chu zhuan).
Changsha – Elderly population: 19.7%
Although in 2016 Changsha's elderly population didn't reach 20%, it is estimated that by 2018 it will. According to a policy introduced in 2016, the requirements to gain residency in the city are very low. Those with higher education qualifications can immediately become permanent residents, and at the same time those who have worked for a full year have no qualification requirements.
Shenzhen – Elderly population: 6.5%
Out of the first-tier cities Shenzhen has the lowest proportion of elderly, with an over-60 population of 260,000 in 2016. In 2016 the permanent resident regulations set the educational requirement as vocational degrees/junior degrees, while those without educational degrees can also gain permanent residency if they can get a mark of over 100 based on a set of comprehensive criteria.
Guangzhou – Elderly population: 18.03%
In 2015 and 2016 the over-60 population was respectively 17.27% and 17.76%. In 2017 the number of over-60s reached 1,618,500. Compared to neighbouring Shenzhen, Guangzhou's elderly population is high. In 2017 there was consideration of lowering the educational requirements for gaining residency below the currently required bachelor's degree or technical title.
Beijing – Elderly population: 24.6%
According to 2016 data Beijing's over-60 population reached 24.6% of the total, but when including long-term migrants this proportion decreases to 15.9%. The requirements for permanent residency are a master's degree qualification, with "steady work and outstanding contributions".
Shanghai – Elderly population: 33.2%
In 2017 for every three local residents there is one elderly person, but as the migrant population is very young, when including them in the calculations the elderly population drops to 22.3%. Out of the first-tier cities, Shanghai has the oldest population. The current educational requirement for permanent residency is a doctoral qualification.
Concluding remarks: for the benefit of the cities, migrant populations need to be treated better.
In 2011, China's urban population reached 50% of the total for the first time. UNDESA estimates that by 2050 this proportion will increase to 80%.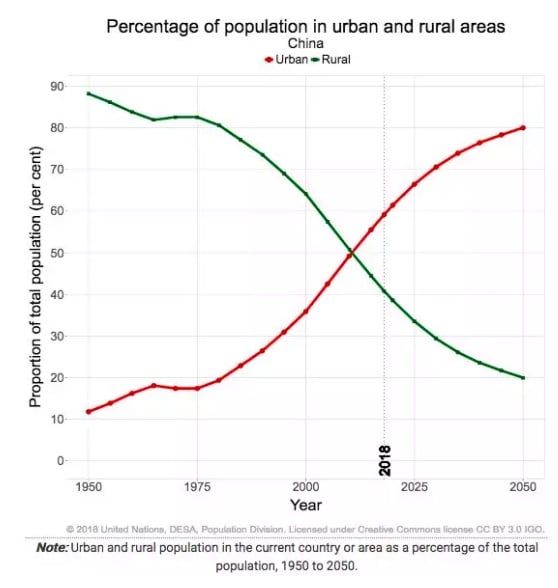 In 2017 China's migrant population reached 244 million people, but the socioeconomic situation of this population lags behind. For example, the 30 million migrant children face difficulties enrolling in local schools, and out of the 270 million migrant workers only 17.6% have health insurance provided by their place of work, while it is often not possible for them to be covered by the health insurance cities offer to local residents.
For a city to thrive requires not only highly educated individuals, but also those who work as chefs or do deliveries. If cities' social and welfare provisions could accommodate more migrants, without the high requirements for skills and education, this would encourage more migrants to settle down in cities, pushing up birth rates and relieving some of the demographic pressure.
Although fighting for more people is hard, it is even harder to keep them. Endeavouring to only attract the educated is a short-term solution that does not solve the root issue of a decreasing birth rate.