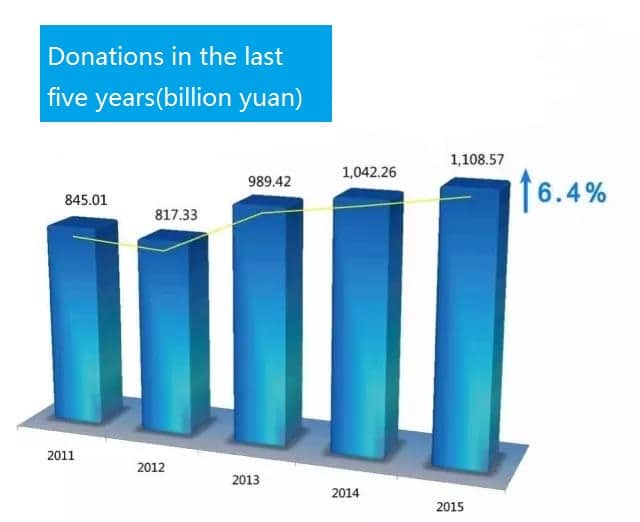 On November 29, the China Charity Federation issued the "2015 Annual Report on China's Charitable Contributions" (hereinafter referred to as the Report) in Beijing. Drawing on nearly 110,000 entries of sample data, the Report makes an estimation of the total amount of domestic donations over the year and provides analysis on specific trends. According to the Report, China's charitable donations have been on a steady rise and the annual total exceeded 110 billion RMB for the first time in 2015. The total amount of cash and material donations from both domestic and overseas sources reached 110.857 billion RMB, accounting for 0.16% of GDP, an increase of 6.631 billion RMB and 6.4% when compared with 2014.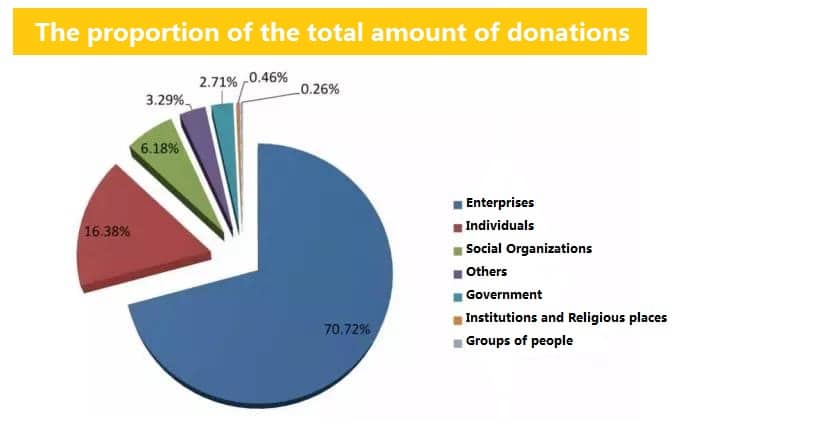 Domestic donations come mainly from enterprises, individuals and social organizations. Having increased by 8.6% since 2014, donations from enterprises in 2015 reached 78.385 billion RMB and accounted for 70.7% of the total. This illustrates that enterprises are still the most important force for domestic donations. In particular, donations from private enterprises continue to grow, making up more than 50% of donations from all enterprises; the share of donations from state-owned enterprises has increased from 20.99% in 2014 to 32.77% in 2015.
A total of 16.93 billion RMB in donations was received from individual citizens in 2015, an increase of 5.372 billion RMB compared with the previous year. The total of "small donations" (single transactions with a total of less than 10,000 RMB) increased from 5.86 billion RMB in 2014 to 7.5 billion RMB in 2015. The increase in small donations from individuals signifies the formation of an enabling atmosphere and an emerging trend of mass participation in charitable donations in Chinese society.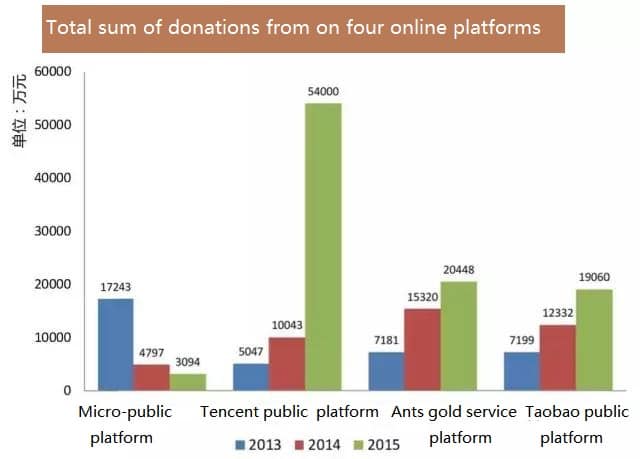 Online donation platforms were one of the main channels for individuals to make small donations in 2015. The report analyzes the data collected from four major online donation platforms: the (Sina) micro-charity platform, Tencent charity, Ant's Gold Service charity platform and Taobao charity platform, and found that the total number of people making online donations reached over 30 billion in 2015, a threefold increase from 2014. A total of 966 million RMB was raised via these platforms, representing an increase of 541 million RMB and 127.29% when compared with 2014. A large share of donations went to the category of appeals for help for medical treatment. Specifically, 81%, 50% and 17% of all donations raised via micro-charity, Tencent charity and Ant's God Service respectively went to this category, which indicates the reputation and snowballing effects of internet platforms.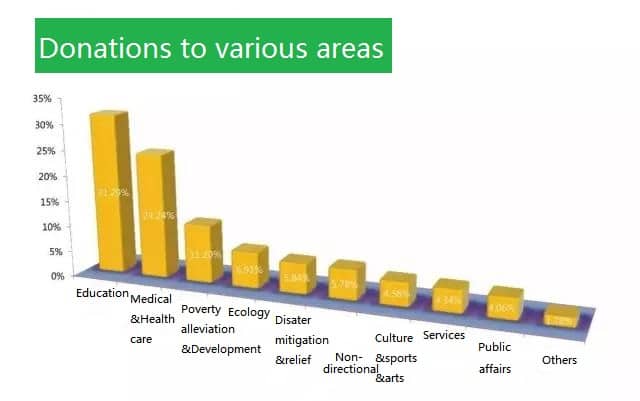 Additionally, the Report indicates that, similarly to 2014, the top three areas receiving the most donations were education, medical treatment/health and poverty alleviation; when combined they made up 66.73% of all donations.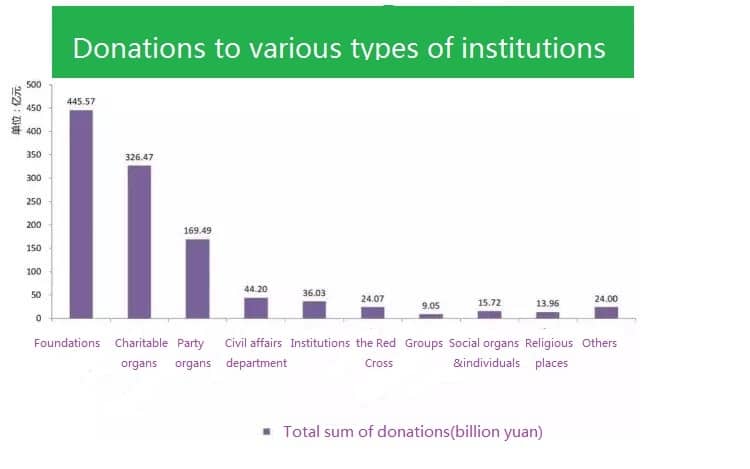 Having received 69.64% of total donations, foundations and charitable organizations remain the main recipients of donations in 2015, according to the Report. The top 25 foundations have managed to raise 144 billion RMB, out of which 14 are public foundations and the remainder are non-public foundations. Donations to the Red Cross, mass organizations and institutions along with organizations that are exempt from registration have seen a 6.4% decrease when compared with 2014.