A ceremony was held on September 19 in Katmandu, Nepal, to celebrate the completion of the rebuilding of the Yuba Sahabhagita School. This is the first permanent school constructed with Chinese assistance after Nepal's dreadful Earthquake in April 2015. The school was rebuilt with donations from Suning, one of the largest privately owned electrical appliance retailers in China, and construction assistance by the China Foundation for Poverty Alleviation (CFPA, 中国扶贫基金会).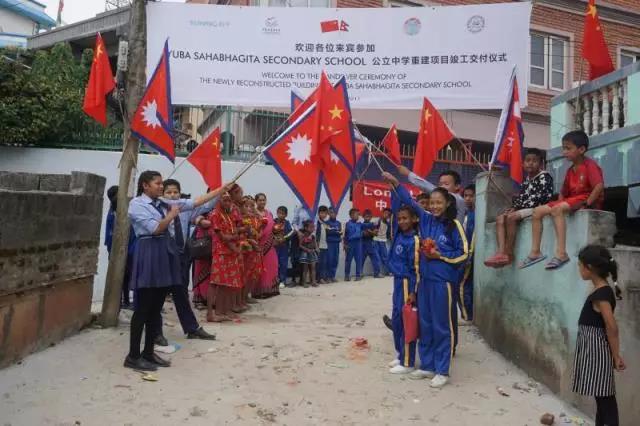 On April 25th, 2015, the Yuba Sahabhagita School collapsed and was completely destroyed by the power of the 8.1 magnitude earthquake and the following aftershocks. In the over two years that followed the school's 700 students have had to attend class in temporary tin shacks, but now the rebuilt school will return them to their bright and warm classrooms.
At the ceremony Sun Weimin, the Vice-chairman of the Suning Commerce Group, expressed his willingness to use his company's strength to contribute to charity; he also expressed his appreciation for all the parties that supported the reconstruction of the school, including the government of Nepal, the Chinese Embassy in Nepal and the China Foundation for Poverty Alleviation.
The Deputy Secretary-General of CFPA Chen Hongtao also expressed his gratitude to all those who made great contributions to the rebuilding of the school, and gave a special thanks to the Suning Commerce Group, which has partnered with CFPA for many years to carry out various public welfare poverty alleviation activities. He added that this time their cooperation also shows the friendship between the Chinese and Nepalese people.