See the first part of Tan Ting's interview here. 
Becoming a lawyer
A comprehensive legal training programme designed by Tang and other qualified lawyers for Tan and four other deaf paralegals was initiated in May 2018, with the first part of the training focusing on legal philosophy and methods. The programme was an eye-opening experience for the group, teaching them for the first time that the law is designed to protect the rights of both parties in a legal case. Before, Tan saw lawyers who represented criminals as "bad lawyers", but her training helped her to understand the value of every individual's legal rights.
The group of deaf paralegals, with no prior legal background, had to teach themselves subjects such as criminal law, tort law and contract law in their own time, using a series of textbooks provided for them. While some might have opted for online courses, Tan told CDB that she spent most of her time learning from books. "Many great open-access online courses did not have subtitles so I couldn't use them," she explained.
As a law student, Tan's daily routine started at 5am. While commuting to the firm, she would be reading through her textbooks and thinking through different cases. Once her office work was finished, Tan would resume her studying until late at night. Along with her colleagues, she took her first judicial examination after six months' study, but the whole group failed to pass. The initial failure shook people's faith and some of them decided to quit. Intellectually, studying law is extremely challenging –– especially while also trying to hold down a full-time job and balancing family and financial pressures. Some complained of being too old or needing to get married. During her three years preparing for the exams, her law firm hired more than 30 paralegals, yet in the end, only Tan and two others stayed.
Occasionally, Tan would come to Tang Shuai's office and ask for advice on studying law. Recognising her hard work and dedication, Tang always provided her with encouragement. Sometimes, he even told Tan's husband to cheer her up when times were tough. "I was like an old father trying to take care of his children!" laughed Tang.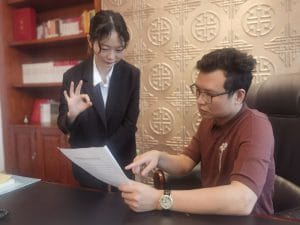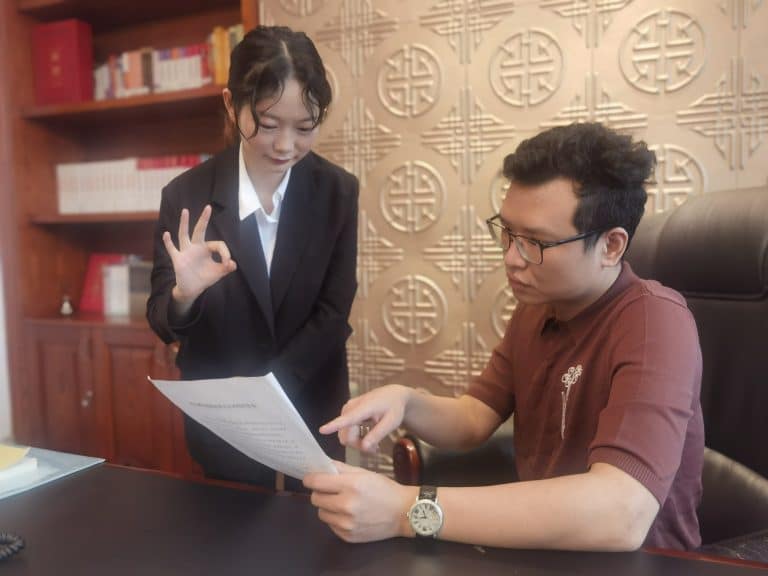 Source: Tan Ting
Tan's husband has always been her pillar of support. Born an ordinary boy, he lost his hearing due to a medical accident at the age of two and never learned to speak. After work, when Tan would study late into the evening in the office, her husband would stay and sit by her side. On their way home, he would keep his eye on the stops while Tan read her textbooks, making sure they didn't miss their station.
Tan's mother was another family member whose support for her was unconditional. However, before Tan had completed her exams, she was diagnosed with advanced cancer, something that came as a complete shock to her daughter. Staying by her mother's hospital bedside, for the first time, Tan seriously considered giving up. But her mother wouldn't hear of it: "You must attend the exam," she said in a text message. "You should live for yourself and society. Do things to help those who are living at the bottom and suffering."
When the results of 2021's national judicial exams were released and Tan passed, she told her mother at once. "Be a good lawyer," said her mother, "and take care of yourself."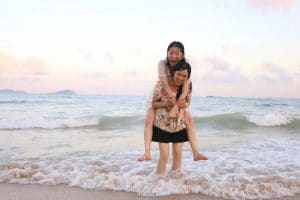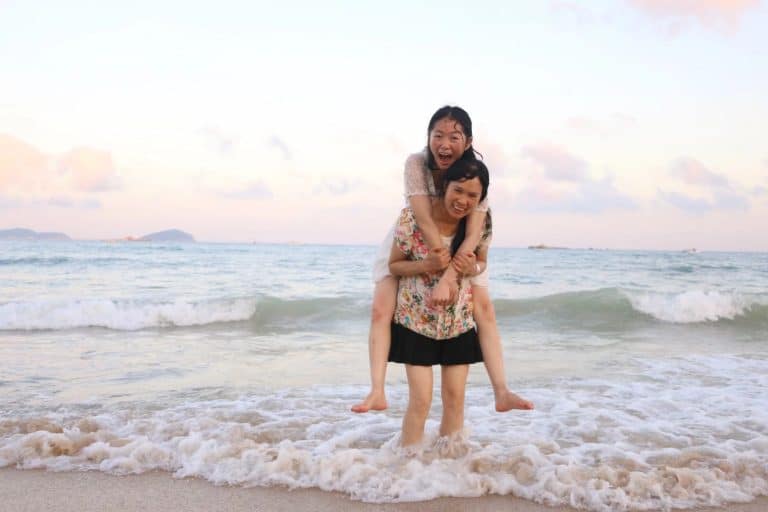 Source: Tan Ting
China's first deaf lawyer
"How can deaf people become lawyers? How can they go to court and represent someone?" were the questions that regularly greeted Tan Ting. "It's better to think about solutions rather than linger on these questions," she would reply, feeling confident that in the future, more deaf and hard of hearing people would join the legal profession.
People's general understanding of the legal profession tends to be concentrated on court proceedings. In reality, lawyers do much more than going to court and arguing their clients' cases. Now qualified, Tan thinks she is able to deal with cases more smoothly with other hearing lawyers in her team, and subsequently, help more deaf people who are in need of legal counsel.
The first full case she was involved with after qualifying was an alleged rape. On 30 March, Tan received a video call from a young, deaf girl. She said that she had been raped, but had not reported her attacker to the police immediately after the incident. The rapist had threatened that both of them would be jailed if the case was reported. The girl could not talk to her family about what had happened due to feelings of shame and problems communicating, with her family not able to use sign language well. Not until the girl gave birth to a child, did her family realise what had happened. The girl's brother went to the police, but she refused to say anything about the incident.
While the girl wasn't willing to open up to the police, she did feel comfortable enough to tell Tan during their video call. However, by then, the best time to collect evidence had long passed, meaning that a conviction would be impossible. "There are a large number of cases like this," Tan said, "no one has told young deaf girls what to do to protect their own rights when they are the victim of a sexual assault."
In the past, Tan made a couple of videos to help the community better understand the law. However, very few people watched them. "In my opinion, the key to reaching out is through sign language." Among China's approximately 30 million deaf citizens, most still prefer to use natural sign language, yet the majority of the legal education videos targeted at the community are not produced in natural sign language. Even the sign language that's often provided for television press conferences is usually not a natural sign language. And that isn't the only problem. According to Tan, most deaf people will not look at the interpreter: "the person is usually too small on the screen and our eyes soon get tired," she explained.
"In order to raise legal awareness, the legal interpreter must also have a clear understanding of the average deaf person's comprehension ability and way of thinking, in order to produce videos that can effectively help them understand the law." But Tan doesn't think everything can be provided online, and is keen for regular offline talks and lectures to be held, targeted at the deaf community.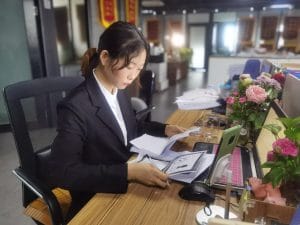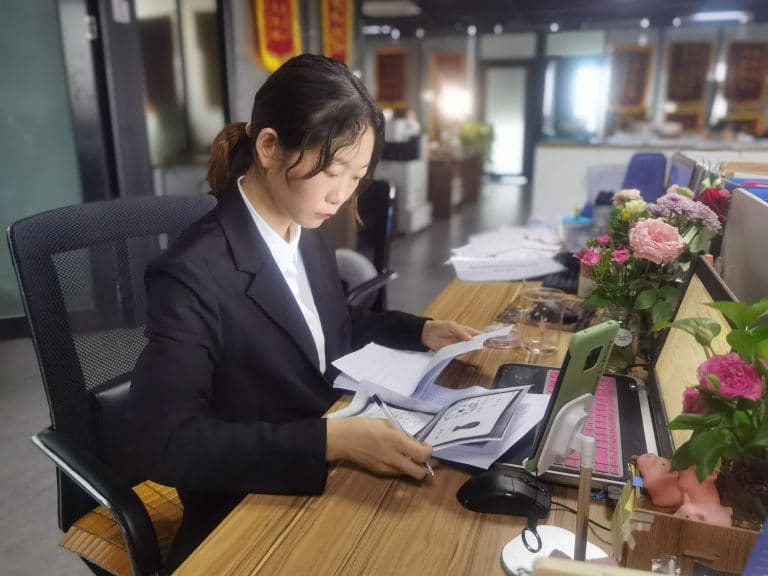 Source: Tan Ting
Since she became China's first deaf lawyer, her story has received plenty of media attention. But the attention hasn't changed her daily routine of meeting deaf clients at the office and helping them navigate the law. Many also contact her and the team online, and she continues to use sign language and transcription apps to communicate and provide as much advice as she can. To deaf people who come to see her, she is often viewed as much more than a lawyer, with some asking for advice on other aspects of their lives. Sadly, members of the community often have few places to turn. "One time, a lady asked me to help her and her partner get married," Tan recalled, "I told her that if they were both willing to get married, they should go to the Ministry of Civil Affairs with the required documents. Lawyers cannot help with that!"
Tan's high profile has kept her busy, as both clients and the media constantly seek her out. But fame is a double-edged sword: while most have praised her work, some have made negative comments. Tang Shuai, Tan's trainer and mentor, has been asked if he encouraged Tan to be a lawyer to generate publicity for his business. While finding the questions upsetting, Tang has repeatedly stressed the urgent need of the deaf community to be able to access proper legal services.
"The emergence of lawyers like Tan Ting is inevitable as a society develops. Now we have the first deaf lawyer, in the future, we will have deaf judges, deaf prosecutors, or even courtrooms specially designed to deal with cases involving deaf people. Until that time, communication problems (between the deaf and the hearing) in the legal field can be tackled gradually, easing the isolation of the deaf community."
Tan is optimistic about the future, both for her community and her career. But for now, she does not want to be too ambitious. When asked if she would represent clients in court, she said she had not thought of representing anyone yet. "I want to continue focusing on raising legal awareness among deaf people; it is an important mission."
Despite all her success, Tan is still constantly looking for ways to improve her own skills and abilities. She continues practicing her speaking as she needs to communicate with hearing colleagues and sometimes has to give legal counsel to hearing clients. For now, she mostly uses an app developed by a company named Xunfei which is able to transcribe what hearing clients say, and she will sometimes turn to pen and paper. "I want to learn lip reading, so understanding and talking to hearing clients will become easier." And her profession also ensures that she continues to learn new things, something she says makes her feel "safe, connected and content."
Compared to many in the deaf community, Tan Ting has enjoyed great success. Yet growing up, like many others who were not born deaf, she has gone through a long, tough process to accept her disability. "People threw strange looks at me and it made me feel terrible. It made me think I really was a strange person." Leaving home for school and work has made her realise that there are many people in the country that are just like her, and the majority of them have unfulfilled needs. Having qualified as a lawyer, she is now able to help people using her professional skills and believes that so much more can be done to get China's deaf population more involved and better connected. "I hope that more accessible facilities and environments will be set up for the deaf community, and that many training programmes will be made available to hearing people who would like to learn sign languages and later serve the deaf community in different sectors."