The 8th annual E.G.G Walkathon (一个鸡蛋的暴走) took place in Shanghai on the 12th of May. This year nearly 4000 people took part in the 50 kilometre walkathon in aid of children's charities in China. Over the previous seven years 43.48 million RMB has been raised for 264 children's charities in 24 provinces, helping over 380,000 children. This year's walkathon has already raised over 9.83 million RMB.
Other than raising money for charity, this year's Walkathon also committed to the practice of zero waste. Friends of Nature (自然之友), China's oldest environmental NGO, partnered in carrying out the event's waste management. According to data they provided, over the course of the walk more than 20 thousand plastic bottles were thrown away, as well as countless snack wrappers and food waste; so how did the organizers go about mitigating the waste problem?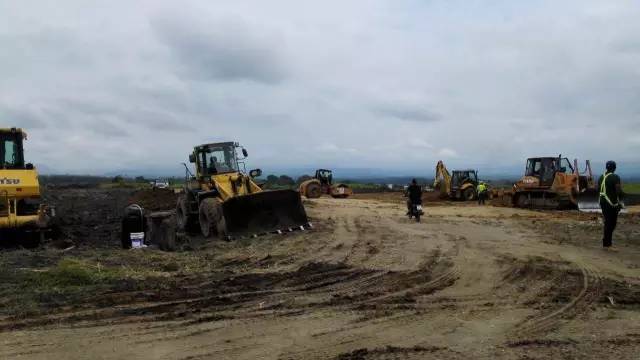 First of all, let's look at how much waste was produced during the event. In total, 1.052 tonnes of waste were created (the equivalent of a small car), out of which 31% was made up of leftover food, 20% of plastic bottles and 49% of other waste or non-recyclable items. This shows that over half of the waste produced in the walkathon can be directly recycled.
In order to recycle as much as possible, "eco-volunteers" were recruited to promote environmental awareness, maintain cleanliness and sort the waste. The organisers set five "eco-rules" for the event:
Cooperate with the eco-volunteers' work in sorting waste
Keep waste products with you until you pass a designated waste disposal point
Record all waste products and disposal of products (including personal waste)
Remember to recycle cardholders, shoes, socks, hats etc.
Use reusable bottles
Every organisational team had an "eco-representative" to make sure everyone followed the "eco-rules".
On the day of the event the waste bins had labels in both Chinese and English designed by Friends of Nature, dividing the bins into three types: food waste, plastics and non-recyclable items. Volunteers were stationed at every waste disposal point to make sure all the items were properly disposed of.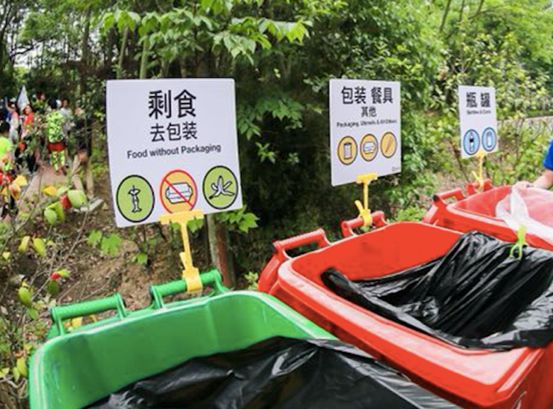 All of the food waste is scheduled to be sent to a local Shanghai environmental protection company to be processed into fertiliser, while the plastic bottles will be sent to Tian Ying (a recycling company in Shanghai) to be processed and recycled into clothing materials. These two resources will come back into the material eco-system of the city. It is quite possible that next year's participants will be eating fruit fertilised with composted food from this year's event. Even the T-shirts for next year's walkathon may be made from this year's recycled bottles. Other waste products will be sorted and sent to landfill sites, incineration and other disposal channels. This type of sorting and disposal can reduce the overall waste production of the event by 40 to 60%.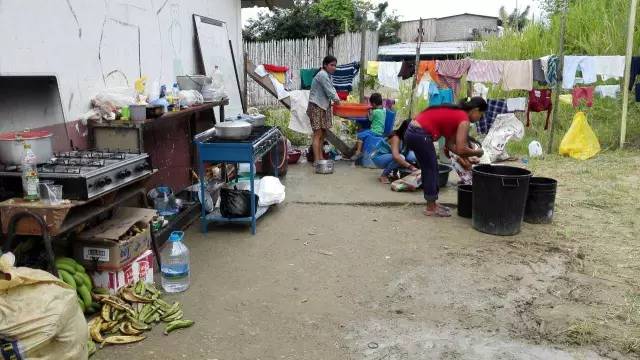 Due to the presence of specialised waste disposal points manned by volunteers, organisers found that the recycling efforts of the participants increased noticeably. After interviewing some of the participants, it could be seen that they were aware of the large amounts of waste produced by the event and supported the waste-sorting initiative. However, there were still cases of participants discarding items without any environmental awareness. Not only were perfectly useable pairs of shoes and clothing discarded, but even an unopened box of walkie-talkies was found at the end of the event!
While there is still space for improvement, this year's walkathon was the first to commit to the Zero Waste initiative, and hopefully it will set an example for the responsible disposal and recycling of waste in sports events in the future.