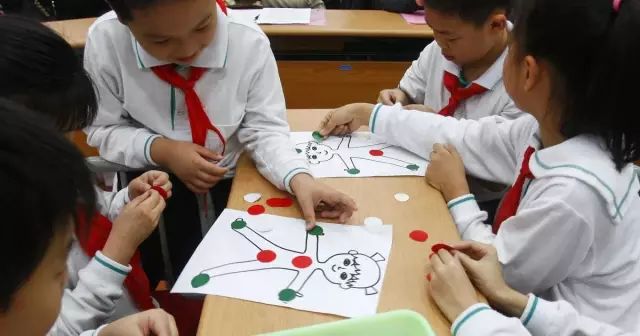 A series of primary school sex education textbooks that candidly explains the topics of intercourse, sexual orientation, and gender equality has made some Chinese parents question whether 7 years old is too young to learn about the birds and the bees.
The online discussion was kicked off by a mother from Hangzhou, a city in the eastern province of Zhejiang, who was astonished to find illustrations of reproductive organs in a textbook for second-grade students. She took to microblog platform Weibo to voice her complaints, writing: "Do children nowadays start studying these things in their second year of primary school?"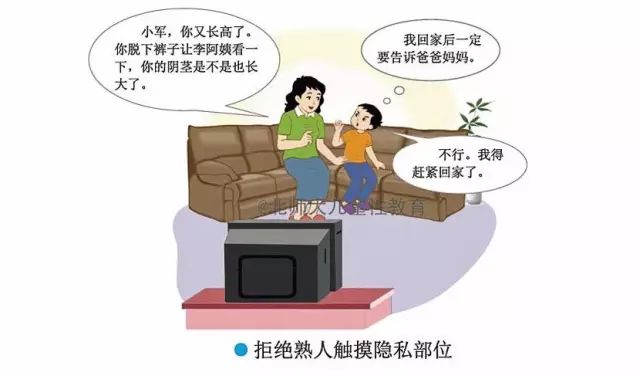 A textbook illustration shows a boy refusing to let an older woman touch his private parts. From the sex education series "Cherish Life"
While the concerned mother found some support, most commenters viewed the textbooks as a sign of progress for China's notoriously questionable sex ed curricula, which is blamed for high rates of abortion and sexually transmitted diseases.
One net user disagreed so vehemently with the Hangzhou mother's sentiments that she wrote a 1,800-character essay to explain her objections. "Everybody knows that China's sex education is poor, but when there is progress, some people still think it's just pornographic or unimportant," she wrote.
Others argued that opposition to the books is a symptom of the taboo that all matters sexual still carry in China. "Chinese people shouldn't tell their children they were picked up from a garbage bins or emerged from under a rock just because they'd rather not talk about sex," wrote one Weibo user. "These things really aren't that shameful."
The textbook series, titled "Cherish Life," had its first book published in 2010 by a research group at Beijing Normal University. They joined the discussion on Saturday, saying in an article on their public account on messaging app WeChat that they want to deliver knowledge about sex "naturally and accurately." They explained that in 2008, China's education ministry called for sex ed to be improved.
The researchers added that one of their goals was to protect children from sexual harassment. "They should know that these reproductive organs are important, and why they should be protected," they wrote.
The textbooks cover first through sixth grades and cover topics ranging from family relationships and life skills to intercourse, reproduction, homosexuality, and gender relations. Currently, the textbooks aren't part of the public school curriculum, but 18 schools catering predominantly to the children of migrant workers in Beijing do use the books for their sex education classes.
Lu Xinchen, a teacher at Tongxin Experimental Primary School in Pi Village near Beijing, told Sixth Tone that he first found out about the textbooks three years ago. "At first, I felt awkward," the 28-year-old said. "But the teachers from Beijing Normal University gave us a training course and encouraged us to speak candidly."
Lu said he felt a little shy when, two years ago, he told his students about periods and wet dreams, but he also thinks it's important to teach the material and plans to review it soon. "Some girls mature early, and they may get their period in grade five or six," he said. "I hope they won't panic."
Yang Anqi, 34, told Sixth Tone that sex education is a must for children, and that parents should never avoid talking about it with their children. Her 6-year-old daughter, for example, is already familiar with the terms "egg" and "sperm." "She came to me when she was only 4 years old," Yang said. "I answered her directly without trying to hide anything. It's important. The calmer the parents are, the better the effect."
Sociologist Li Yinhe supports "Cherish Life" and told Sixth Tone that the content of the books is appropriate for their target age range. But she thinks the biggest problem is that China still lacks qualified sex ed teachers. "Their words, methodology, and manners matter a lot to children," Li said. "We shouldn't let chi