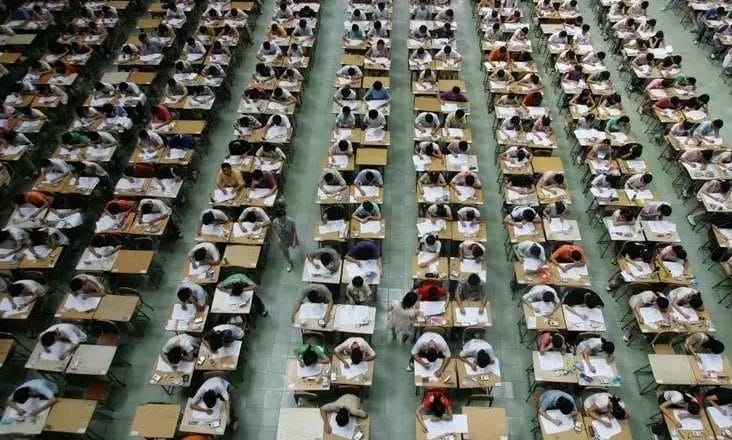 Recent reports of Hengshui's High School No. 1 opening a branch school in Zhejiang Province have sparked a national conversation not only on the quality of China's examination-oriented education, but also on the pros and cons of the national college entrance exam (gaokao) system. It has also brought into question the necessity of so-called "super high schools", like the school in question, that value test scores and memorization over innovation and critical thinking.
Hengshui High School No. 1 is located in southern Hebei, the province that surrounds Beijing and has a population of some 75 million. The province is not one of China's wealthiest, and in order to escape the poverty that their parents may have faced, many students from families of ordinary means are sent to or opt to attend super high schools like Hengshui No. 1, which apply harsh examination-oriented teaching methods that promise high test scores on the gaokao. Supporters argue that while Hengshui's standardized test-oriented education model may not be conducive to nurturing students' creativity, it does produce exceedingly high gaokao scores, which will allow students to attend more prestigious universities elsewhere in China.
Some critics however argue that the high school's teaching methods, sometimes known as the "Hengshui Model", are damaging to students' creativity and individuality. Over the years, opponents have torn into the school's teaching method for its hardline stance on rote memorization and its rigid adherence to rules. Reports have mentioned that students attend mandatory exercise drills before 6am, after which they are required to proceed directly to classes where they spend the entire day memorizing textbooks. The school's rules strictly forbid laughing, flirting, certain snacks, tardiness and dress code violations. Hengshui High School No. 1 operates on such a tight schedule that students sometimes only have a few minutes to eat lunch before diving back into their textbooks.
The school's Zhejiang branch is set to open in Pinghu, a city just outside of Shanghai's municipal borders. While Hengshui High School may enjoy high enrolment numbers in northern China, opponents argue that it has no place in the wealthier outskirts of Shanghai. The Commissioner for Zhejiang's Education Department Hong Fengfang reminded reporters of his province's intellectual achievements over the centuries, during which it has produced many well-known scholars. He emphasized that the Hengshui Model's attitude towards education focuses only on numbers, rather then on people. He told reporters that "their method does not match ours; while they think it is cutting edge, we find it backwards. We don't need that here."