China's State Council approved the revised draft of the "regulations on the education of the disabled" on the 11th of January 2017. Among other things, the document promotes an "inclusive education" for children with disabilities. Meanwhile, in some areas of China local educational departments and charity organizations have already been implementing inclusive education programs for such children.
In the Wuhou district of Chengdu, southwestern China, some schools included in such programs are now taking a precursory approach towards children with special needs, integrating them with their peers rather then giving them a special classification.
Keer is a 9-year-old girl with cerebral palsy. She used to go to a special education school like other kids with special needs. In September 2014, after being assessed as being able to adjust to an ordinary school, she was transferred to the Wuhou Kejiyuan primary school, one of the pilot schools in a project for the adoption of an inclusive education.
Kejiyuan showed itself able to welcome Keer and other children with special needs. The school prepared material related to the girl's basic situation and training plans. Teachers familiar and committed to an inclusive education were selected to teach her. Lifts and barrier-free bathrooms were also set up to facilitate transportation for the girl. Her grandfather accompanies her to school, and takes her to do daily balance training.
"Keer is pure. Sometimes when we meet difficulties, we think about her; how she might react to difficulties," said one student who often helps Keer. "She is our sunshine." Kejiyuan is one of the pilot schools for an inclusive education program propelled by the local education bureau and non-profit organizations.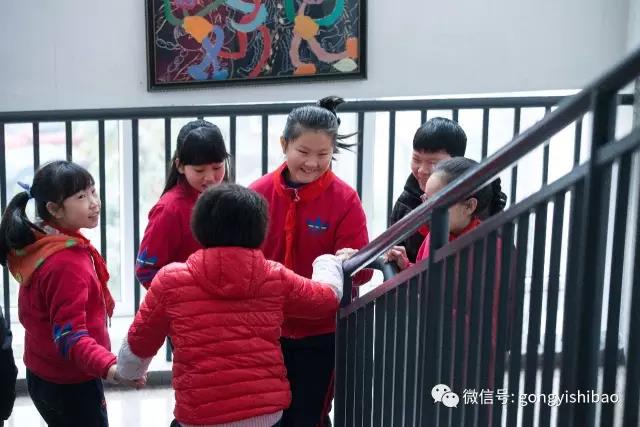 Keer and her classmates. Photo credit to Gongyishibao.
From 2013, Save the Children has been working with the Wuhou district to conduct inclusive education training for teachers. "Before we received inclusive education training, we could only care about such kids through our own experience. Often we could't address problems, and some even got annoyed by children with special needs", says Qing Hua, a Chinese teacher at the Taiping school in Chengdu. Qing Hua said she was totally baffled at her first training by the many brand new ideas about education.
"As my understanding of inclusive education deepens, I started to apply what I have learned to the students, which delivered obvious results. My student Xiaoyu was one of them", says Qing Hua.
Xiaoyu had been well known for "causing problems" among the students. To find out more about the boy, the teacher invited experts from the local resource center to conduct a comprehensive assessment. It turned out that Xiaoyu had high-functioning autism.
After close observation and analyses, she learned that the root cause of Xiaoyu's problematic behavior is a defiency of self-management and communication. The teacher then started to make plans for intervention, and to keep in constant touch with Xiaoyu's mother.
"There are many kids in average schools who are like Xiaoyu and need a special education. They have got various problems; as teachers, we are not only required to show affection, but also to have methods to deal with these problems", says Qing Hua.
For every pilot school in the inclusive education program, a resource room has also been set up for counselling special need children, as well as a public room for all the students to have fun.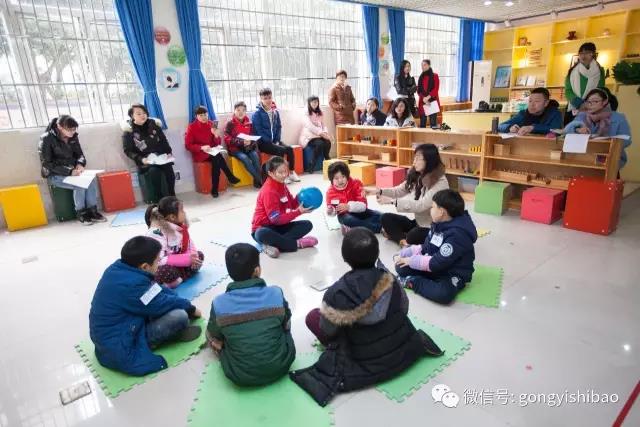 Class at a resource room. Photo credit to Gongyishibao.
Behind the pilot schools there is the full support of the Inclusive Education Resource Center. The Center creates files for every special child attending normal classes, and tracks their performances and activities. So far, Wuhou district has created files for 292 students at the Center.
"I can face reality now. Before I was afraid of telling people, but now I know there are other parents like me. I can see the problem more patiently, more scientifically", said the parent of a child with special needs who has received training on special education.
From 2009 to 2015, Save the Children has created similar programs in Sichuan, Yunnan and Xinjiang. A total number of 2022 disabled children and 12404 ordinary children have benefited from these programs.