Famous Chinese actor, singer and model Huang Xiaoming, who was selected as the most influential celebrity in charity in 2015, published a post on Weibo three days ago to celebrate the efforts of social workers.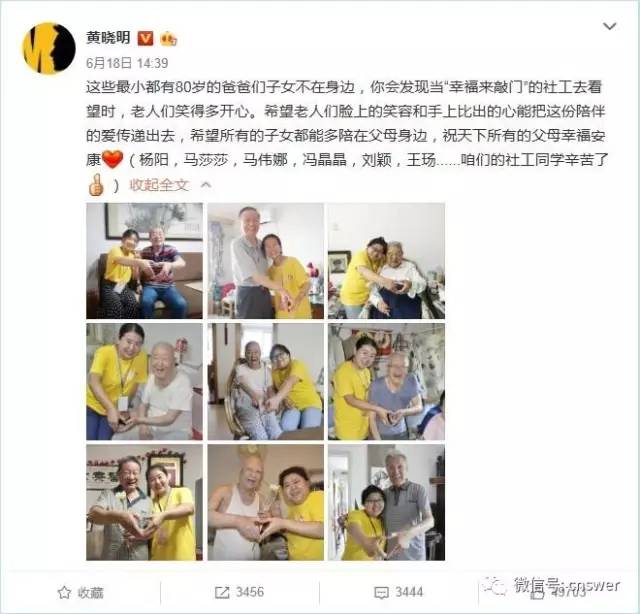 The post included nine pictures, and it was reposted and commented over 3000 times and liked by approximately 50 thousand people. It reads: "These are a group of elderly people over 80 whose sons or daughters aren't around. You may notice how happy they are when the social workers of the Pursuit of Happiness (幸福来敲门) come and visit. I wish the love shown in their smiles and the hearts drawn with their fingers will be spread all over. With the hope that all children will be able to spend more time with their parents, I am sending my blessing to parents around the world [Heart] (Yang Yang, Ma Shasha, Ma Weina, Feng Jingjing, Liu Yin, Wang Yang……Thank you all for your efforts [ThumbsUp])".
The Pursuit of Happiness is a program co-founded by the National Union for Long-term Care and the Tomorrow Foundation. Social workers and volunteers in the program pay visits to the elderly and provide emotional support and counselling services. In addition, scholars have also been invited to give speeches on health issues and multiple communities have been created among the elderly based upon different needs. Since its establishment on the 9th of October 2016 (which that year coincided with China's traditional Double Ninth Festival, a day to care for and appreciate the elderly), the Pursuit of Happiness has always focused on cultivating professional social workers, providing a pleasant environment for the elderly and encouraging participation by the public.