The annual Yulin Dog Meat Festival kicked off yesterday for the ninth time, amid widespread criticism from Chinese animal-rights activists and the international community. Yulin residents have eaten dog meat and lychees on the summer solstice for generations, but the festival was only established in 2009, probably as a way to boost trade and tourism.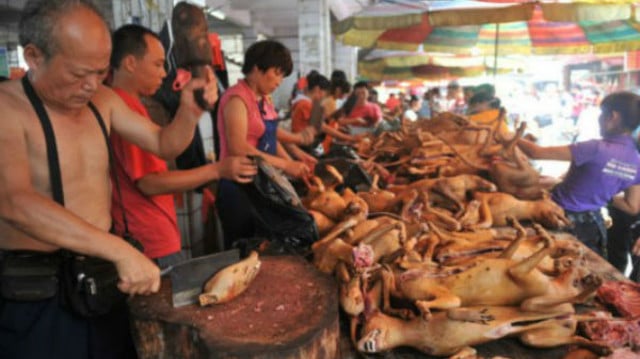 photo credit to Shanghaiist 
During the week-long festival both dog eaters and activists will certainly be spotted in Yulin, as the local residents will slaughter and consume about 10,000 dogs, many of which will have been sent to the slaughterhouse before the festival begins. Although two US organizations claimed around a month ago that Yulin had instituted a ban on dog meat, the news was subsequently proven to be false, as we have already reported. At the same time, the local authorities are clearly feeling pressured by public opinion and an increasingly sophisticated animal-rights movement. Therefore the festival is being carried out in a much more "subdued manner" this year as dogs are being slaughtered outside the city, according to the Global Times.
On Monday, Chinese animal activists rescued approximately 1300 dogs destined for the slaughterhouse. According to a report, a truck loaded with dogs was spotted on a highway in Guangdong province by activists. After failing to provide health and transportation certificates for the animals, the driver reached an agreement with the activists and local authorities to unload the dogs off the truck at a Guangzhou animal shelter. Unfortunately, many dogs were in extremely bad shape due to the overcrowded and deformed crates, and at least 20 of them had died in transit.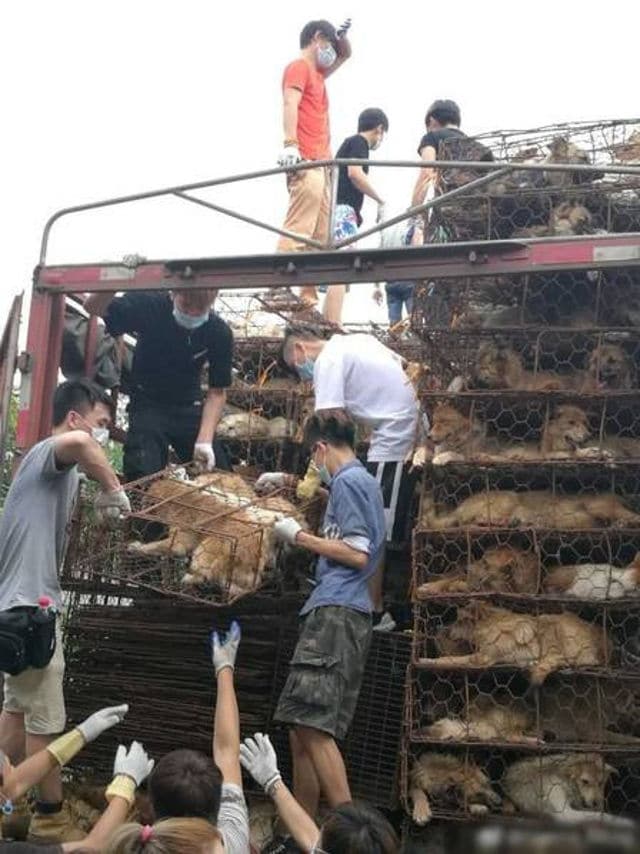 photo credit to Shanghaiist 
The eve of the festival has also seen some controversy within the Chinese animal-rights movement over the best way of addressing the issue. Over 100 animal rights NGOs have written an open letter to their fellow animal lovers to call for a more rational approach to saving dogs' lives. The open letter calls for activists to stop buying dogs from the Yulin traders as a way to rescue them, a common practice. The groups claim that this sort of action would stimulate the dog trade, since it enriches the traders. "In order to save lives, dog lovers can buy dogs in their local area and reduce the cost of long distance transportation", they argued. They also criticized some publicly-funded dog rescue campaigns for lacking transparency, which could lead to deception and fraud. The letter follows last year's incident with American activist Marc Ching, who claimed to have rescued 1,000 dogs during last year's festival by buying up six slaughterhouses and shutting them down. Many of the dogs he saved were later discovered to have died however, since the Buddhist organizations which bought them refused to offer them life-saving injections and medical treatment.