A roundtable discussion on "The Development of Nonprofit Technology from the International Perspective" was held at the 11th Annual Symposium of the China Foundation Forum on the 23rd November in Fuzhou. CDB interviewed the two panelists, Guo Runmiao, the co-founder of Lingxi, and Zhang Qiang, the executive director of NGO2.0, to get their views on the development of China's nonprofit technology.
---
The rise of Chinese tech has astonished the world. Many agree that China has solidified its status in the global technological landscape, and that the gap between China and the US has narrowed considerably. From imitation to innovation, China has put the copycat era behind it and is now taking the lead in digital technology, reshaping the daily lives of people living in this gigantic country as well as the way they get involved in charitable actions.
According to "Digital Philanthropy in China: Activating the Individual Donor Base", a report authored by Bain & Company and United Way in 2018, the number of online donations in China has increased from 0.44 billion in 2013 to 6.25 billion in 2017.
Digital fundraising accounts for slightly more than 2% of China's RMB 156 billion philanthropy sector, showing great potential for online fundraising among individuals. A survey conducted on the WeChat account and website of the People Think Tank (人民智库) shows that 62% of the 11,484 respondents prefer to participate in philanthropy by donating online, valued for its transparency and convenience.
Currently digital fundraising in China is dominated by the two online giants Alibaba and Tencent, which account for 90% of the total value of online donations. After gaining huge success in their business in the past decade, the two technology giants are putting more resources into charitable projects, providing NGOs a better and easier way to engage with their growing online supporters.
At the 11th Annual Symposium of the China Foundation Forum, Dou Ruigang, the executive secretary-general of the Tencent Foundation, said technology makes grassroots organisations better. He took Marvel movies as an example, explaining how technology could save the world if put to good use. "People are talking about how artificial intelligence (AI) will take over from human intelligence. I agree that humans can't compete with AI in terms of data processing capabilities, but 'AI' in Chinese also means 'love' (爱), which together with kindness are the two keys to shape a better society."
This year, Tencent announced their new vision of 'value for users, tech for good' in their 21st anniversary celebrations, aiming to fulfil their social responsibility through their products and services. Sharing the same values as its competitor, Alibaba has vowed to make charity easy for everyone everywhere.
In the 9.5 Philanthropy Week this year, Alibaba Philanthropy and Ant Financial's blockchain team co-developed the "Charities on the Chain" initiative, a blockchain-based solution to improve trust and transparency in philanthropic donations. The program deploys blockchain technology to connect donors, charitable organizations and beneficiaries, allowing users to track their donations. Donors know when and where their money is transferred and how it is spent.
According to the United Way report, China's philanthropy sector has been affected by natural disasters, which spur short-term donations, as well as by scandals, which deflate the public's trust and willingness to donate. After the scandal of Guo Meimei and the Red Cross was exposed in 2011, total donations from individuals fell by 60% from 2011 to 2014.
Zang Jing, a senior specialist of Alibaba Philanthropy, pointed out during the Symposium that the credibility issue of the nonprofit sector is not fully caused by human nature; in many cases it is due to a flawed system that fails to connect the dots in charity projects.
"The public are concerned with the transparency and effectiveness of charity projects. Two months since the launch of Charities on the Chain, we sorted out 20 charity projects together with our partnered NGOs to make sure that the source of funds, organizational structure and the status of the funds are clearly recorded in the system. It's our mission to show the public how everything works in charity through technology."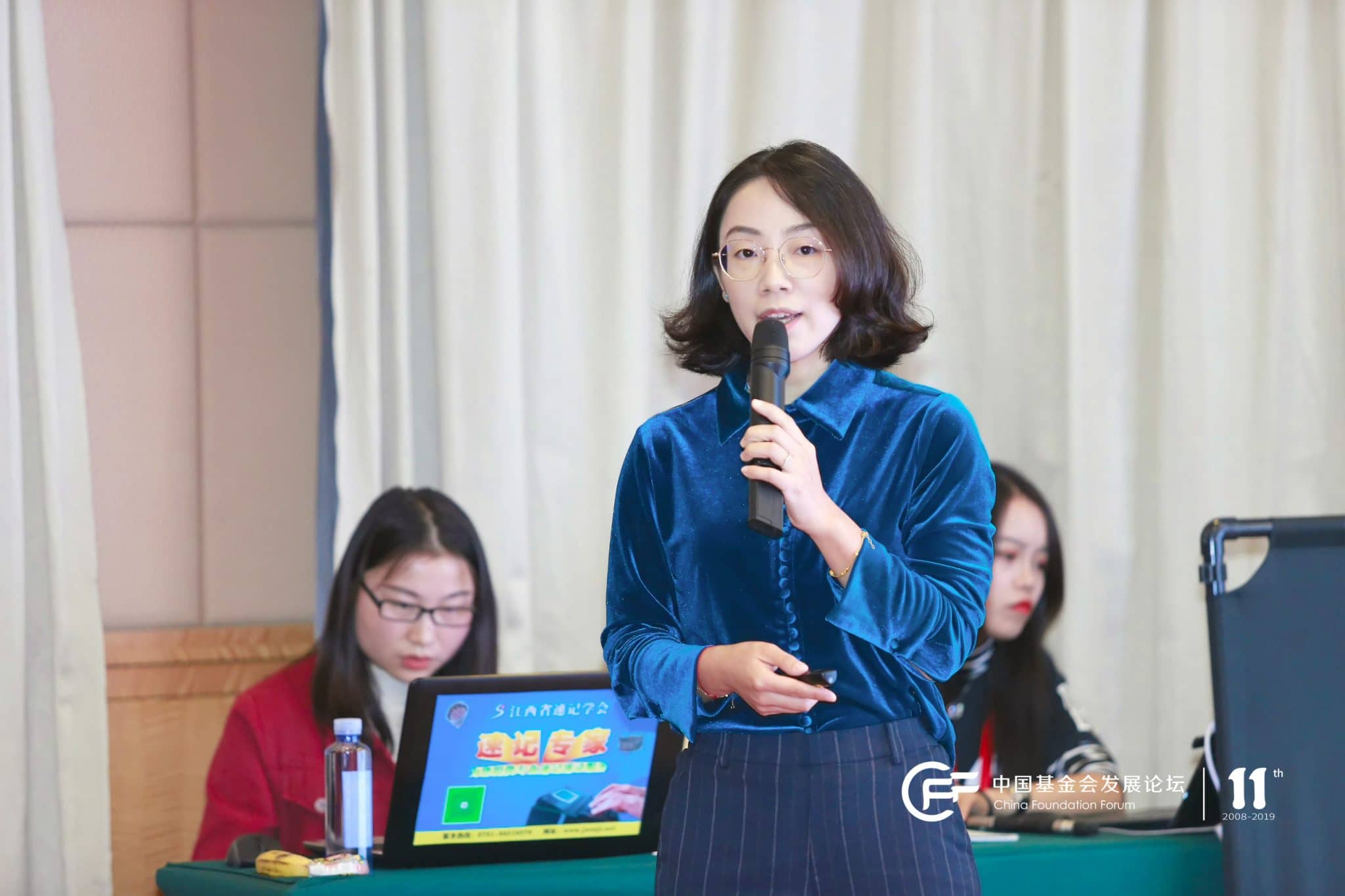 Zang Jing, a senior specialist of Alibaba Philanthropy, believes that technology can help improve the transparency of online donations (Photo: China Foundation Forum) 
Both Chinese tech giants are working hand-in-hand to promote social good through technology, and while the future of the digital philanthropy seems bright, technology can actually do much more for nonprofits than just fundraising.
Nonprofit technology, also known as ICT for Good or technology for charity, can generally be defined as any technological tool that assists a nonprofit organization by helping it to work with a greater social impact in forwarding the overall organizational mission. These tools can improve communications internally or externally, as well as the performance on volunteer management, donor engagement, marketing, program planning, tracking and evaluation, human resources management, financial accounting and more.
In many countries where the nonprofit sector has a longer history, technology has been recognized as an essential tool for the organizations to achieve their social missions. The nonprofit technology communities are relatively mature, and countless technology companies, associations and organizations are pushing for the development of the industry.
Examples include Blackbaud, a listed technology company started in 1981, providing a full range of software and services to the social good community; The Nonprofit Technology Enterprise Network (NTEN), an US-based community for those who are interested in the use of technology to support nonprofit organizations and issues; Tech Nonprofit Directory, a database that includes 446 tech nonprofits around the world.
"Nonprofit technology is not about using the most advanced or high end tools, it's about helping nonprofits to solve their problems."
In China, while civil society might have been growing rapidly in the past decade, the development of nonprofit technology is still in its infancy. Despite the efforts made by online giants, there are a very limited number of technology companies or association in China specialized in nonprofit technology.
To date, Lingxi is the only technology company dedicated to empowering nonprofit organizations in China with digital capabilities. Since its founding in 2012, Lingxi has released a series of tools including an online form builder, a fundraising page generator, an email marketing toolkit, an SMS portal, and a data visualization canvas, helping nonprofit organizations increase productivity and create data-powered systems. Currently, over 75,000 NGOs in China are using Lingxi's service.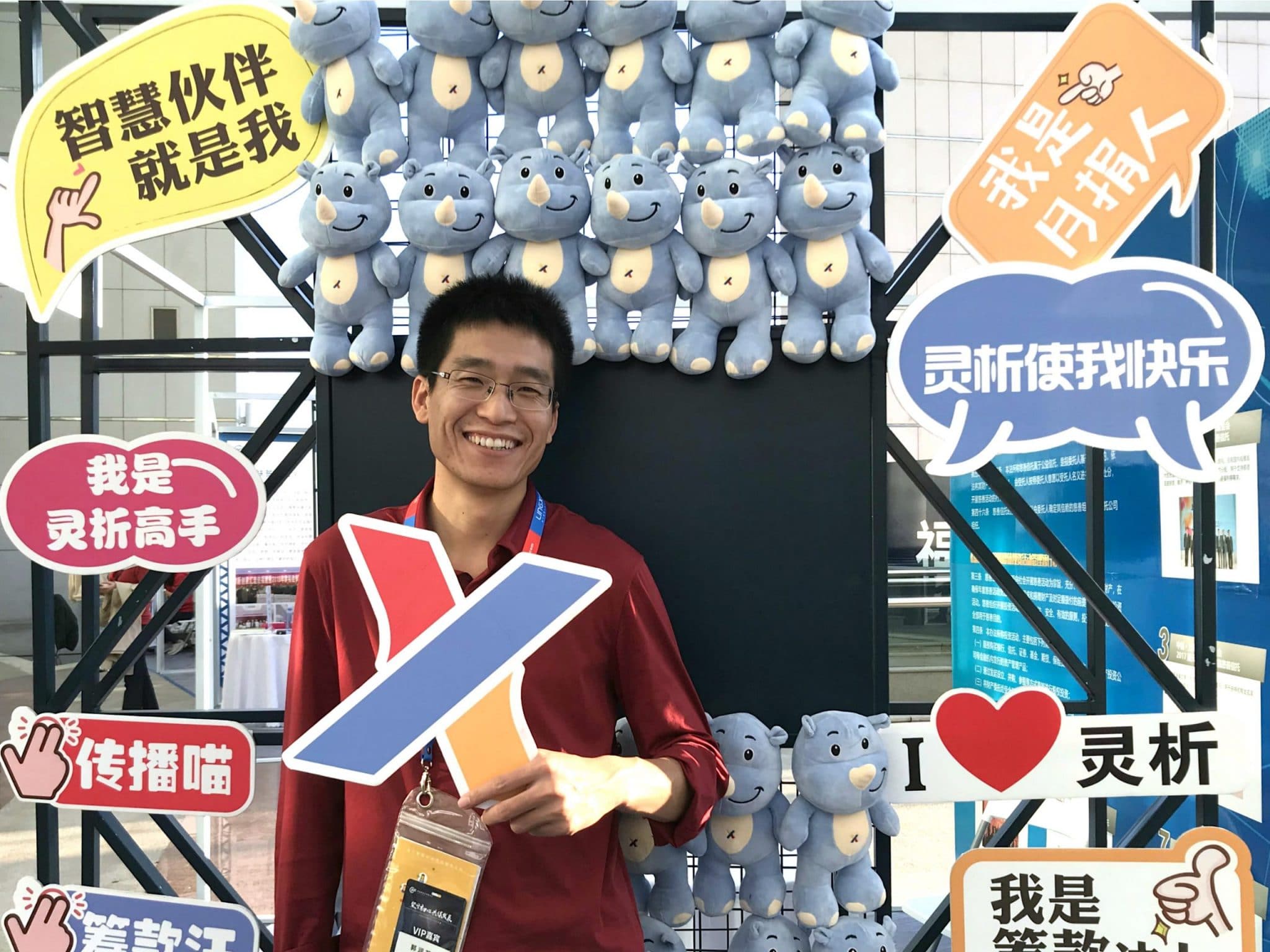 Guo Runmiao, the co-founder of Lingxi, says NGOs should make data collection and data protection their priority (Photo: CDB)
According to Guo Runmiao, the co-founder of Lingxi, 75% of American donors take organizational transparency and effectiveness into consideration when making a donation. "Technology is making donating convenient in China. People here can donate easily on their mobile, whereas overseas people still have to fill in their credit card information to make donations. What the Chinese nonprofit sector lacks is not the technology that makes charitable giving easy, it is the support system to improve organizational transparency and effectiveness."
It is Lingxi's vision to be the Chinese version of Blackbaud. As Guo commented, Lingxi has no difference from Blackbaud in terms of technological capabilities but they have not yet developed a full set of consultancy services like what Blackbaud are offering their clients.
To him, the biggest challenge in promoting nonprofit technology is not the technology itself but the users' proficiency in technology. "In the US people customize their own website by using ready online tools, but this is unimaginable in China, especially in the nonprofit sector. The habit of using digital tools needs to be cultivated and the mentality needs to be improved."
He further explained that some nonprofits focus only on fundraising and neglect the management of the organization. "Technology and organizational management are equally important in running a successful NGO, it's critical to provide technology training for the employees."
As Guo said, nonprofit technology is not about using the most advanced or high end tools, it's about helping nonprofits to solve their problems. Currently NGOs can't obtain donors' information when raising money on big fundraising platforms, thus one of Lingxi's focuses is to help NGOs build their own Donor Database. "No matter what technology an organization is using, data collection and data protection should be one of the top priorities."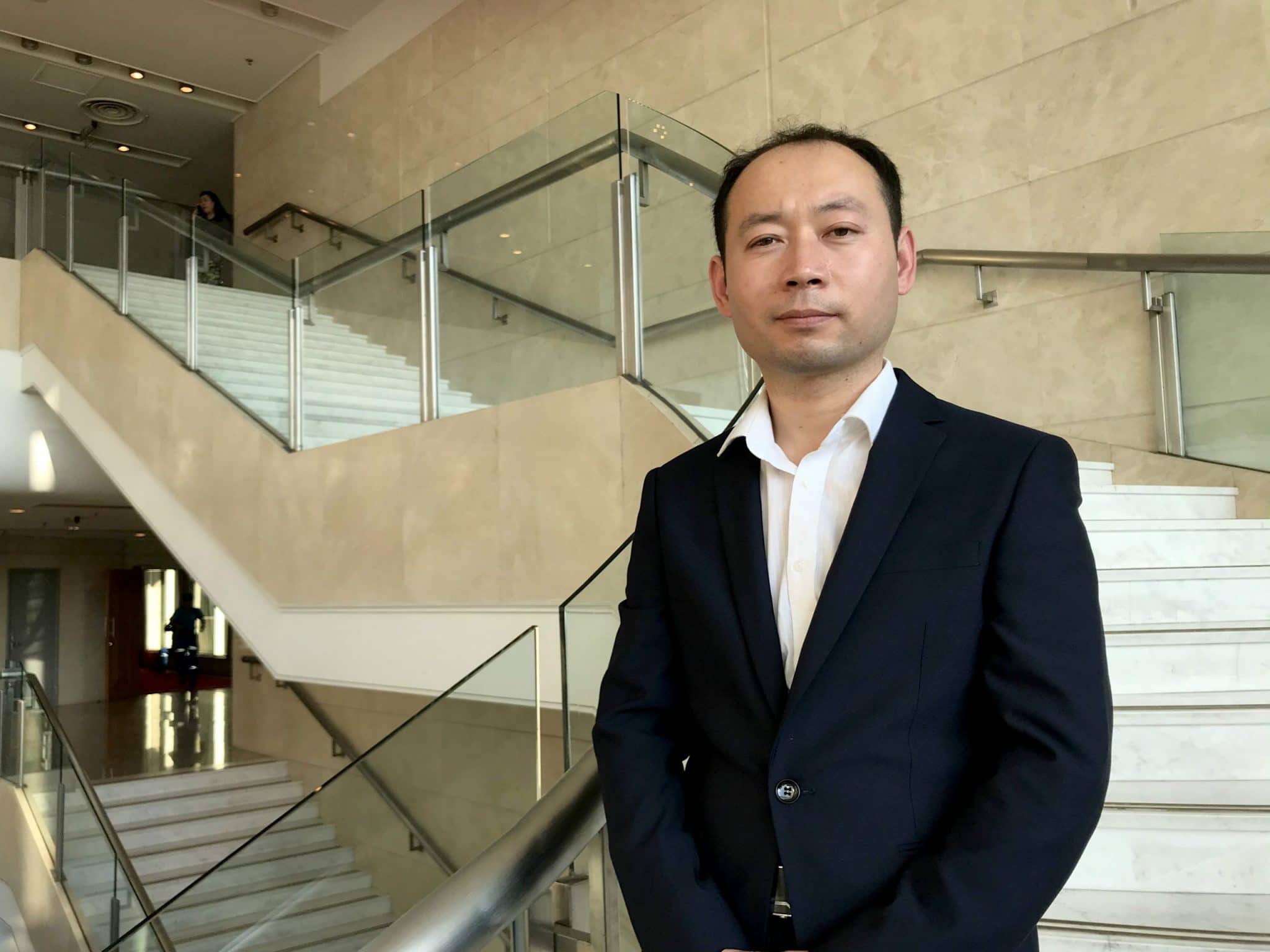 Zhang Qiang, the executive director of NGO2.0, envisions a bright future for China's nonprofit technology (Photo: CDB)
Zhang Qiang, the executive director of NGO2.0, agreed that mentality is now the biggest challenge in promoting nonprofit technology in China. Starting in 2009, NGO2.0 acts as an education-focused nonprofit with the aim to empower grassroots NGOs in Central and Western China by providing technological training and support. In the past 10 years, NGO2.0 has reached out to 2,000 NGOs but soon they realized the impact of small organizations is relatively limited to bring large scale change to the sector.
"To change the whole industry, we need to educate the major players, for example the big foundations. Once they understand the importance of technology, they will lead the systemic change."
As the pioneer as well as the only nonprofit organization promoting nonprofit technology in China, NGO2.0 has launched numerous pilot projects including NGO toolbox, NGOs Map, Nonprofit Technology Salon and Hackathon to inspire the creativity and the growth of the industry.
One of their missions is to facilitate the birth of an association of nonprofit technology in China. According to Zhang Qiang, the challenges of setting up such an association are to meet the registration requirements and to reach an agreement within the industry.
He says that China is a vast and complicated country, and while online giants have acknowledged the role of technology in philanthropy, other organizations are not yet on the same page.
Despite the challenges they face, Zhang Qiang is optimistic about the future of nonprofit technology in China. "The technology-penetration rate and the number of internet users in China are among the highest in the world. The industry has not yet reached an explosive growth but when we do, the size and development will be unimaginable."