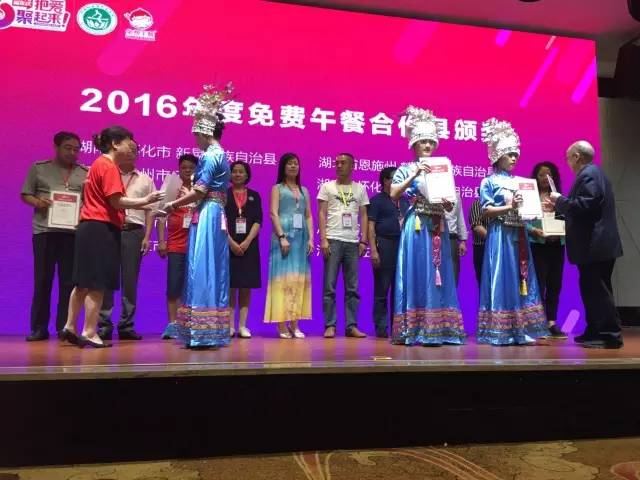 Members of the Dong people and Free Lunch for Children representatives at the forum.
Chinese charitable organization Free Lunch for Children announced at a recent social welfare forum that over the past six years they have fundraised more than 270 million yuan to provide free lunches to more than 190,000 rural children across 26 provinces. Held on May 20, the "Chinese Human Capital and Children's Nutrition and Health" forum called on members of a rural education action plan to speak about the situation of chlidren's nutrition and the disparity in child development across regions of differing affluence. In addition, the forum invited representatives from foundations, schools, government offices and donor organiztions to share their experiences with Free Lunch for Children. Widely discussed at the forum was Free Lunch for Children's success in western Hunan province.
Starting in May of 2011, the westernmost county in Hunan, Xinhuang Dong Autonomous County, entered a program with Free Lunch for Children. Inhabited mostly by the Dong ethnic minority, the county government sought to provide lunches to children by beginning Free Lunch for Children's "1+2" program, in which for every yuan that the government provides to school lunches, the NGO matches it with two yuan. During the last six years, cooperation between Free Lunch and Children and the county government has led to free lunches for children at every elementary, junior high school and kindergarten in the entire county. Since 2011, more than 43,000 students in the county have enjoyed free lunches through the program.
The program has brought countless benefits, but the most obvious is the change in local children's nutrition standards. In addition, the program has bolstered locals' participation in social welfare projects and advanced the quality of education in communities in the county.