Editor's note:
The China Development Brief (CDB) Forum 2020 was held in Beijing on December 9, 2020 and focused on "Challenges and Responses for Cross-Border Philanthropy under COVID-19." Leaders from NGOS and experts in relevant fields discussed how the COVID-19 pandemic has affected organisations' survival and development, grassroots-level struggles faced by communities, and the pursuit of social wellbeing. Below is an excerpt from an abridged compilation of statements shared by guests participating in Roundtable Discussion 4.
This excerpt is the second part of a conversation held from an international outlook on the successes and challenges of Chinese NGOs working abroad. Beijing Normal University's Director of the Research Centre for Innovation in Risk Governance Zhang Qiang facilitated the discussion joined by Wang Yalin, project officer of UNDP China; Li Liping, project officer of the Asia Foundation Beijing Office; Huang Hongxiang, founder of China House; Li Ai, project officer of the Ford Foundation Beijing Office; and Xiuli Kim, UNICEF's chief of South-South Cooperation & Partnerships. Zhang Qiang began the next part of the discussion by bringing up the "new concept of infrastructure building for the philanthropy sector," followed by speakers sharing how it relates to South-South cooperation.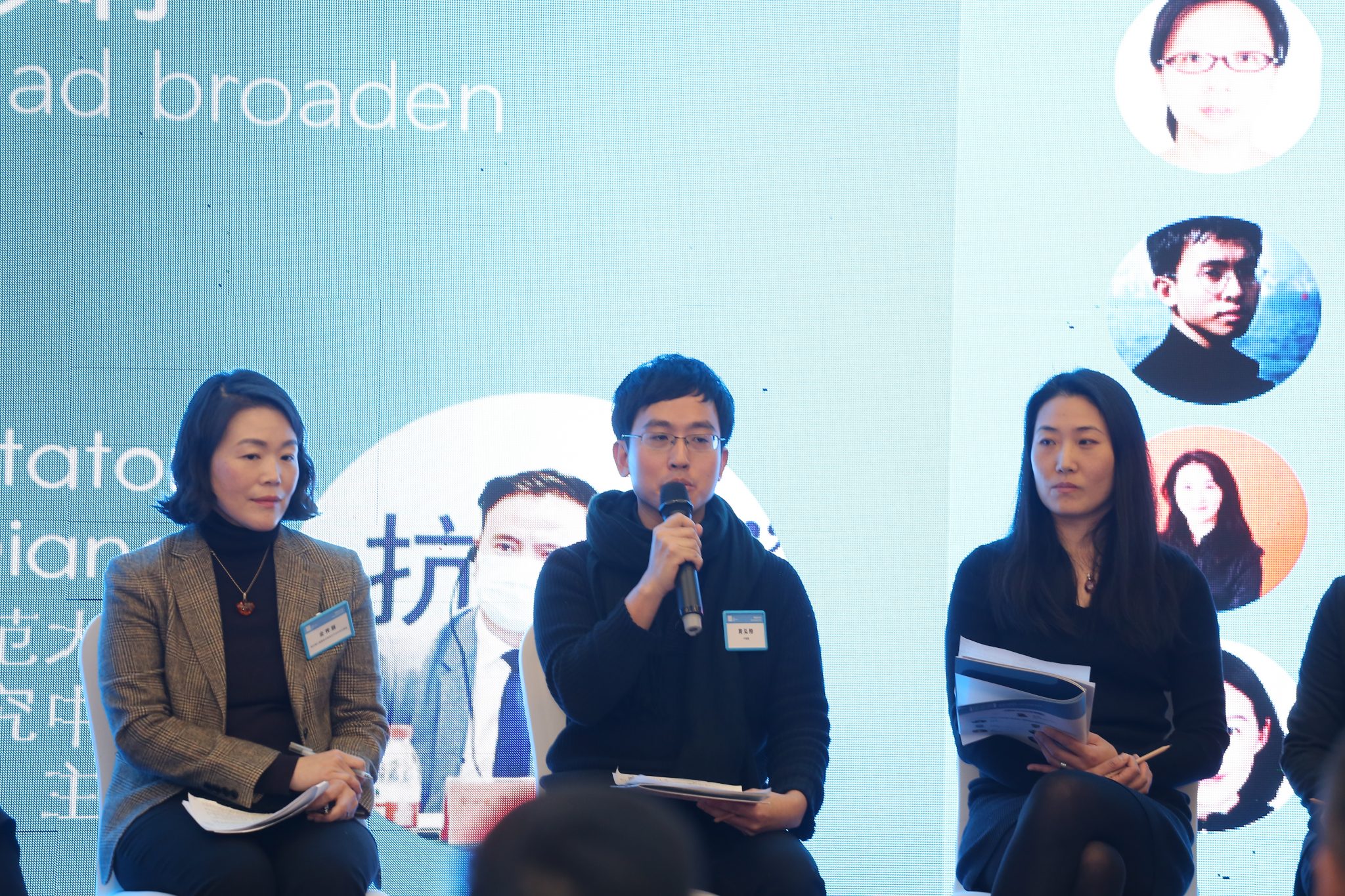 Sae-Ryo Kim: UNICEF is committed to the protection of children's rights in line with the UN Convention on the Rights of the Child. Globally we work with more than 1,300 NGOs to translate results into practical action. UNICEF China has established a South-South Cooperation relationship with Chinese NGOs. While this work has just begun, we have jointly launched projects to support humanitarian aid and NGOs in other countries.
We believe Chinese NGOs have accumulated a wealth of experience and lessons learned in the process of their development, particularly in poverty alleviation. Therefore, we hope to see Chinese NGOs working in other countries, as experience is an important asset for South-South cooperation. Of course, the need to adapt to local conditions means Chinese NGOs must address specific local needs, and bring long-term impact upon and benefits to local people. Establishing a long-term partnership between NGOs and institutions in related areas is a way of creating a pathway, which is UNICEF's belief.
Zhang Qiang: Thank you Xiuli! South-South cooperation is a gateway that can not only facilitate cooperation among NGOs, but also make full use of policy resources for multi-faceted integration. Regarding China's experience in poverty alleviation, after the list of the 832 poverty-stricken counties was emptied in 2020, the transition from absolute poverty to relative poverty and the sustainable development of low-income areas become another long-term goal. Poverty alleviation is an integrated practice, and we need to envisage and establish how the Chinese experience can work in the context of other countries. What are the opinions and experiences of the other two foundations?
Li Liping: Founded in 1954, the Asia Foundation is based in the United States and has offices in 18 countries, working on climate change and regional coordination and cooperation, etc. Since the 2015 earthquake in Nepal, Chinese NGOs have been going abroad on a large scale. After noticing this trend, we have launched projects to support NGOs going abroad, focusing mainly on capacity building, knowledge bases and tool development. For example, we have developed an "Operational Manual for Civil Society Organisations Going Abroad," which includes how to build relationships, operate and raise funds, and even a country-specific module for Nepal, focusing on the country's general situation, political landscape, laws and regulations, and how to register and manage projects in Nepal.
As many projects developed by Chinese NGOs working abroad are humanitarian aid projects, we have launched a programme to help build the operational capacity of Chinese NGOs to participate in humanitarian aid, and to assist Chinese NGOs to better understand the international emergency aid system and mechanism, the self-regulatory code of conduct for international project cooperation. This helps NGOs better comply with international conventions and legal texts when carrying out overseas projects, achieve self-awareness and self-regulation, and enhance capacity in international participation and cooperation. In the future, the Asia Foundation will continue to develop country-specific manuals and provide targeted support for NGOs to carry out projects in these countries, drawing on its many years of experience in the field.
With regard to funding, Asia Foundation is an operational foundation, and we are both a funder and an implementer of many specific projects. Our sources of funds include both the public and private sector. It is particularly important to have a mission and identify shared values with donors and beneficiaries, and to leverage our expertise and experience to build shared values, so that we can achieve win-win situations for all parties on issues of common concern.
Zhang Qiang: Country-specific manuals are particularly useful for Chinese NGOs going abroad and even for their survival. It's like knowing someone's likes and dislikes before making friends.
Li Ai: Some Chinese NGOs have already gone abroad, and some are preparing to do so. Therefore, I would like to share our experience in making preparations before we went abroad. "Why go abroad?" That is the first question every charity hoping to "go abroad" has to consider, and the same goes for the Ford Foundation. When Ford Foundation was founded in 1936, its mission and objectives were different from those today. In 1950, a 142-page report, developed over approximately two years, was published. "The Report of the Study for the Ford Foundation on Policy and Program" was later referred to as the Ford Foundation's great charter. This report provided a detailed account of how the Ford Foundation should most effectively and wisely use its resources for the benefit of humanity. It was on the basis of this report that the Ford Foundation began to restructure itself and make significant changes to its mission and vision, transforming itself from a U.S.-based foundation into an international foundation dedicated to international peace and the wellbeing of humanity.
The Ford Foundation Beijing Office was established in 1988 as one of Ford Foundation's 10 international programme offices. Our focus of funding has always been relevant to China's socioeconomic development, covering poverty alleviation and education reform, etc., and has evolved in response to the changing needs of social development. The year 2018 saw a restructuring all of the Ford Foundation's international programmes, which began to respond to issues concerning global inequality. Based on two years of exploration, a new strategic direction and a grant-making area were established in 2020, focusing on China's accountability for overseas financial policies, particularly whether Chinese outbound investments comply with international environmental, social and governance norms and help reduce inequality in local communities. The Ford Foundation is also supporting the establishment of "knowledge centres" in the Global South to support scholars from those regions in gaining a deeper understanding of China's socioeconomic system, discourse and the way Chinese businesses think when they go abroad. It will also continue to support infrastructure development for China's philanthropic sector and work towards facilitating U.S.-China relations and global governance.
Zhang Qiang: The Ford Foundation's experience tells us that mission should be prioritised and needs should be addressed, and how to respond to needs in real time is an important basis for an organisation to grow and remain viable. In the area of public administration, sustainable development is a very hot topic, yet there is a lack of methodology, and the process of sustainable development worldwide is currently lagging or not as good as it could be. But interestingly, in the area of philanthropy we are willing to share with NGO partners. It is necessary to understand macro policies and to have a knowledge base to discuss policy issues. Not only is it important to learn through practice at a grassroots level and in the field, but knowledge and vision are equally important. We prefer that knowledge does not just stay in the capital or in the power point, but can really help Chinese NGOs interpret what international counterparts have shared, and create an impetus to stimulate China's development.
Huang Hongxiang: When it comes to how Chinese NGOs working abroad can have a greater impact, I can hardly offer any advice as we are a small organisation, but I can share my own experience and lessons learned.
Firstly, we need to strengthen our sense of world citizenship. I believe when we go abroad, our "NGO identity" is the first priority and our "Chinese NGO identity" is the second. If we go abroad with this belief, our communication and dialogue with both local NGOs and international NGOs will be easier. Some people have told us that our name "China House," which clearly suggests it is a Chinese organisation, should be changed, as there might be local people who are hostile to China. Our experience is this isn't the case at all. On the contrary, Chinese organisations should show this identity in a dignified manner. The key determinant for being accepted by local people and local organisations isn't whether we are Chinese or not, or whether we are a Chinese organisation or not, but whether we make the NGO identity our first attribute.
Secondly, we need to approach local NGOs and international organisations. One of the important lessons we have learned is we must "make contact and acquaintances" in every local area, especially with leading local NGOs and influential international NGOs. Some organisations working abroad are reluctant to approach NGOs exclusionary against China. On the contrary, the more exclusionary they are, the more we are determined to contact them. After contacting them, we often found they were simply concerned about the possible environmental and community issues brought by Chinese businesses in the local area. They just didn't understand China; it's not that they disliked China. We found they usually like to have dialogue with Chinese NGOs. Through contact with them, we can learn about their needs, concerns, and different forms of discourse.
Thirdly, we need to better understand local needs, not only about a local social problem or need, but also about what local and international NGOs are already doing in these aspects. This is because if others have done a good job in this area, there is no need for us to do it again. In the case of animal protection abroad, for example, local NGOs are doing better than we are, and there is no need for us to do exactly the same thing. Nevertheless, they have two desires: one is to ask China for funding, and the other is to try to influence the local Chinese. When we do something that matches their desires, it is also very helpful in making an impact locally.
The final lesson I would like to share is to "communicate with people" in the process of going abroad. In terms of making an impact, over the past six years, we have sent more than 1,000 Chinese students abroad and found repeated interactions and communication between young Chinese people and local people can be a much more effective way of making an impact than spending a lot of money and building a lot of buildings in local areas.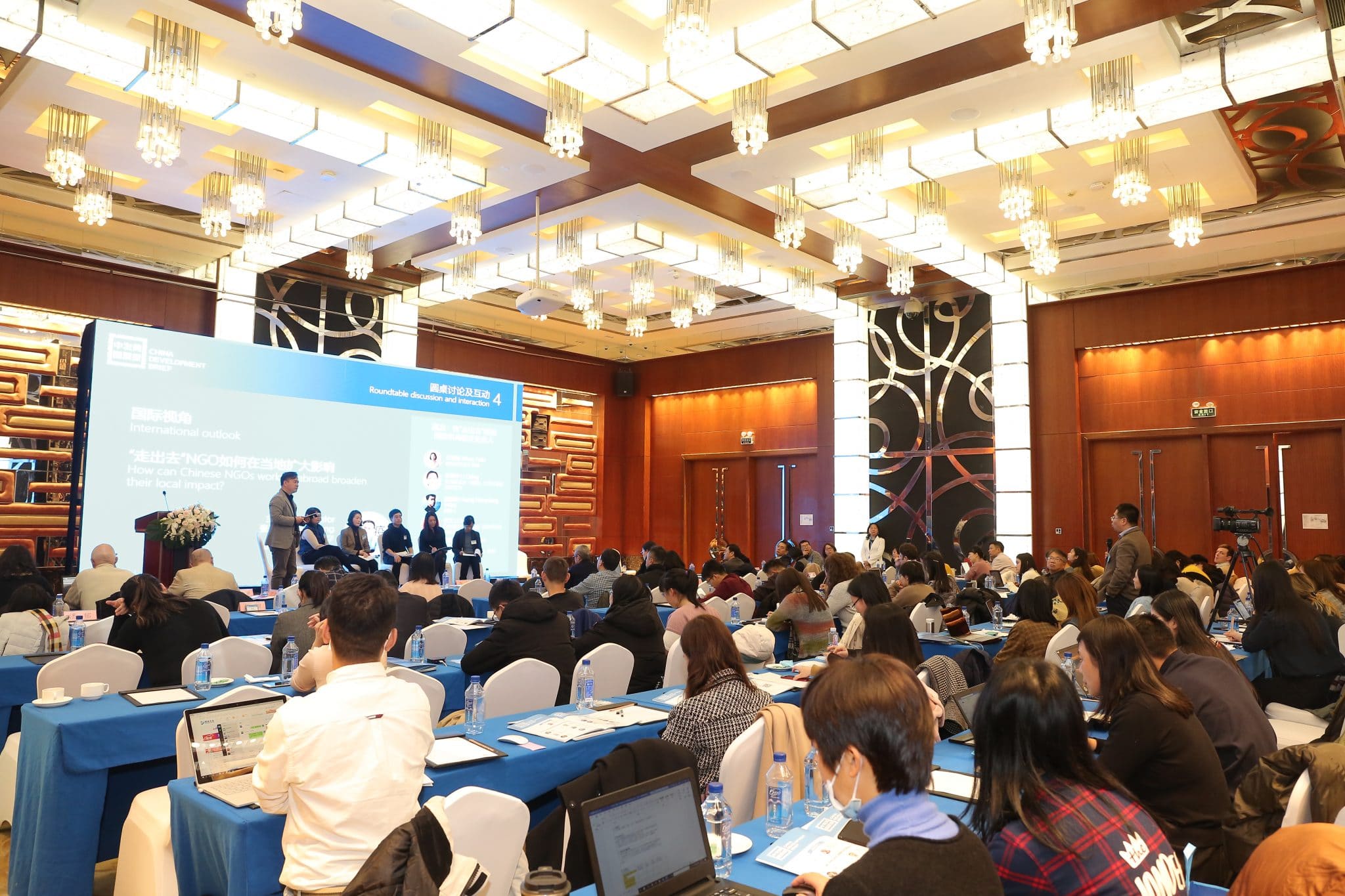 Zhang Qiang: May I ask your recommendations for the next steps in 2021?
Sae-Ryo Kim: Today's discussion has been very enlightening, and we wish Chinese NGOs wishing to "go abroad" the best of luck. UNICEF has recently launched a global appeal for humanitarian aid for children, which is the largest ever in our history. We hope to work together with Chinese NGOs in the face of the global challenge of the COVID-19 pandemic, because the cause of children is not just a UN cause, it is a cause of all of us and humanity as a whole.
Wang Yalin: At present, Chinese NGOs are still in the early stage of going abroad, and should leverage international common discourse systems, such as the Sustainable Development Goals, to strengthen their communication and cooperation with the international community. Meanwhile, it is also possible to consider leveraging the resources and networks of partners, not only working with Chinese partners, but also expanding the circle of partners, including international organisations and the United Nations, etc. Today, platforms have become available for Chinese NGOs to participate in international dialogue, but there is limited awareness or attention, especially on some major international platforms and occasions where the voices of Chinese NGOs cannot be heard. While we are seeing more and more participation from Chinese NGOs on issues such as climate change, more NGOs need to strengthen their communication with the international community on other issues, such as commerce and sustainable development, and the rights and interests of women and children.
Li Ai: My recommendations exactly match Wang Yalin's. Chinese NGOs going abroad should not only earnestly develop projects, but also focus on advocacy work through international advocacy platforms, such as the UN Guiding Principles on Business and Human Rights, the G20 and other multilateral advocacy platforms where Chinese NGOs are rarely involved. Chinese NGOs need to integrate their overseas programmes with international advocacy, and actively facilitate policy changes and improvement in standards through international advocacy platforms, which is also essential for generating international impact.
Zhang Qiang: We have to leverage various resources and get more involved. To make friends, we should be visible.
Li Liping: For Chinese NGOs to be more influential, it is important not only to carry out field projects, but also to actively participate in dialogue and advocacy, and to be able to bring forth real institutional and policy changes, which can make a major contribution to the impact of NGOs. Also, it is necessary to develop a sustainable branded programme. For example, one of the Asia Foundation's longest-running programmes is Books for Asia, which more than 20 Asian countries. Moreover, our Asia Dialogue series has been running since 2010 and will continue to do so in the future. The sustainability of branded programmes is also essential for Chinese NGOs to have an impact.
Zhang Qiang: Field implementation, service delivery and dialogue are essential! Have a brand so that others will remember you.
Huang Hongxiang: We have seen a phenomenon that more and more young people in China are interested in sustainable philanthropy sector development, and in the overseas development of Chinese businesses and NGOs. These young people have both an understanding of China, a certain international outlook and an ability to communicate internationally. If we notice them, and support and guide them, they may play a very important role in the whole process of Chinese NGOs going abroad.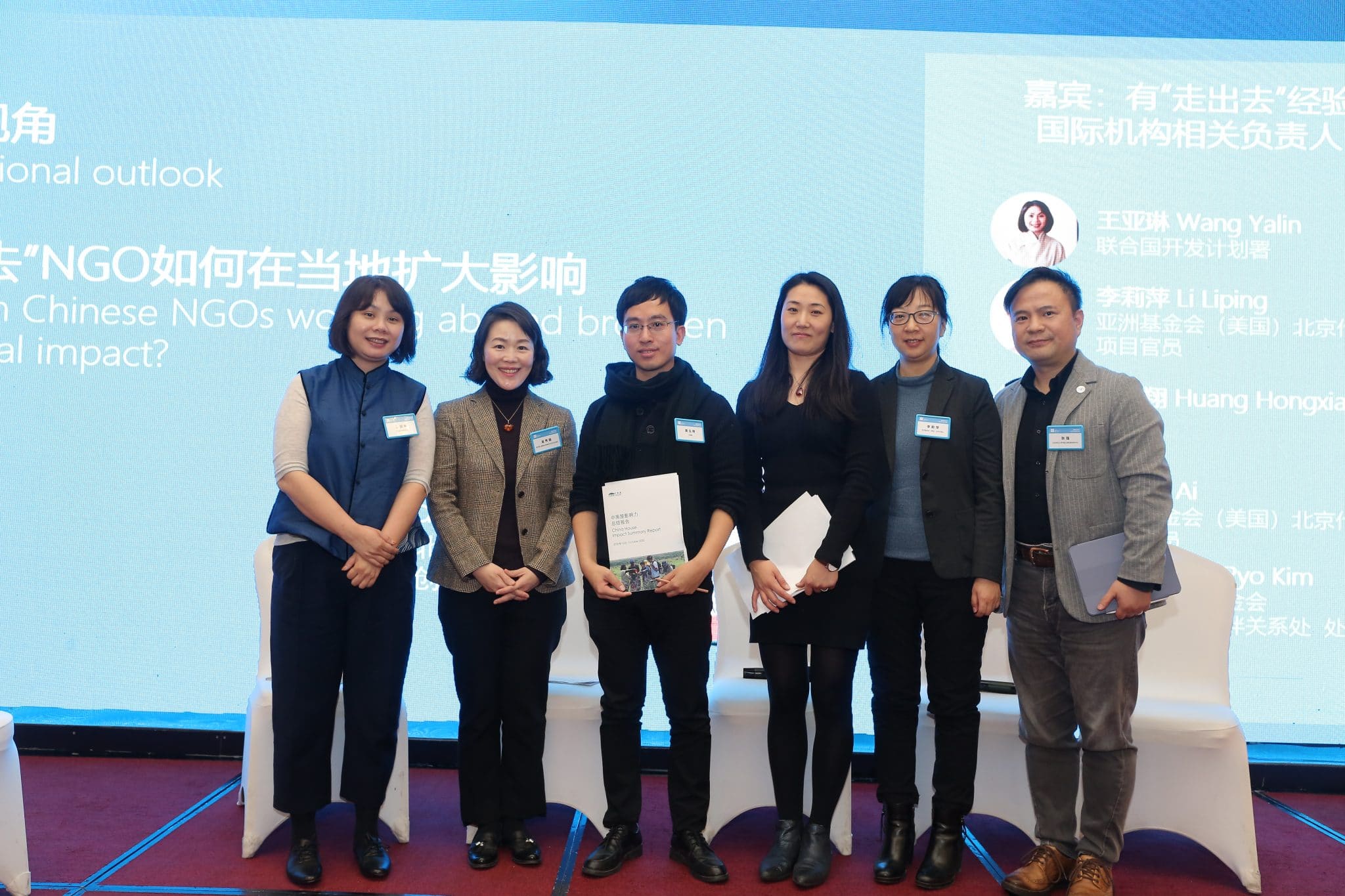 Zhang Qiang: We hope today's gathering will not only enlighten NGOs, but more importantly shine a light on the efforts and potential of ordinary young people. Thank you very much for participating and listening.
Looking back on 2020, there have been many unforgettable moments of life and death, and times of sticking together and helping each other through difficulties. I would like to remind my peers in the NGO sector that the world is inherently complex. In reality, global governance was already in a quagmire before the pandemic, and we find the world struggling with which path will work and whether the pandemic has contributed to greater intimacy or greater alienation in human culture? More trust or more mistrust? All these can hardly be figured out at the moment. At such a particular moment at the end of the year, I believe our original aspiration will determine everything in our path and will reveal our empathy and passion for the world.
Once again, thank you to our five guests for sharing their insight, and to all the participating partners for their responses. No contemplation, discussion, questions or answers today can solve all the problems. Therefore, our contemplation and action will continue! We hope to care for each other and address challenges together in the future.