On a 2014 trip to Fenghuang county, a popular tourist destination in China's south central Hunan Province, army veteran Zhang Bing and his friends took turns to drive.
"It was around 5 in the morning. We had just passed through a tunnel and were approaching the ancient city of Fenghuang," Zhang recalled. "At some point it started snowing, and the temperature was extremely low when we spotted a bus that had rear-ended a truck."
They pulled over and got out to help. "I told one of my friends to set up the red triangle road sign to notify passing vehicles, while I helped evacuate passengers from the bus," Zhang said.
There was smoke pouring from the front of the bus, but the driver was stuck in his seat – with blood all over his face. Zhang stood right next to him and tried every way he could to get the bus driver out, but ultimately failed.
"He kept saying he was in pain, but we were so helpless," Zhang said. "In the end all I could do was to comfort him, I told him that the ambulance is on its way, but he didn't make it."
Looking back, Zhang regards the incident as a defining moment that led him to set up the Mammoth Guardian emergency response team, which officially registered as a social organization last year in Jinshui district, which is part of Zhengzhou, the capital and largest city of Henan Province in central China.
Zhang, a Zhengzhou local, joined the army in 1997 and was discharged in 2000. After that, he returned to his hometown and became a civil servant. Always interested in the public welfare sector, Zhang started volunteering regularly in 2017, traveling around by motorcycle.
"My team – some of them are my friends from childhood, some are also veterans – focused on environmental protection at first, so we would just ride our motorcycles and travel around the country for that," Zhang explained.
When his team travelled to Hangzhou, they witnessed a local emergency response team attending a traffic accident. "That was inspiring," Zhang told CDB in a recent interview. "We exchanged our contact information, and I started to learn from them about how an emergency response team operates."
In 2019, Zhang filed the necessary documents to register Mammoth Guardian emergency response team, but the pandemic slowed the process down. Despite the pending registration, the organization played an active role in disaster relief and pandemic prevention throughout 2020.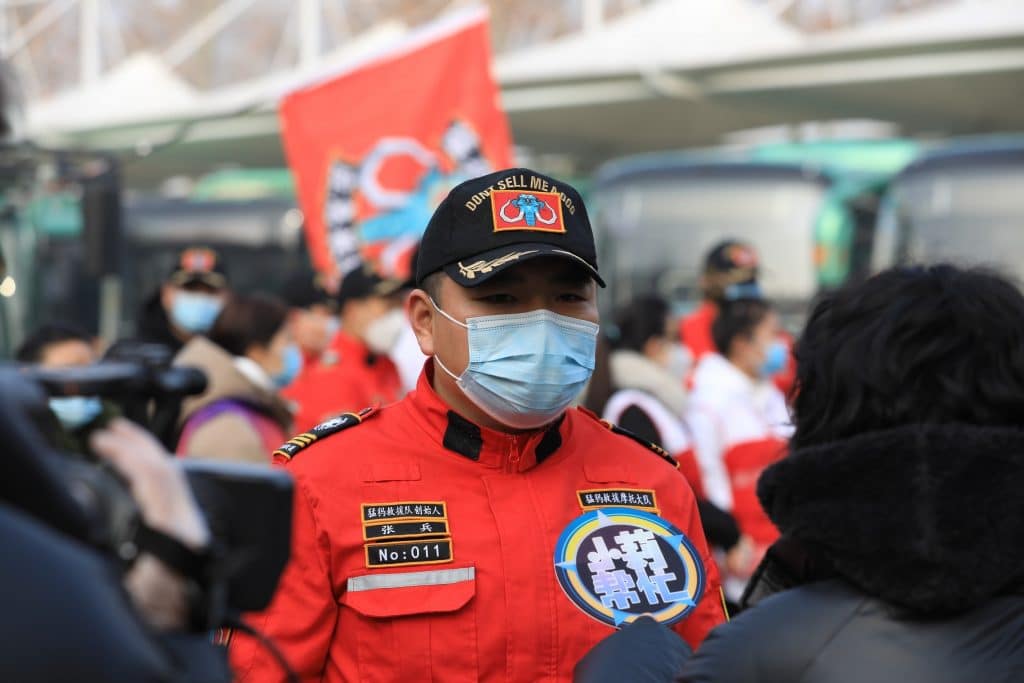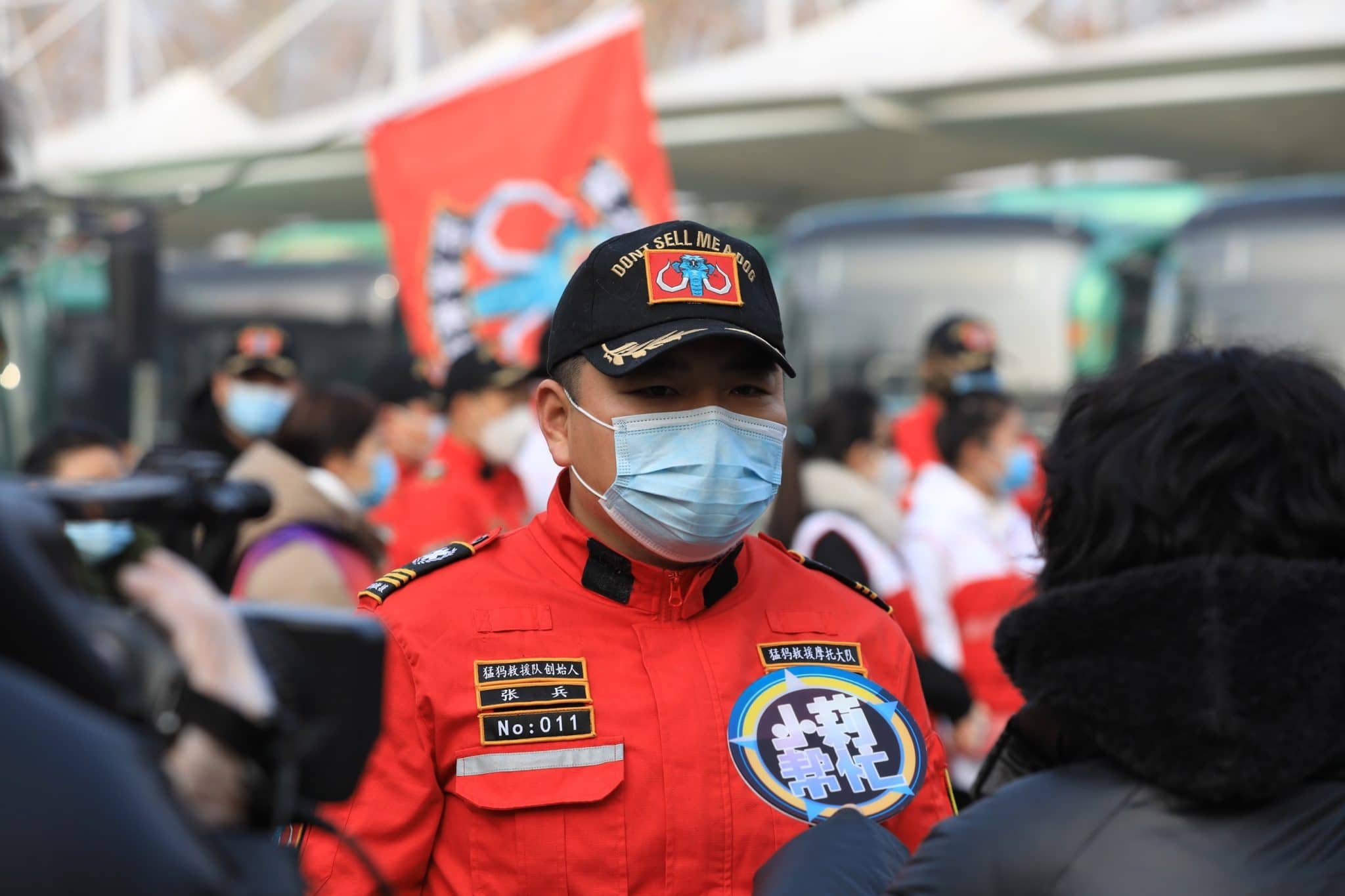 "We currently have 102 official team members, divided into groups for five main types of tasks," Zhang explained. "Turnover is inevitable – only one of my friends from the Fenghuang trip is still with us. What we can do is try to make sure that every member who joins has family support, is financially independent, and passes our background check. We also emphasize inheritance so that new members of the team are motivated to learn from their more experienced colleagues."
The five main tasks are urban search and rescue – which often involves finding missing children or elderly people, water rescues, firefighting, pandemic prevention and control, and providing emergency medical treatment. Team members, depending on their abilities and strengths, are divided into different subgroups and assigned tasks according to demand. Each week, the organization ensures that at least 10 team members are on duty at any one time.
"Teamwork is vital to a functional emergency response team. We should provide opportunities for each of our members to make good use of their respective strengths. For example, some may be good at on-site analysis or safety assessments — while others are more skilled at operating equipment," Zhang told CDB.
The professional requirements for carrying out water rescues are relatively high, and team members have to pass an assessment before joining Mammoth Guardian's water rescue team, he revealed. So far only seven, including Zhang, are able to perform water rescues. "I can perform all the five tasks, and my goal is to train everyone so that we can have a more versatile team."
Mammoth Guardian is deeply rooted in the Zhengzhou area, as Zhang's vision of an emergency rescue team is community-driven and locally-focused.
"Ideally we will build a team with not only official team members, but also capable volunteers spread out to cover as many local communities as possible," Zhang explained. "So whenever there's a need for help, we can send people with the right skills."
Eventually, Zhang hopes that Mammoth Guardian will become an incubator for community rescue teams. But the organization still faces many challenges in achieving this goal.
Lack of funds is by far the biggest and most urgent challenge. Even with the proper registration, the team hasn't managed to raise any money.
"We've spoken with some companies and foundations but failed to get any donations from them," Zhang said. The team members are currently more focused on their rescue tasks, and no one from the team has professional fundraising skills. And the fact that Mammoth Guardian is a local-oriented organization makes it harder to find potential donors.
Financial difficulties bring other challenges, including a lack of specialized equipment and training. These factors put a brake on professional development and sometimes impact team morale.
"All of our rescue vehicles at the moment are private vehicles owned by our team members themselves, and they even need to pay for the gas and for their own equipment," Zhang explained.
With the recent Covid outbreak in Henan, the organization is currently busy with daily pandemic prevention and control. "At present, we urgently need more disposable gloves, protective clothing, sanitizing machines, and other disinfection equipment," Zhang said.
They are in short supply of other equipment as well, for example, boats for water rescues — especially after one of their vessels had to be scrapped after sustaining damage during the Henan floods last year.
According to Zhang, the organization really needs professionals with the necessary skills to train Mammoth Guardian's team members in specialized tasks.
Despite the difficulties, members of Mammoth Guardian continue to respond to emergencies all over the city every day. "I'm inspired and encouraged by my teammates every day – by their hard work and passion," Zhang said.