On the 31st of July Forbes published the 2018 China Philanthropist List; the Evergrande Real Estate Group's Chairman of the Board, Xu Jiayin, topped the list with cash donations of 4.21 billion RMB, making up a quarter of the total donations ranked. This is the third year the real estate mogul has topped the list, after being ranked first in 2012 and 2013.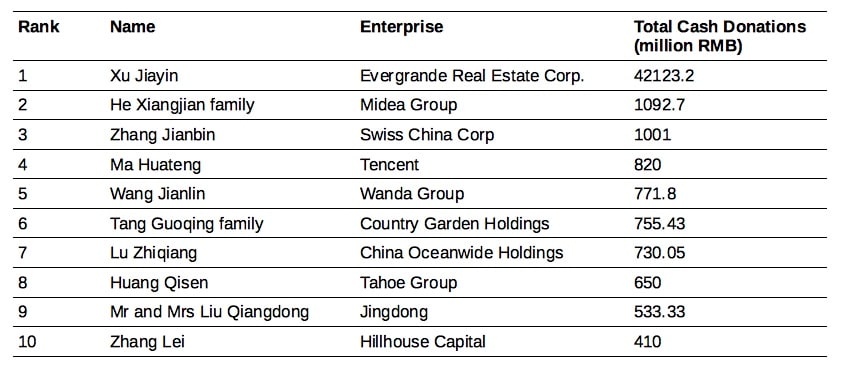 (the top 10 of the 2018 Forbes China Philanthropist List)
The Forbes China Philanthropist List has now been published for twelve years. The sum of the total cash donations of the 100 entrepreneurs in this year's list comes up to 17.31 billion RMB, which compared to last year's 10.38 billion RMB is a 66% increase, the highest increase over the past six years. It is also the third time the total reaches above 10 billion RMB, following the 2011 and 2017 lists. This year's philanthropist list includes 42 entrepreneurs that donated over 100 million RMB, totalling 15.35 billion RMB and making up 88.7% of the list's total donations. A quarter of all donations were made by one individual, Xu Jiayin, topping the list with 4.21 billion RMB. Midea Group's founders, the He Xiangjian family, and the chairman of the Swiss China Corporation, Zhang Jianbin, donated 1.09 billion RMB and 1 billion RMB respectively, ranking second and third. The top ten also includes Ma Huateng, Wang Jianlin, the Yang Guoqiang family, Lu Zhiqiang, Huang Qisen, Mr and Mrs Liu Qiangdong and Zhang Lei.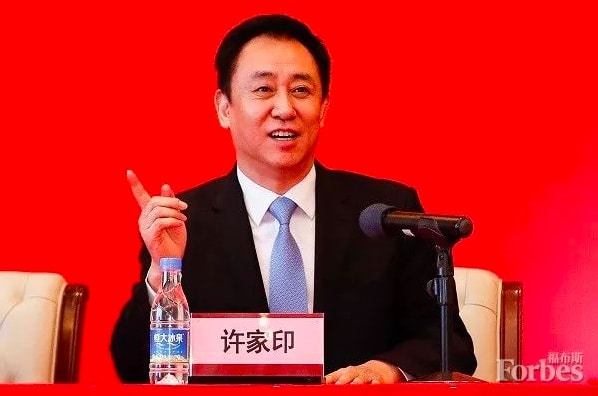 (Xu Jiayin)
As already noted, this is not the first time that Xu Jiayin tops the list. In 2012 and 2013 he also ranked first. Xu is fond of emphasising that while enterprise generates jobs, taxes and social wealth, it is important to remember the source of this wealth and repay society, actively take up social responsibilities and participate in charitable and poverty alleviation activities. The video of an emotional speech given by Xu at an internal event at the beginning of the year garnered wide attention in China; in the speech he spoke about his impoverished childhood and experiences growing up, revealing the initial reason for his dedication to poverty alleviation.
In the release, Forbes stated that since its founding 22 years ago, Evergrande Real Estate has continuously taken up social responsibility and actively participated in public charity and poverty alleviation activities, totalling 11.3 billion RMB in donations. Since December 2015 the Evergrande Group has also  been supporting Bijie city in Guizhou province, in which it plans to invest 11 billion RMB free of charge, 6 billion of which has already been donated. The plan is to set up a series of comprehensive measures, such as poverty alleviation through industrial development, relocation and employment, to support 306,700 people to take the first step out of poverty, and aid another 724 600 people to stably leave poverty by 2020.