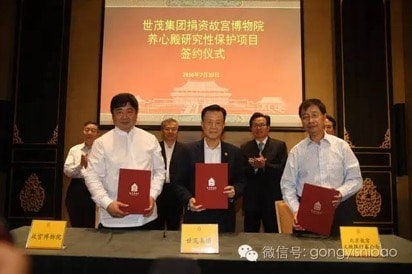 An important Chinese real estate company has agreed to donate a large sum to the Palace Museum of Beijing's Forbidden City. The Shimao Group signed the agreement with the Palace Museum on the 20th of July, stating that the company would officially donate 80 million yuan to the Museum towards a project for the protection of the Hall of Mental Cultivation. The hope is that the project will not only provide this important ancient building with a restoration, but also break a new path for the protection of other Chinese cultural relics and buildings.
The agreement marks the first time that the Shimao Group donates to the field of cultural relics protection. Xu Rongmao, the Board Chairman of the company, stated that he would target cultural projects as a major field for Shimao's philanthropy, hoping to encourage more people to protect cultural relics and preserve traditional culture. He also expressed his hope that in future Chinese people will gain more confidence about their traditional culture by understanding it better, and realize its prosperity and development.
The Director of the Palace Museum Shan Jixiang thanked Mr. Xu Rongmao and the Shimao Group for their generous donation, and also promised to use the money carefully and transparently, giving back to the society with genuine achievements.