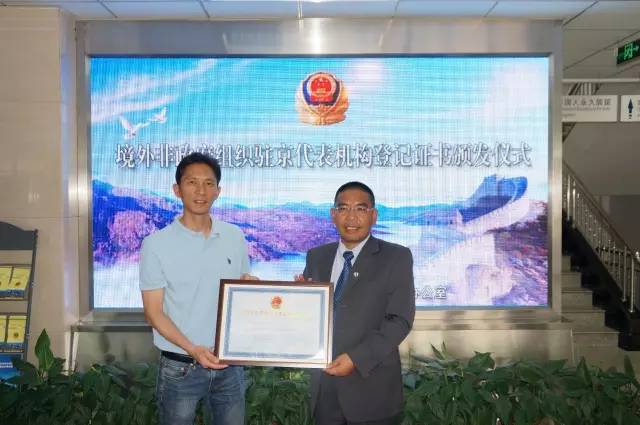 Representatives from The Nature Conservancy and Beijing's Public Security Bureau. 
The Nature Conservancy (TNC) received its registration credentials from the Beijing Public Security Bureau on May 24th, becoming the latest international NGO to be able to register in China since the Overseas NGO Law was passed in January.
Established in the US in 1951, the Nature Conservancy is now the world's largest non-profit environmental protection organization. Currently operating in more than 60 nations around the globe, TNC overseas 500,000 square kilometers of protected nature reserves, 8,000 kilometers of rivers and more than 100 marine habitat zones. In addition, TNC engages in various projects around the world, including those involving biodiversity, wildlife protection, climate change, combating desertification, establishing national parks and pollution control.
In 1998, TNC received an invitation from the Chinese government to carry out environmental protection in China. Since then, the organization has worked on projects unique to China such as mitigating climate change, protecting freshwater sources and encouraging green urbanization. Thanks to its registration, the TNC will be able to continue working to balance economic growth and environmental protection in China.