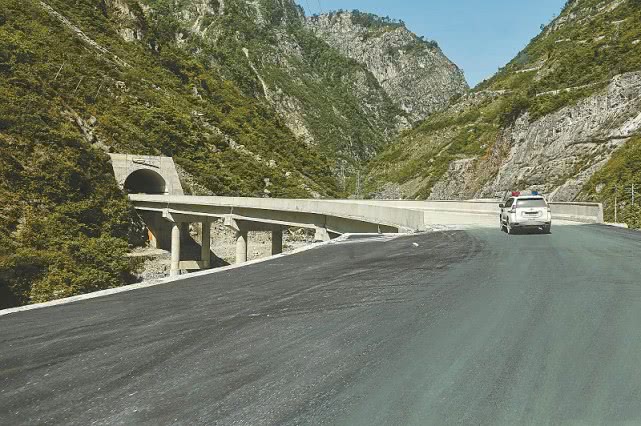 The government of the Hong Kong Special Administrative Region (HKSAR) issued a report on its Sichuan earthquake reconstruction work on November 27th. The construction last month linking the Provincial Highway 303 (from Yingxiu to Wolong) and the Miaomao Highway (from Hanwang to Qingping) marks the successful ending of the HKSAR's eight-year restoration support work in Sichuan.
Chan Mo-po, Secretary for the Development Bureau of the HKSAR, said that all sectors of the HKSAR actively engaged in providing disaster relief. Along with seven programs supported by the Hong Kong Jockey Club with a provision of HK$1 billion and donations from civil society, the HKSAR has spent over HK$10 billion in support of post-quake reconstruction work in Sichuan.
In July 2008 and February and July 2009, the HKSAR Legislative Council (LegCo) approved provisions for a total of HK$9 billion to be injected into the Trust Fund in Support of Reconstruction in the Sichuan Earthquake-Stricken Areas (the Fund), for the purpose of emergency disaster relief. Out of the 183 projects, 151 were undertaken by the HKSAR Government, covering road infrastructure, education, medical and hygiene services, and social welfare. The rest of the programs, supported by the government, were conducted by 16 non-governmental organisations.
During the process, the Hong Kongers assisted Sichuan in taking forward the reconstruction support work. Both sides agreed on the following basic principles: (1) each funded project will be a separate project item; (2) project fund management shall follow the principle that the disbursement of funds will be made in accordance with the progress of the work. The funds required were released by instalment taking into account the progress of work and in accordance with the relevant financial legislation and the rules of the HKSAR.
The programs also included post-quake reconstruction work for the Wolong National Nature Reserve, scientific research for the conservation of giant pandas and other educational programs. Taking the educational programs as an example, the HKSAR has funded a total of 56 educational and training programs, including one kindergarten, 17 elementary schools, four nine-year education schools, 33 junior high schools and one vocational school, benefiting more than 178,000 students.