"Charities and traditional businesses are not two separate concepts that do not blend, but instead are simply at the opposite ends of a spectrum. The closer to the middle, the closer the charity is to the operation mode and efficiency of a business, which might include social responsibility in its corporate strategy. Social enterprises are basically in the middle of traditional businesses and charities," said Xiaoping Xu, the founder of ZhenFund.[1]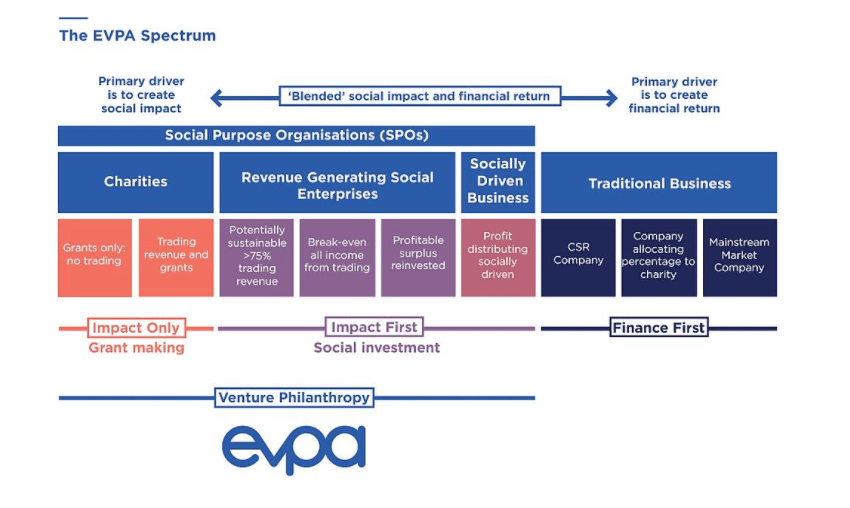 The incorporation of traditional businesses and charities
Unlike most enterprises or companies solely emphasizing profit, social enterprises apply business strategies to maximize improvements for the well-being of society. Counterintuitively, social enterprises also include specific social influence and public welfare aims as a commercial organization.
It would be challenging for people to link "business" with "charity" because "business" is generally thought of as "dark", "full of traps", and "opaque" in comparison to charity, which is generally imagined as "kind", "warm" and "transparent". Usually regarded as two opposite concepts, charity and business each represent different ends of a rope. Companies' properties can be reflected and located on the string. If reaching the "charity" end, the company might be weak and unsustainable due to its lack of incoming cash flow. On the other hand, if running the "business" end, though profitable, the company might be too utilitarian or shortsighted.
Social enterprises found the balance between charity and business, incorporating elements inside and making the most of each component. Social enterprises might be more influential globally, with the business category providing funds for the company and charity changing society.
The purpose and function of social enterprises
Specifically, social enterprises function by providing job opportunities for minority groups, developing innovative products and services, and giving hope for the future by enlightening more individuals.
India has the highest number of hearing-impaired people in the world, as 6 percent of the population has some kind of hearing disorder. In the bustling urban area of ​​Mumbai, many deaf people work as couriers for a company called Mirakle Couriers.
Dhruv Lakra, the company's founder, was motivated to set up the organization after seeing a deaf person on a bus. When explaining the primary goal of creating Mirakle Couriers, Lakra said, "I thought, why should people with this disability be confined to doing odd jobs? Mirakle Couriers were born out of my desire to help the deaf find a path to a dignified life. And being a courier is a job that requires minimal interaction, so this was the best idea I could think of."
As a social enterprise, Mirakle Couriers hires deaf people, trains them and teaches them sign language. Through a development model of corporate rather than charitable giving, the company's employees have gained the self-confidence and financial independence that they once couldn't get. [2]
In China, some social enterprises try their best to meet blind and deaf people's "barista dream".
As the first Chinese B-corp-certified social enterprise, Lili Time is a café providing jobs for the hearing impaired. Interestingly, it became a social enterprise by accident.
"It was a long time ago. One time a customer finished drinking his coffee and left a card under the cup which read, 'Can I join this coffee shop? I like coffee very much'." Later, they found out that the customer was deaf and the store manager was keen to give the person a chance. With the hiring of the first hearing-impaired member of staff, more and more disabled people started working at the café as baristas," said Xiaodong, a staff member interviewed during our visit.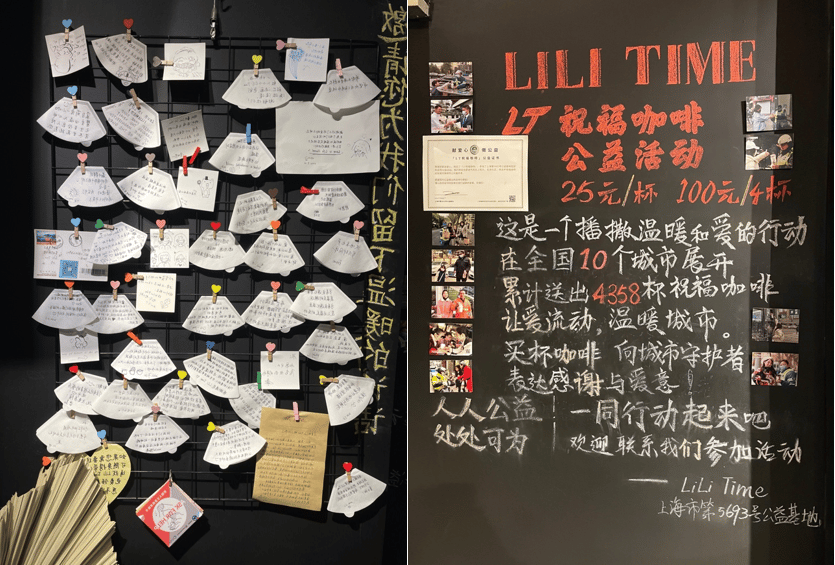 The hiring of deaf staff gives the café its uniqueness. Lili Time has over 10 deaf baristas, and we were lucky enough to interview one of them. Aunt Yang, 57, lost her hearing due to an accident many years ago. Three years ago, she worked in the tourism industry, but due to the epidemic, she came to Lili Time to work as a barista. Although her family's income is not high, she has raised a daughter who is currently working in the United States. The coffee shop has had a significant impact on her life.
As a social enterprise, Lili Time also started an "LT" coffee campaign. Specifically, "LT" coffee is a program with the primary goal of giving free coffee to those who work for society but who have no time or money to drink coffee. Xiaodong added, "Customers can buy 'LT' Coffee in our store, and we can help them to pass this warmth to others. We have provided 4,358 free coffees so far."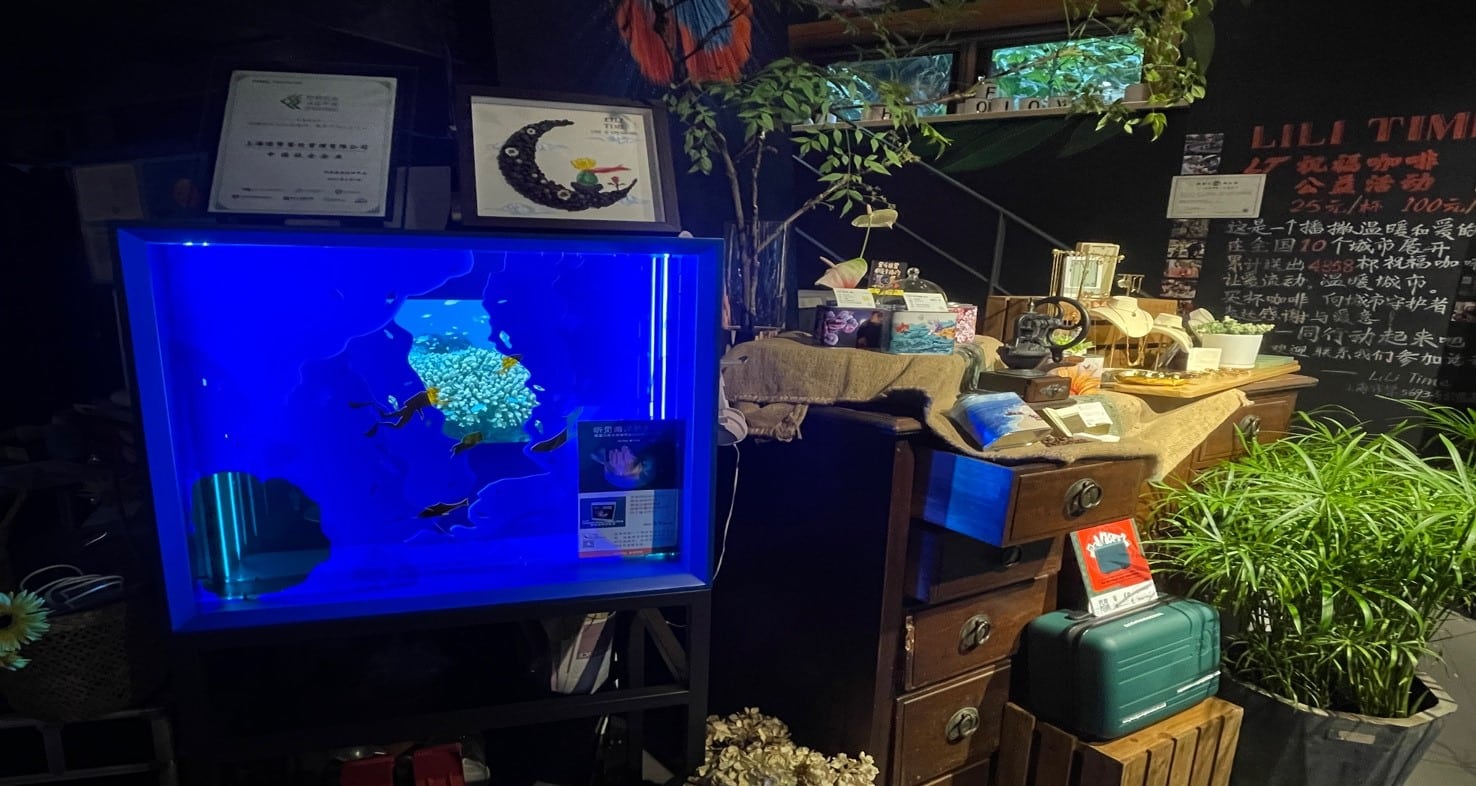 Hinichijou, commonly referred to as "Bear Claw Café", is another typical social enterprise in China that hires disabled people with hearing and visual disorders. Hinichijou's philosophy is to "use 49 percent of business to drive 51 percent of public welfare".
For most blind baristas, working in a café gave them the possibility to socialize again in a warm and protected way.
Tianbao, a 23-year-old blind barista, is currently working in Hinichijou. He started working at the Hinichijou Seed Shop in July this year and spent about two months being trained on using coffee machines. The biggest challenge for him during this period was not knowing the correct amount of coffee or water to use when making a cup of coffee," according to Tianbao. Making a latte is particularly difficult for a blind person. But Tianbao claimed it was a "satisfying job", and he chose to be a barista simply because "making coffee is a hobby".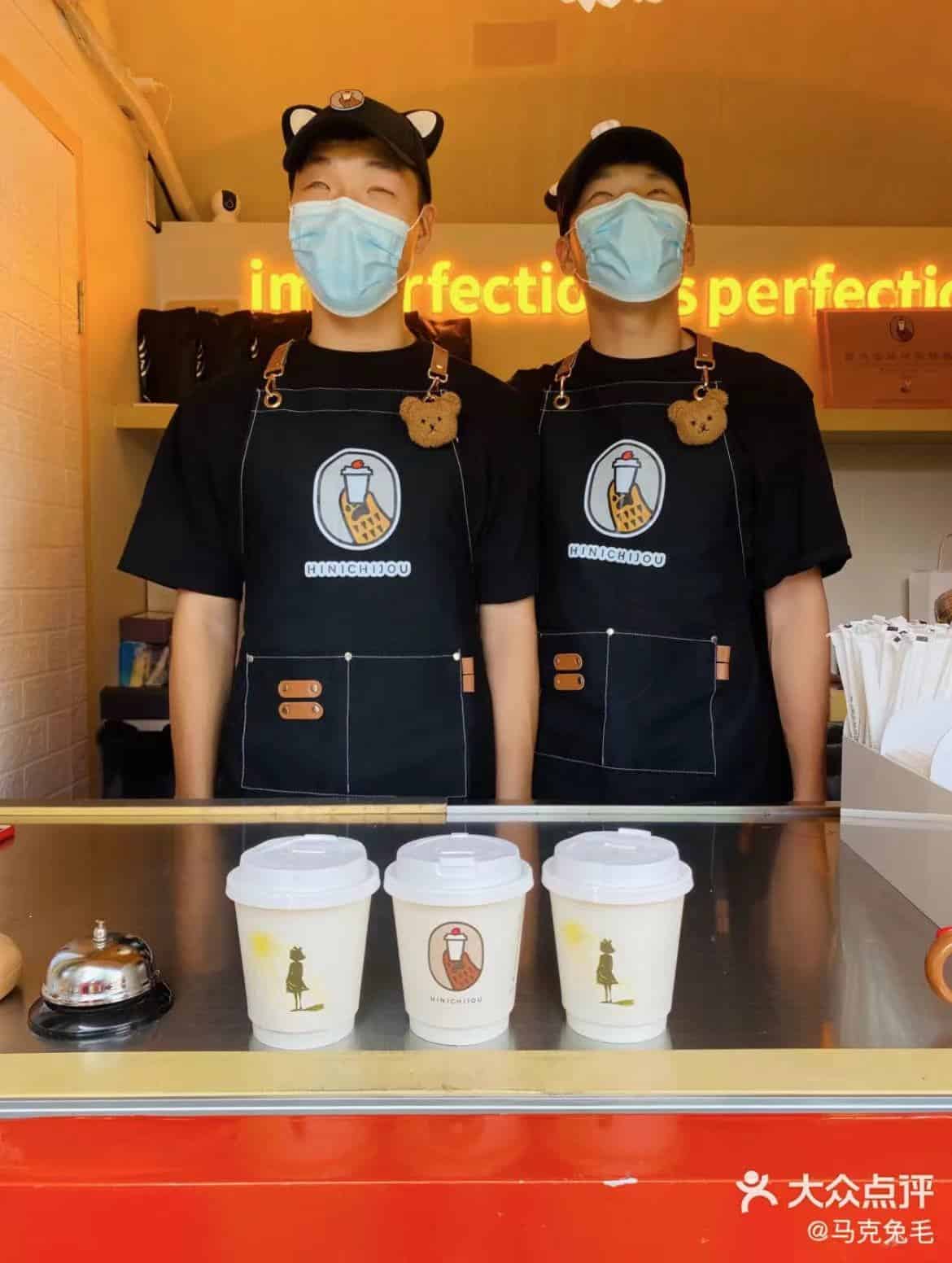 In the flagship store, Harry, who is blind and has the best coffee-making skills among the Hinichijou workers, was more introverted and encountered some difficulties. Currently, he is the manager and mentor of Hinichijou's flagship store, teaching other shop assistants how to make coffee. Before working in the flagship store, he worked in the first store, where there was a cement wall separating workers from customers. However the second flagship store has a fully open transparent glass wall, encouraging him to face and communicate with customers.
"There is no difference between our workers and other people. Harry and Tianbao are doing the same thing as other workers who can see. They smile, they communicate with customers," commented Vicky, the operations executive of Hinichijou. Promoting tolerance and encouraging more workers like Tianbao and Harry will be the company's mission in the future. The opportunities Hinichijou offers to blind people are perfectly consolidated in its slogan – "Imperfection is perfection."
The future of social enterprises
Whether it is Lili Time, Hinichijou, or some other social enterprise, they are all providing help to disadvantaged groups in society – and they are all developing in a positive direction.
However, the pandemic has brought serious problems. Like almost all businesses, Lili Time has been badly affected. During the lockdown period in Shanghai from March to June this year, nearly all offline bricks-and-mortar stores were forced to suspend operations. Many small and medium-sized enterprises failed to survive and were permanently closed. It was not until June 1 that Shanghai gradually resumed take-out services and opened some offline stores — while still not allowing indoor dining, enabling businesses to recover.
However, unlike some other chain cafés, due to the uniqueness of Lili Time itself, as the hard-of-hearing employees in the store cannot assemble takeout orders – due to the need to communicate with delivery workers, it has resulted in a more severe impact than for ordinary cafés during the epidemic, according to Xiaodong.
Without income during the lockdown, Lili Time nearly collapsed. The store manager published a letter online asking for help, hoping to get people's attention and save the store. To this end, Lili Time also launched a new beverage cup featuring an illustration related to the Shanghai lockdown, which it sells online, hoping to claw back some of the money lost during the lockdown.
After the letter was published, it received 400,000 views in a short period of time and more than 20,000 orders were made within two weeks. Due to the demand, the store manager hired 11 deaf employees to help with packing and shipping. In the end, the store successfully overcame its difficulties and gained enough funds to continue operations, thanks to the support of the public.
At the same time, despite challenges such as the pandemic, social enterprises have survived through their efforts and continued contributing to society.
Society and the government should pay more attention to social enterprises; as individuals, we can help them to promote and publicize what they do; the government can implement preferential policies, which significantly reduce their financial burden and allow them to continue innovating and changing society. Social enterprises contribute to society. Should the community, in turn, provide the necessary help when social enterprises face significant challenges? We think the answer definitely should be yes.
[1] Source: https://www.sopact.com/venture-philanthropy
[2] https://ssir.org/articles/entry/from_the_field_empowering_the_deaf_with_dignity