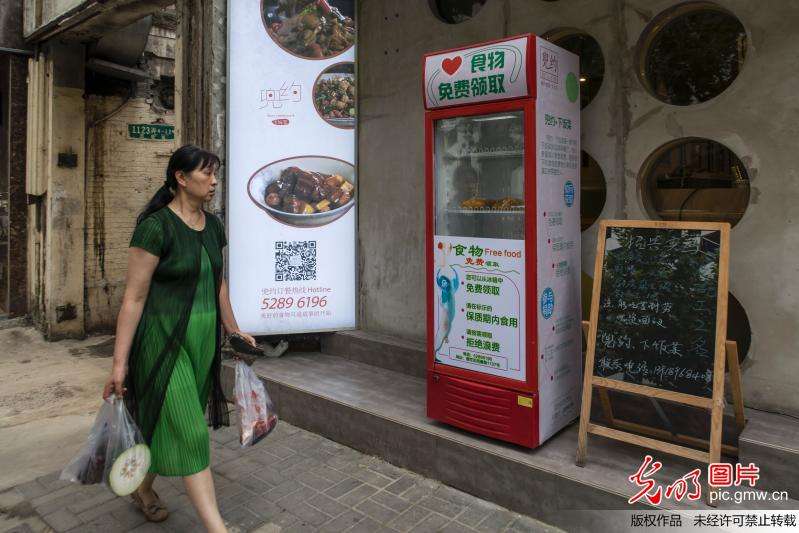 Following in the footsteps of the concept of "public refrigerators" that originated in Germany, the One Foundation along with Tencent Video launched China's first "shared refrigerator" at a storefront in Shunyi District, Beijing. The refrigerator, which looks more like an automated ticket vendor than a household appliance, allows people to store leftovers or extra food from their kitchen, which is in turn offered for free to more needy passersby.
The refrigerator is manned by staff from a charity store next door, who take down information from donors, such as their names and phone numbers. In addition, the staff inspect each and every food item that is donated to the refrigerator, which at maximum capacity can hold up to 500 items. One of the criteria for those who choose to leave food in the refrigerator is that the food needs to be within three days of its expiration date with the original expiration date sticker still on the product.
According An Lunjie, leader to the refrigerator's project, there is a pressing need to do more about wasted food not only in China, but across the world. She told reporters that many grocery stores throw away products such as milk, bread and yogurt after two or three days of their expiration date without trying to repurpose the food. The United Nations estimates that this amounts to over 1 billion tons of food wasted annually, or in other words, one third of all food produced worldwide. Although questions remain about which foods should be accepted and how to enforce guidelines on the hygienic condition, the shared refrigerator may contribute to cutting down food waste.
In addition to the refrigerator in Shunyi District, One Foundation has also launched a similar project in Chengdu, with plans to open more refrigerators in five other Chinese cities in the future.