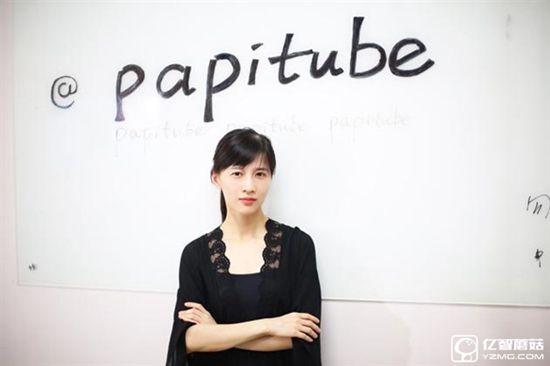 Papi Jiang posing in front of her Sina Weibo account name, papitube.
Online celebrated figure Papi Jiang, whose real name is Jiang Yilei, rose to fame on Chinese social media over the past few years due to her humorous video blogs that she posts weekly. Papi uses fast-forward voiceover and a hilarious mixture of Chinese and English phrases to poke fun at everyday topics such as dating, family relationships and media sensations, most of which have attracted millions of views, with one live broadcasting reaching as many as 74 million views in one day.
This week Papi Jiang made an appearance at her alma mater in Beijing, China's Central Academy of Drama, where she donated 22 million yuan to nurture young talent at the school. The money was raised from online advertising in her videos last year. Papi Jiang thinks the money will be put to better use at her former drama university in Beijing. In 2016, Papi Jiang won three records: "became well-known with a meteoric rise to popularity",  "attracted an astronomical 12 million yuan venture capital" and "pocketed 22 million yuan in advertising", which caused her fans to wonder whether she was heading down the road of profit-making internet fame. Her donation to the Central Academy of Drama however is a clear sign that Papi Jiang is not seeking monetary gain.
When asked by reporters why she chose her alma mater as a recipient of the donations, Papi Jiang stated that when she was enrolled in classes at the university, her and her classmates often wished for better facilities and props for their classes. She hopes that this donation can be used towards realizing the wish she had at the time. In addition, part of the money will be used as merit scholarship.  When asked why she chose to donate for charity purpose instead of investing the money on a house. Papi responded that "buying a house isn't one of my priorities right now; it is more important to nurture young talent."