On December 29, the Standardization Administration of the People's Republic of China (known as guobiao in Chinese) published the Basic specification of service quality for senior care organizations. Compiled by the Ministry of Civil Affairs, the document represents the first guobiao standards on the service quality of senior care organizations, signifying that this area will develop in a more standardized manner in the future.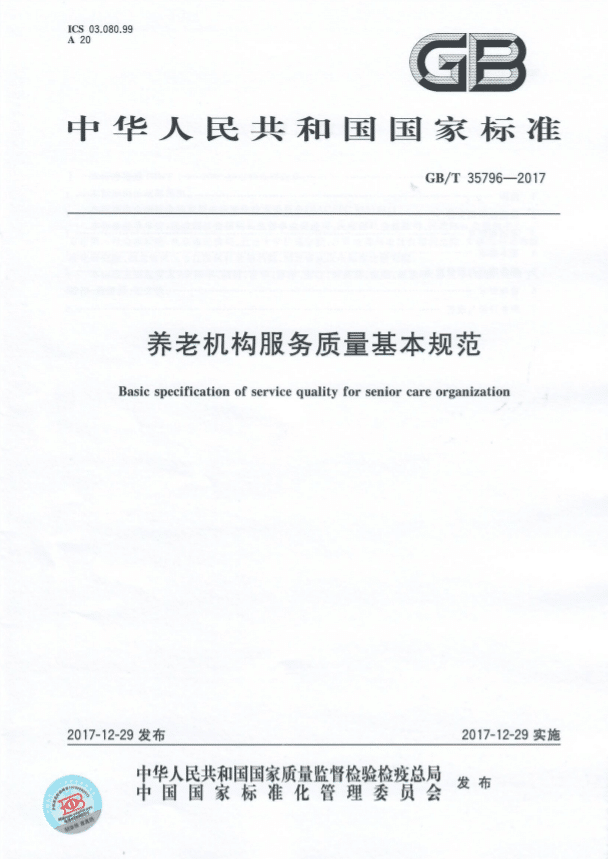 By the end of 2016, the number of senior citizen (over 60 years old) had reached 230 million, or 16.7% of the total population of China, according to statistics provided by Ministry of Civil Affairs. Approximately 40 million (18.3%) of the senior citizens are disabled or partly disabled. Over 50% of senior citizens are empty nesters. The ageing of the population has led to a burgeoning demand for senior care services. Due to this context, senior care organizations are emerging as a major provider of senior care services.
The market prospects in this area are quite promising. According to a research conducted by Zhongtai Securities, in 2016 the total value of domestic senior care was about 5 trillion yuan. It is estimated that the number will rise to 7.7 trillion yuan in 2020, and over 20 trillion in 2030. Many domestic corporations, including several renowned insurance and real-estate corporations, are planning their own senior care business, hoping to seize upon the newly created opportunities.
However, there are concerns on the administrative side. Since organizations vary in terms of target customers, location, scale and life, they show uneven service qualities. The Ministry of Civil Affairs also pointed out the necessity of a general quality standard for senior care organizations. Otherwise there won't be any recognized principles for development, or valid grounds for evaluation.
The "Basic Specification" is based on a nation-wide campaign targeting senior care organizations in 2017, as well as on the research of a special panel, and the experiences of local governments. The ministry also received 449 suggestions from 23 provinces, 100 organizations and individuals through online messages, a symposium and field research. The document comprises 112 points, including 106 requirements for organizations in the following four aspects: basic requirements, care program and quality, management and evaluation and improvement.
It is also noticeable that the document points out that in-house medical care centers should acquire licenses. According to the National Health and Family Planning Commission, there are already 5914 care organizations equipped with in-house medical care, providing 1.21 million beds. That is far from being enough, since senior citizens are over 200 million. Compounded by the acceleration of the population ageing, the huge gap in terms of medical care will contribute to a great demand on senior care organizations equipped with in-house medical care, commented Wang Xuehui from Fudan University.
In its 2018 campaign, the Ministry of Civil Affairs will engage in the implementation of the basic specifications and the promotion of a sustainable development scheme.