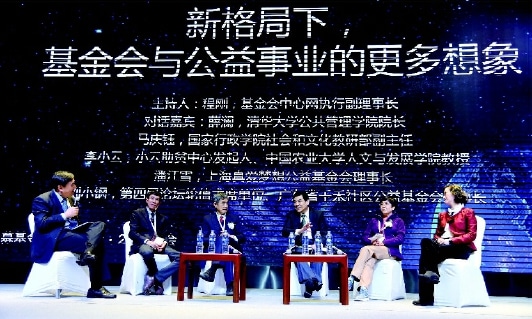 For the longest time, China had two distinctive categories of foundations: public and non-public foundations. The newly enacted Charity Law has however removed the demarcation between the two. With the Charity Law taking effect in September, the name "non-public foundation" is going to stop being used. While the name is gone, is the form here to stay or do the previous non-public foundations now need to turn into public foundations? This was precisely one of the main topics debated at the eighth China Non-public Foundations Development Forum, held on November 22 and 23 in Shanghai.
Will non-public foundations turn into public foundations?
Liu Xiaogang has had experience of both worlds: the SEE Foundation she once served turned into a public foundation upon acquiring the necessary qualifications in 2014. But the Guangdong Qianhe Charity Foundation, a non-public foundation, where she currently serves as a chairman has no urge to change its status. "Whether we can raise funds publicly or not causes us very little constraint: it won't have any impact on our current mission, business or methods. Even though we are a non-public foundation, our financial statements are open and transparent to the public", Liu says, "but if we reach a certain developmental stage where we all believe that being a public foundation will be more beneficial to us, we can then initiate a change."
Pan Jiangxue, the chairman of Adream Foundation, which has also gone through the transformation from non-public to public foundation, believes the transformation into a public foundation is a strategic decision. Before proceeding, you need to ask yourself whether you can clearly explain your projects to the public, and whether your foundation has the logical framework and data collection capacity to support your transparency disclosure. Pan states that the funds for Adream Foundation came from family and friends: "if we establish a system of transparency, more people will find out what we do".
Competition within the public interest field will be intensified
With the implementation of the Charity Law, more and more organizations will be able to raise funds publicly. Will this bring changes to the current charity landscape? Xu Yongguang, the chairman of Narada Foundation, believes it will and that will lead to fairer competition within the industry. Xu further predicts that the number of foundations that will apply for public fund-raising status is small; in contrast, it is the grass-roots social service organizations that have now officially registered as charity organizations that will need the public fund-raising status. Xu believes that many foundations with targeted fund-raising channels will become charity organizations. In the future, these organizations may become trustee organizations for charity trusts. Community foundations, in particular, will unleash a great potential in the area of charity trusts.
Social organizations can serve as a "bridge".
Xue Lan, the dean of the Tsinghua University School of Public Administration, states that regardless of having public or non-public status, social organizations including foundations are an integral part of the social governance system and play an important role as a "bridge" in connecting public governance at both the macro and grass-roots levels. Against the backdrop of the current supply-side reform and targeted poverty alleviation, Xue Lan believes that solutions of wide applicability emerging from the experiments to solve social problems by social organizations can become regional or national policies.
But how to promote the healthy development of social organizations? Ma Qingyu, the deputy director of the Department of Social and Cultural Studies of the National School of Administration, thinks that we should apply open allocation of social resources and lift restrictions on social organization development and other related areas, in order to form the social selection mechanism for public service supply, thereby reducing the social resource allocation costs and improving the quality and efficiency of social service supply.