This article was originally published by the Paulson Institute. You can see the original here. The Paulson Institute is a non-partisan, non-profit "think and do" tank grounded in the principle that today's most pressing economic and environmental challenges can be solved only if the United States and China work in complementary ways. Its mission is to strengthen U.S.-China relations and to advance sustainable economic growth and environmental protection in both countries. Founded in 2011 by Henry M. Paulson, Jr., the 74th Secretary of the Treasury and former Chief Executive Officer of Goldman Sachs, the Institute is based in Chicago and has offices in Washington, San Francisco, and Beijing. Learn more at www.paulsoninstitute.org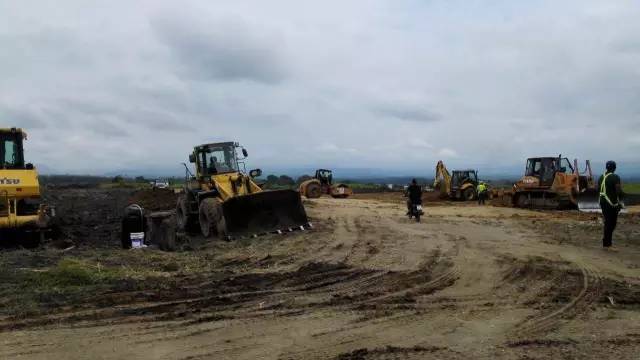 The jury committee visiting the winning project in Pujiang county Sichuan province in January.
March 16, 2017—Beijing—The Paulson Institute today awarded the fourth annual Paulson Prize for Sustainable Cities to Beijing Goldenway Bio-tech (BGB) company's organic waste recycling and farmland quality improvement project, located in Chengdu. Paulson Institute Chairman Henry M. Paulson, Jr., presented the award to Chengdu Vice Mayor Liu Liedong at a ceremony held in Beijing.
The Paulson Prize for Sustainable Cities, established in 2013, is awarded annually to a project in China that represents a best practice in sustainable urbanization that will help advance China's transition to a more sustainable economy. By highlighting outstanding projects, the Prize aims to inspire the spread of environmental and economic solutions that will help China achieve ambitious climate, air quality, and economic growth goals as it urbanizes rapidly.
The winning project, a public-private partnership between BGB and the local government, aims to solve two problems simultaneously: food waste and soil health. The company collects urban food waste, and uses its patented technology and equipment to process it into a soil conditioner product. The company works with local partners and thousands of farmers in Pujiang County outside of Chengdu to provide data, training, and certification to ensure soil quality improvement. Once applied, the soil conditioner reduces the need for chemical fertilizer – helping address excessive fertilizer use in China, which contributes to soil and water pollution – while also sequestering carbon that would otherwise be released when kitchen waste breaks down.
"This prize is intended to inspire those on the frontlines of China's urbanization and foster new thinking on how to achieve ambitious climate, air quality, and economic growth goals in a sustainable way," said Paulson Institute Chairman Henry M. Paulson, Jr. "Cities can not be sustainable if rural areas – where the majority of our food, water and other resources come from – are not also sustainable. I'm especially pleased that this year's winning project clearly illustrates the importance of urban-rural interconnectivity, with a viable business model that can be scaled across China."
The prize winner was determined by a panel of seven jurors comprised of experts in city planning and sustainability. Juror Lynn Scarlett, Global Managing Director for Public Policy at The Nature Conservancy and former Deputy Secretary of the U.S. Department of the Interior, explained the jury's selection: "What stood out for us about this project was that it actually addresses two problems at the same time. On the one hand, it helps manage food waste, a problem in cities across China and indeed across the whole world. And it also helps to improve soil quality and farmland. This project, which takes what was waste and turns it into a useful product, is part of a vision of a circular economy that can help China reach its goal of decontaminating 90% of the nation's polluted farmland and industrial sites by 2020."
In China, where, according to a 2014 report issued by the country's Ministry of Environmental Protection, one-fifth of farmland is dangerously contaminated, improving soil quality is a growing social and economic concern. BGB reports that soil organic matter content has improved on average 0.2 points per year since the training began, and the farmers' incomes have risen by over RMB 1,000/mu, due to reduced fertilizer expenses and improved fruit quality. For example, the farmers say the weight of their tangerines has increased by 20 percent as a result of the new farming methods.
Beating out submissions from across the country, the BGB project was chosen by an independent jury of experts including Ms. Scarlett; Richard M. Daley, Former Mayor of Chicago and Jury Committee Chairman; Hal Harvey, CEO, Energy Innovation; Huang Nubo, Chairman, Beijing Zhongkun Investment Group; Niu Gensheng, Founder and Honorary Chairman, Lao Niu Foundation and Founder, Mengniu; Zhao Jiarong, President, China Association of Circular Economy; and Zhuang Weimin, Dean of the School of Architecture, Tsinghua University.