On the 1st of January, 2017, the Law of the People's Republic of China on Administration of Activities of Overseas Non Governmental Organisations in the Mainland of China (NGO Law) came into effect.
On the 16th of January, 2021, the Foreign NGO Management Office released the annual report on overseas NGOs in China. The report shows that as of the 31st of December, 2020, 554 representative offices of overseas organisations have been registered in accordance with the law, and 3,239 temporary activities have been registered.
When overseas organisations apply for registration or set up a representative office in China, the NGO Law mandates they must claim their scope of services, areas of activities and professional supervisory units (PSUs) in great clarity. According to the annual report, municipalities and provinces with the most registrations are Beijing (163 organisations), Shanghai (121), Guangdong (39), Yunnan (27) and Sichuan (26). The report also shows that for overseas NGOs with registered representative offices in mainland China, 136 of them are from the United States, 98 from Hong Kong, 54 from Japan, 41 from South Korea and 28 from the United Kingdom.
Among the overseas NGOs in China, 270 organisations focus on economic and trade development, 63 focus on education, 50 focus on disaster relief, 38 focus on hygiene and health, and 30 focus on environmental protection. The rest of the organisations are concentrated on technology, culture, sports and other areas. Their representative offices are mainly supervised by commercial departments, educational departments and civil affair departments of central and local governments. Moreover, 195 representative offices of overseas NGOs conduct programmes across the whole country, 176 offices have their programmes in two to 31 provinces, and 183 offices only organise activities in one province.
The NGO Law stipulates public security organs and relevant departments of the people's government at or above the county level shall be responsible for supervising and managing the activities of overseas NGOs in China, and offer services in accordance with the law.
Through the registration management department, the public security department of each local government has established a special corresponding body to address issues that may be faced by overseas NGOs. The Ministry of Public Security has set up its own overseas NGO management office. On the 1st of January, 2017, all the registration offices started to offer services, and a virtual platform was launched for overseas NGOs to connect with registration offices.
If overseas NGOs will carry out programmes in China, according to the NGO Law, they have to register representative offices. However, if NGOs have not registered any representative offices but plan to conduct temporary programmes in China, their programmes shall be put on record.
The year when the NGO Law came into effect witnessed the highest number of registrations of overseas NGOs in China, reaching 305. In May 2017, there were only 47 new registrations recorded. This might be explained by a large number of seminars, briefings and campaigns organised by the management departments of overseas NGOs in different cities and provinces to disseminate the knowledge of the then-newly published NGO Law.
But the years after 2017 witnessed a decline of overseas NGOs registering in China. In 2018, the number of NGOs that registered went down from 305 to 136; 2019 saw another 50% decline in registered organisations, and in 2020, only 43 overseas NGOs chose to register in China. May 2020 had the lowest number of registrations – none. Since then, registrations have gradually increased.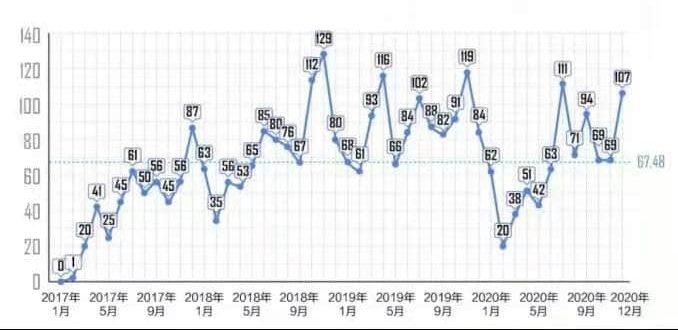 Records for temporary activities of overseas NGOs differed with registration numbers. From 2017 to 2019, the number of temporary activities went up steadily: 487 temporary activities were recorded in 2017, and in 2018, the number reached 894. The rise slowed down in 2019, but there were still 1,061 activities registered.
Affected by the COVID-19 pandemic, the first half of 2020 had the lowest number of recorded temporary activities. The number rose to a higher level in another half of the year, with more than 100 temporary activities recorded in two consecutive months. These temporary activities mainly came from organisations from Hong Kong, the United States, Macao, Japan and Germany.
Overseas NGOs in China made significant contributions in supplies of goods and services during the pandemic. It is estimated that 861 NGOs from 72 countries and regions donated medical supplies worth more than 50 million RMB. Parts of these donations made by NGOs' representative offices were not in their original plan for the year 2020, but later these offices (77 in total) changed their plan and made in total 21.981 million RMB's donations. The rest of the donations, worth 36.537 million RMB, came from temporary activities conducted by unregistered overseas NGOs (784 in total) in China.
The Bill & Melinda Gates Foundation, the Chinese Medical Foundation of the United States and the Hong Kong Silk Road Chamber of International Commerce are among the organisations mentioned above. In January 2020, the Gates Foundation announced an emergency grant of USD 5 million, and provided corresponding technical support and opinions from experts to help their Chinese partners accelerate the research of the new virus, implementation of emergency intervention and the development of pharmaceutical products. In the following month, the Chinese Medical Foundation of the United States decided to offer special funds worth USD 2 million to provide pandemic prevention and control technology and equipment, and to support Chinese partners to carry out academic research and capacity building as well as encourage international exchanges and collaboration related to the response to emerging infectious diseases. The Hong Kong Silk Road Chamber of International Commerce took the initiative to contact its more than 280 member units in 82 countries around the world to introduce China's great efforts in fighting against COVID-19 and remarkable results achieved after a short period of time. It also actively coordinated all resources to help the country fight the pandemic and encouraged its member units to make donations which in the end reached more than 50 million RMB.