The following is the second part of an interview conducted with the founder of an organization that helps the homeless in Shanghai. All names used in this article have been changed at the request of the organization. Read the first part of this interview here.
Efforts to help those in the New Start Center's residential program develop the skills needed to lead normal lives do not stop at 5:30. Movie nights are sometimes held, with residents encouraged to take part in a discussion about the themes and issues raised. There are even regular sessions offered by an art therapist, giving participants the opportunity to express some of their fears and regrets in new and creative ways.
"One of our volunteers is very into the finance sector and comes in to talk to the residents about savings and compound interest," says David, the center's founder, revealing the comprehensive nature of the program.
While many who complete the residential program will work toward getting a job, others might simply work on being able to return home. Some who end up on the streets lack any kind of support network due to broken family relationships back home. This is something that the New Start Center tries to help with, facilitating reconciliation where possible. Occasionally, David or one of his two employees will even drive a person home.
If a homeless person agrees to return home, it can immediately improve their financial and living situation. By returning to the place where they have their hukou they can often qualify for various local welfare benefits.
But accessing any kind of government service, getting a job or a buying a SIM card usually requires a national ID card, and that's something that many homeless people don't have.
"On any given day at our drop-in center, perhaps a third of the people there will not have an ID card. There's several reasons for this. They may simply have lost it; perhaps their wallet got stolen at some point on the streets," explains David.
And for some homeless people, getting a new one might involve more than time and money. Getting a new ID card often involves taking the family household registration document to the police. And this document is often back home with the homeless person's family.
"In a small town, they are likely to have a family member or someone they know working at the local police station. And for whatever reason, they feel ashamed to face their family," says David.
But not having an ID card is now a serious impediment to everyday life. The introduction of health QR codes during the pandemic, which require an ID number, has only made the possession of one more important.
"Sometimes their problems run much deeper than simply not having ID. They might not even know where their hukou is or perhaps don't actually know where their parents are. Their birth might never have been registered in the first place."
For those running homeless shelters in Western countries, addiction issues are often very common among those sleeping on the streets – something that inevitably has to be tackled if someone is to reintegrate back into society. It's something David and his team have also had to deal with.
"Alcohol and gambling are certainly a problem, and we've also had some men on harder substances that have cleaned up and completed our program. Although we don't offer any kind of recovery program, we do demand accountability from those who join our residency program. We've also had a couple of fights over the years, but things have been much calmer recently. Generally we are pretty good at identifying the sorts of people who might cause those kinds of problems," he says.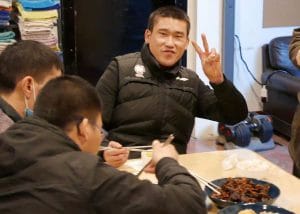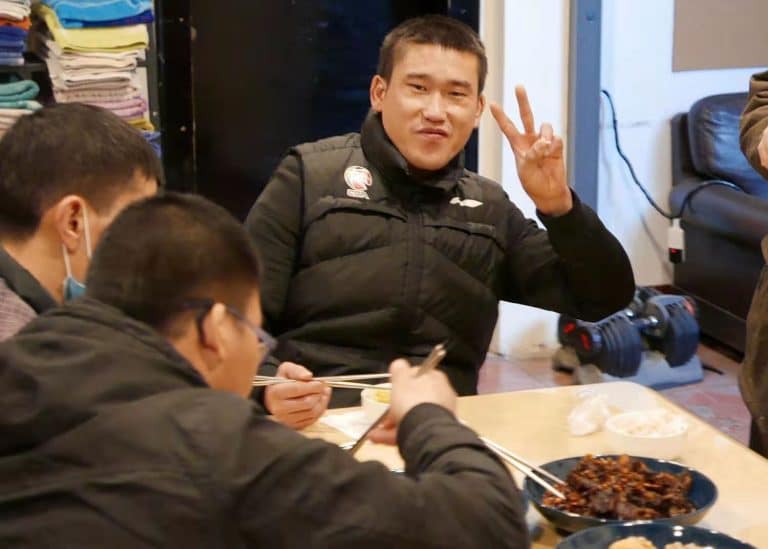 For those who successfully make it through the residential program, the center can arrange paid employment with one of its partners.
"While our jobs program didn't get off to a good start, our partners are now very willing to take someone that we recommend. They know that someone who has been through our program is going to be an excellent worker. At the end of the day, companies want good employees – in good times and bad."
The center's main employment partner is a major chain restaurant serving Western cuisine, but it can also arrange work in a number of other businesses including a factory, depending on where a person's interests lie.
It's the sort of thing that the New Start Center excels at: providing long-term and sustainable solutions for people living on the streets.
"There are government shelters that do wonderful work; every major city has them. But they are mainly geared toward emergencies and helping people to return home – something that people aren't necessarily ready for. People on the streets have often left their families on awkward terms. Perhaps they've run off to the big city to make money, and when this plan fails they feel trapped. This is a vicious cycle that we try to break."
One thing the center has been unable to do is register officially as a social organization, limiting its ability to do any official fundraising. Currently, all the services it offers are funded through private donations and a handful of corporate partners.
"Informally, we've had very good cooperation with the government and have even had referrals off them for people they think could use our help."
Looking to the future, David hopes the center will be able to expand its services to other cities.
"We've also thought about business incubation for people participating in our program, but it's hard enough just keeping the doors open. So I don't have any huge expectations," he says.
"Seeing people's lives change and then starting families and having dignified jobs that they love – that's what keeps me going."