The signing ceremony for the strategic cooperation agreement between France's Expectation and Innovation Foundation and the Beijing Qiaonu Foundation was held on October 20th. During the ceremony the former French prime minister and chairman of the Expectation and Innovation Foundation Jean-Pierre Raffarin and the president of the Orient Landscape Industry Group and chairwoman of the Beijing Qiaonu Foundation He Qiaonu signed the cooperation agreement and discussed future cooperation.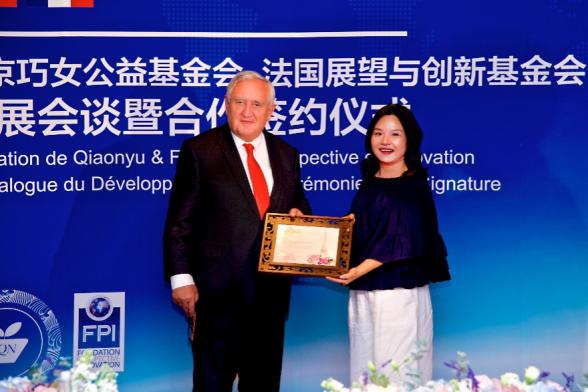 It is reported that the two foundations are going to film a documentary with a French television institute in order to let the world know more about China, encourage people to think about human progress and inspire environmental protection activities. The aim is to create a new mechanism of cooperation which can be conducive to the integration of resources and the innovation of charity.
The Qiaonu Foundation also engaged Raffarin as their overseas communication director, in order to conduct more French-Chinese cooperative charity programs in the future. Raffarin also gave a speech at the ceremony and spoke highly of He Qiaonu's contribution to the development of China's environmental protection and charitable sector. He also said that he was looking forward to cooperating in other fields.