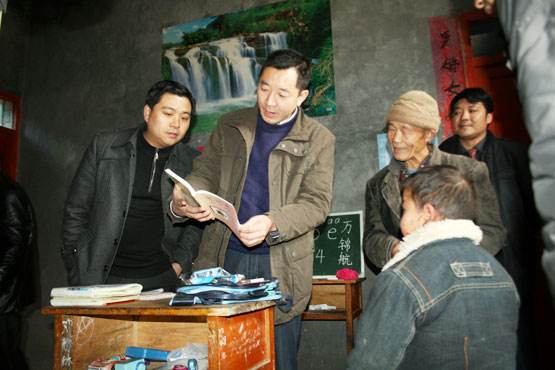 After leaving his job as party secretary in Hubei province's Batong County, Chen Xingjia reappeared in the limelight this week. Well-known for his unorthodox publicity stunts that brought him internet fame, the outspoken figure announced over the weekend that he would begin working in the public interest sector. Originally appearing in the media when he sang in an amateur music video and later when he skydived above Hubei's Badong County, both to promote tourism, Chen continued his streak of internet fame with harsh comments on some beneficiaries of the official poverty alleviation programs.
In one such instance, he publicly attacked impoverished Badong citizens who were "ungrateful" for government help, attracting the attention of both supporters and opponents. Chen described his time working as party secretary in Badong County as the "first half of the game," referring to his career change. The internet celebrity made a sudden online post in December 2015 that he was "leaving the his official post," after which he was missing in action for over a year.
On March 16 of this year, Chen announced that he had taken on a teaching position at China Global Philanthropy Institute (CGPI). Then on May 6, he made a post on his personal Wechat account that describe his road forward, entitled "Chen Xingjia: Greetings, second half of the game," in which he thanked his superiors at CGPI and outlined his path forward.
In his Wechat post, Chen revealed that after much consideration, he has chosen to work in the public interest sector, saying "by switching careers to public interest, I can do many [great] things." As for the specifics of his plans, Chen told reporters that he and some colleagues established the Henghui Children's Benefit Foundation in April this year, which aims to improve education and health for children in impoverished areas.
Chen told reporters that the foundation will first work on a project to improve household care for children in poor areas. The program will be called "I want to see you." Chen expressed hope that the program will enable those living in poor households to be able to take better care of their children simply by enabling them to be together more often.