This is CDB's translation of an interview with Professor Deng Guosheng that was originally published by the WeChat account 社会创新家 ("Social Innovator") on the 16th of February. You can find the original here.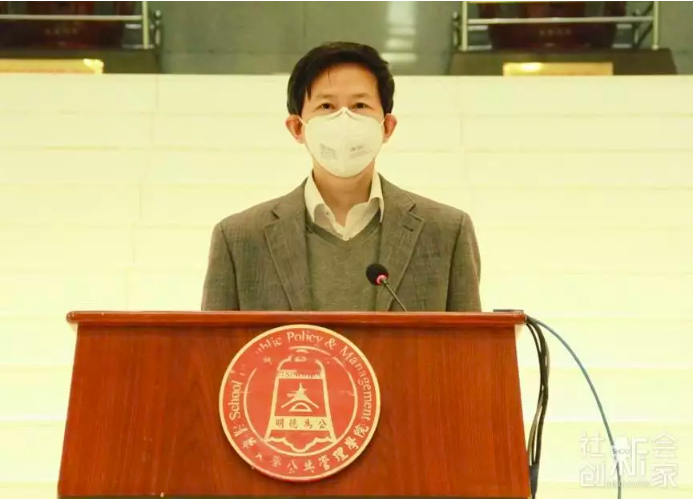 Editor's Note
Under the pressure of the international economic downturn, China's economy is also being strongly impacted by the new coronavirus (COVID-19) epidemic. What effects may the charity sector suffer in the short and medium-to-long term? How should it respond to the risks brought about by the major outbreak of a public health crisis and by the economic recession? "Social Innovator" (社会创新家) interviewed Professor Deng Guosheng, vice-president of the School of Public Policy and Management of Beijing's Tsinghua University, regarding these issues.
1. The next two years are going to be tough
In terms of donations, what short and medium-to-long term effects do you think the economic downturn of the past two years and the recent outbreak of the new coronavirus pneumonia (hereafter referred to as NCP) will have on the charity sector?
Deng Guosheng: According to my preliminary assessment, the negative effects caused by the NCP epidemic in terms of the overall amount of donations will not emerge in the current year. In fact, only about ten days after the outbreak of the NCP, donations from companies had already exceeded RMB 20 billion, while the public has also passionately participated with funds and material contributions. If we look at the experience gained during the previous "great calamities", we can expect that, in comparison with the past year, the overall amount of funds collected will increase by a wide margin. Moreover, since this year also corresponds to the final stages of the "poverty eradication" program, the total amount of donations related to poverty alleviation is also expected to be high. Therefore, to sum up, the total amount of donations for the year 2020 is more likely to increase than it is to decrease.
However, donations for the "great calamities" of the past were often overdrawn. If we take the 2008 Wenzhou earthquake as an example, the amount of donations collected that same year reached RMB 107 billion, whereas in 2009 the total sharply dropped to RMB 54,2 billion, just over half of the previous year. In addition, since the "poverty eradication" program is scheduled to be completed by the end of 2020, next year's donations for poverty alleviation are also expected to drop sharply, while the NCP epidemic's great impact on the economy may particularly influence next year's donations by companies. If all factors are taken into account, I am afraid that the negative effects on the charity sector will start to be clearly evident in 2021. For this reason, we can expect that in 2021 and 2022 it will become increasingly difficult to fundraise.
Obviously, this is an overall assessment. The NCP's specific influence in terms of fundraising may differ greatly from one type of charity to another, and structural issues may also emerge.
Charities working in which sectors are most likely to suffer the greatest impact?
Deng Guosheng: The amount of donations collected by foundations actively participating in the fight against the NCP epidemic and in the "poverty eradication" initiatives, and from charity organizations providing first-line public services, will presumably increase. However, for what regards organizations working in other sectors, such as entities relying on the government's purchase of services or on donations coming from big companies, their income from donations is most likely to show a considerable decrease, to the point that, from this year onwards, their future appears quite gloomy.
The most immediate problem is the one related to the salaries, which represents a very concrete challenge. Without any income, charities are not likely to be able to sustain their activities for more than one or two months, and in the long term some of them may encounter serious difficulties. I am even afraid that organizations engaged in certain fields may have no other option but to cut down their projects and lay off employees. Although some organizations are currently displaying good numbers in terms of fundraising, the part that's growing is mainly the funds related to disaster relief activities, for which management expenses, if there are any, are very low. Hence, challenges related to the management expenses of the organizations will also present themselves.
Will the impact on different types of foundations be different, based on the sources of their donations?
Deng Guosheng: Both public and non-public foundations will be impacted in the future. In the medium-to-long term, public foundations will face greater challenges and find it harder to raise money; when it comes to many non-public foundations, the economic downturn will give companies a hard time, and giving is bound to shrink.
In the business sector, small and micro-enterprises are more vulnerable to crises. Does the resilience of charity organizations of different sizes also conform to this pattern?
Deng Guosheng: In the face of a crisis, the pattern in charity and business is basically the same, but there are also differences. The common point is that larger-scale foundations are also more resilient to pressure. For example, after the Wenchuan earthquake in 2008, the amount of funds raised by state-backed foundations in 2009 was not in the low ranges at all. Large foundations like the China Foundation for Poverty Alleviation, the China Women's Development Foundation and the China Youth Development Foundation did quite well in fundraising, but small and medium-sized foundations had a difficult time.
However, the charity sector is not a cut-throat competitive environment. Therefore, small and medium-sized foundations and front-line charities that provide services are not likely to quit or close down even if they are hard hit. Times will be tough, projects will be scaled down, jobs will be cut, but "fading away" will not be easy. Some organizations will become less dynamic, and the proportion of so-called "walking dead" foundations may increase within the sector.
Beyond fundraising, what direct impact will the NCP epidemic itself have on the operations of charities?
Deng Guosheng: From the look of things, it will be impossible to operate and implement many projects in, at the very least, the first quarter of 2020, and they may need to be postponed. This is an optimistic estimate, but we also need to consider that there will be some time between the turning point and the end of the epidemic, which means prevention and control work will continue for some time. The work of social organizations is different from that of other sectors. It is a line of work which requires frequent contact with people. If it is not possible to carry out business trips, research and demand assessments smoothly, some programs and activities may have to be postponed for even the whole first half of the year.
Does this mean that even "money cannot make things happen"?
Deng Guosheng: This may be another kind of challenge because of the special nature of public health emergencies. Many organizations raised money in 2019, but they were not able to start projects in 2020. The impact of the NCP outbreak will be particularly great for poverty alleviation projects for which funds were raised in the second half of 2019, and which were originally intended to be implemented in 2020. The mission of alleviating poverty needs to be completed by the end of 2020, this is a clear order from above. Completing the task, and especially completing it on time, will be a huge challenge.
I expect some platform organizations that plan to conduct offline activities, such as meetings and forums, in the first half of 2020, to be affected and be forced to postpone. This could disrupt the plans and rhythms of many charities.
Summing things up, this NCP outbreak will bring great damage to both the upper and lower reaches of the charity sector, and will have a great impact on the development of the entire system.
2. Turning a crisis into an opportunity
How should the charity sector face this crisis?
Deng Guosheng: The crisis is unavoidable. The economic downturn is an inevitable global trend. The impact of such a large epidemic cannot be avoided under such circumstances. The problem that the entire sector needs to think about is how to turn this crisis into an opportunity, find chances to work amidst the impact of the outbreak, and at the same time reflect upon the problems and deficiencies of the sector itself.
What are the visible opportunities?
Deng Guosheng: Based on the experience of various countries, after similar shocks, although corporate donations may be reduced, small individual donations would not be reduced much and may even increase steadily. In developed countries and regions, charitable donations come more from the general public, and corporate donations account for only a small part, so that charitable donations remain relatively stable. However, the situation in China is exactly the opposite. Therefore, non-profit organizations can seize the opportunity to adjust and change their fundraising structure, get rid of the excessive reliance on corporate donations, and go from large donations to relying on small individual donations to create a more stable source of funds for the organization. In fact, it can be seen from every major disaster that the Chinese public is deeply caring, and the potential for donations by the general public in China is far from being given its full play.
The economic downturn, coupled with the impact of the epidemic, will further intensify social problems and increase the society's demands. At this time, the charity sector is required to provide more public services and give play to the role of charity as a "third re-distributor". Non-profit organizations, especially foundations, must think about how to adapt to the new environment and how to change and evolve. For instance, how to use the internet to raise funds in the future and increase the proportion of small private donations, and also how to use the internet to solve social problems and improve efficiency. For example, using online psychological counselling, and providing remote technology and consulting services to reduce costs.
In addition, non-profit organizations should improve their organizational and learning capabilities, and qualified non-profit organizations can also take this opportunity to store up on professional talents. Clearly with the economic downturn there will be employment difficulties for college students, some companies may lay off staff, and a large number of professionals could find themselves out of employment. In the past, compared with enterprises, the competitiveness of non-profit organizations in attracting talent was weaker, but during the economic crisis, for non-profits there is an opportunity to attract talents.
Now is an important stage in community prevention and control. When participating in solving community problems, we also need to turn a crisis into an opportunity.
The tide of people returning to work has increased the pressure on community prevention and control. What role can social organizations play?
Deng Guosheng: Judging from the current situation, wherever prevention and control work is done well, the social governance system and governance capacity are relatively good. For example, look at places such as Zhejiang, Shanghai, Guangdong, Sichuan. The tide of people returning to work has sharply increased the pressure on first-tier cities like Beijing, Shanghai, Guangzhou and Shenzhen. In the respect of community prevention and control, the professional advantages of social organizations should be used to stimulate social vitality. For example, in areas of severe epidemic, professional social workers are used to conduct individual case counseling and psychological counseling.
The strength of the communities (社区) in rural areas and some areas in the central and western regions is weak, and the strength of neighborhood committees and village committees is not enough, hence the role of social organizations needs to be exerted as much as possible. The work of community prevention and control carries great responsibilities and pressures. The community committees and village committees often have insufficient staffing and lack professionalism, and sometimes have to adopt methods that are simple and crude. This may cause a lot of contradictions and conflicts, and even pose negative influences on the return to work and economic recovery. Professional volunteer organizations and social work organizations can serve as important supplements to the forces of community prevention and control.
What are the requirements for social organizations to participate in community prevention and control?
Deng Guosheng: In recent years, the charity sector has been advocating for the participation of professional volunteers and social workers. In fact, this has already provided certain capabilities, and it has also formed a platform hub in the sector, which is a huge resource that can be activated. It is imperative to establish a cooperative mechanism between government and society, provide institutionalized channels for social forces to participate in the prevention and control of the epidemic, and integrate social forces into the entire prevention and control system.
In general, this epidemic situation is a big test for both the ability of social organizations and the ability of social governance.
3. Mechanisms need to be established for effective government-society cooperation
During the novel coronavirus epidemic, what shortcomings do you think have been revealed within the philanthropic sector?
Deng Guosheng: Firstly, the networks for cooperation among social organizations are less than perfect; secondly, there's not enough expertise in responding to epidemics.
Compared with the SARS epidemic in 2003, the Wenchuan earthquake in 2008, the Yushu earthquake in 2010, and the Ya'an earthquake in 2013, we can see that the ability of social actors, including public interest organizations, has improved significantly. But you'll also see that the role played by these organizations is still relatively weak.
For example, after this epidemic began, a salient problem was that systematic and efficient cooperative networks were not formed between foundations and frontline social organizations. You'll see that internet companies, a lot of informal groups like fan clubs and volunteer groups and some alumni associations have played a really big role, purchasing medical resources in short supply from all over the world. They have played an enormous role in overcoming the epidemic. And yet with some formal charity organizations it's another story, they haven't really given play to what they can do, or at least their role hasn't been quite what we would have hoped. Although this is connected to the epidemic being a sudden public health emergency, the capacity of charities in relation to this kind of crisis is limited. But as well as that, there's the fact that there is a lack of integrative networks for cooperation and collaborative mechanisms between all the different types of social organizations.
So I feel that this crisis is not just a huge test for the national governance system and capacity, but it's also a big test of the governance abilities and skills of social organizations.
After going through a number of natural disasters, weren't the civic emergency response networks already basically put into place after the 2013 Ya'an earthquake? For example, the China NGO Center for Disaster Relief Reduction.  
Deng Guosheng: The networks established up until now have mostly been for responding to natural disasters. Aside from a small number of charities that participated in the public health emergency in 2003, the vast majority of these organizations lack experience in responding to a public health emergency.
This time, after the epidemic began I spoke with some organizations that operate as platforms and told them that the sector has to take action and get involved. They were all very cautious, saying they would need to think and look into it. This tells us that after all these years of development, when it comes to responding to different types of emergencies, our social organizations are lacking a specialist capacity, and their responsiveness, speed and effectiveness in responding is wanting. This is something that the whole sector needs to reflect upon and get better at going forward.
On January 26, the Ministry of Civil Affairs issued Public Notice No. 476 designating five Hubei and Wuhan organizations to receive donations and act as the hub for emergency response materials. Did this cause hub platforms in the sector to lose their own space for action?
Deng Guosheng: Yes, this way of going about things undoubtedly had an objective impact on the role and involvement of social organizations.
When the 2008 Wenchuan earthquake happened, a small number of organizations was designated to engage in public fundraising and use donated cash and materials; in the Yushu earthquake in 2010, this was also the approach adopted to begin with. But having designated organizations centralizing and using the funds and materials was revealed to carry problems, to the point that the related policy documents during the Yushu earthquake were difficult to implement.
By the time the Ya'an earthquake happened, the government's thinking had changed significantly and they no longer designated a small number of organizations to monopolize fundraising or to deploy donated cash and materials in such a concentrated way. There were institutional channels in place for social organizations' involvement in the emergency response. At that time Sichuan formed networks for cooperation among social organizations, the Sichuan provincial government specifically put in place a provincial coordinating team for mass organizations (群团组织) to participate in social governance, and Ya'an itself also set up a service center for social organizations and volunteers taking part in the emergency response. You could say that in the history of emergency responses in China, this was an important institutional breakthrough.
Why was this achievement not able to play a role in the current response to the epidemic?
Deng Guosheng: The formulation of policy on charity donations during this epidemic is related to the particular local situation in Hubei Province. Before the Ministry of Civil Affairs released this Public Notice, the local government had already issued a policy, designating a small number of organizations to collect donations in cash and kind. One reason for this is that the central region of China is much weaker when it comes to social organization development. Social organizations are not well developed there and the officials aren't clued up enough on social organizations' participation in social governance.
During the emergency response efforts Hubei province has been going about things in a really haphazard way, which shows that there are many problems in terms of local social governance systems and capacity. The lessons paid for in blood in past disasters like the Wenchuan earthquake, and the experiences that they have left us, have not been learnt or passed on. In all of this there is a salient problem in that we lack mechanisms for the government to work with society. This means that there's little choice but to designate a small number of organizations to concentrate donations and manage them in that way. But the result is that these designated organizations lack sufficient capacity and this then creates a kind of dam of donated cash and materials.
Faced with enormous pressure from society in the shape of public opinion, on January 30, the Wuhan Red Cross issued Public Notice No.6 adjusting the procedures for earmarked donations. With this, donated materials from citizen actors behaving autonomously could be directly linked up to the recipients. But this direct linking again gave rise to the chaotic situation seen previously. On February 7, the Wuhan Bureau for Market Oversight and Regulation issued another notice stating that steps would be taken to address cases where there was a suspicion that regulations had been broken by circumventing the Red Cross to donate materials. Trying to bring everything under unified control ends up with efforts being strangled; when efforts are strangled you free things up, but freeing things up then leads to chaos, and chaos leads to attempting to control everything again. In all of this the fundamental problem is that social forces lack institutionalised channels; there's a lack of mechanisms for the government to coordinate with society during emergencies.