This year, CDB plans to launch an interactive map of all the overseas projects carried out by Chinese NGOs. As part of this project, we are conducting a series of interviews with local NGOs, discussing their overseas projects and the challenges they face. If you work for one and would like your projects to be included in the map, please do not hesitate to contact us at aurora.tin@cdb.org.cn
Founded in 2008 by Chen Taiyong, the former country director of Heifer China, the Sichuan Haihui Poverty Alleviation Service Center is a Chengdu-based nonprofit organization dedicated to rural poverty alleviation and the sustainable development of rural communities.
Taking up Heifer International's advanced concept of sustainable development, a team consisting of 14 members of staff implement a variety of local poverty alleviation projects and help families in need become more self-reliant by providing livestock, crops and training on scientific farming. Through an overseas programs started in 2018, Sichuan Haihui is now extending their target groups from local Chinese to poor villagers living in the Golden Triangle area in Northern Thailand.
"In 2017, I revisited Mr. Pramote Eua-amnuay, my ex-colleague in Thailand who has now established his own charity organization. Only then I realized that people in this area are still living in a relatively poor condition." As Chen recalls, there was a need for a poverty alleviation program to be implemented and therefore, after a year of discussion and planning, Sichuan Haihui together with other Thai NGOs started the first community project in Thailand, providing educational funds and resources to indigenous people from mountainous area to go to school.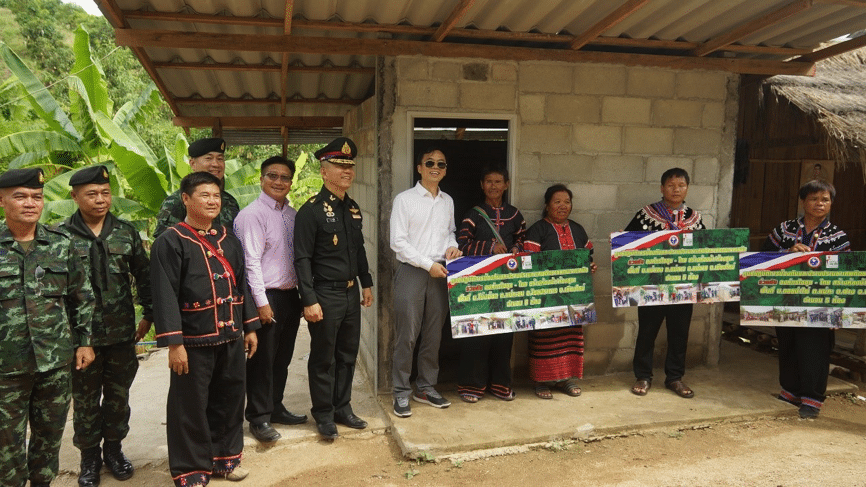 Chen Taiyong (fifth from right) hands over 28 public washrooms to the local community in June 2019 (Photo: Sichuana Haihui)
Chen Taiyong is a professional manager with over 35 years' of experience in the charity sector. Since 1984, he started to work for the China Program of Heifer International, a world-renowned development organization working to end hunger and poverty around the globe.
In response to the tightened and stringent environment for international NGOs in China, in 2008 Chen decided to set up a whole new Chinese NGO, the Sichuan Haihui Poverty Alleviation Service Center, to continue to execute Heifer International's projects in China. The partnership continued until 2017, when Heifer International decided to pull out from China.
35 years in the charity sector have made Chen a visionary. "My vision for Sichuan Haihui in the next ten years is to turn it into a reputable international NGO from China, helping not only China but the whole world to move towards the common sustainability goals and for the greater welfare of humankind."
In his decades of work for Heifer International, Chen established a close relationship with Heifer International's global network, including the ex-colleague whom he met in Thailand who eventually led him to his current work in that country.
Currently, under a partnership with a variety of Thai NGOs, Sichuan Haihui has rolled out a series of projects in Thailand. One of the recently-completed projects is the Hill Tribe Sanitary Toilet Building Project taking place in Chiangmai.
According to the United Nations, it is estimated that around the world there are 4.2 billion people living without safely managed sanitation. Inadequate hygiene and practices negatively affect people's health, livelihoods and opportunities for education. In the mountainous area in Chiangmai, the lack of sanitary facilities and limited economic activities are part of the poverty equation, and poor villagers may eventually transform into breadwinners by taking a path of no return – selling drugs.
In support of the anti-drug initiative led by the 1st Northern Border Narcotics Control Operations Center Control Division (Thailand), Sichuan Haihui donated and built 28 public washrooms in four districts located in Northern Thailand. Starting in March 2019, it took local partners and communities only three months to complete the washrooms and hand them over to the villagers.
Besides the sanitation projects, Sichuan Haihui is continuing their poverty alleviation work in different aspects, including educational programs for villagers and a health campaign against Covid-19.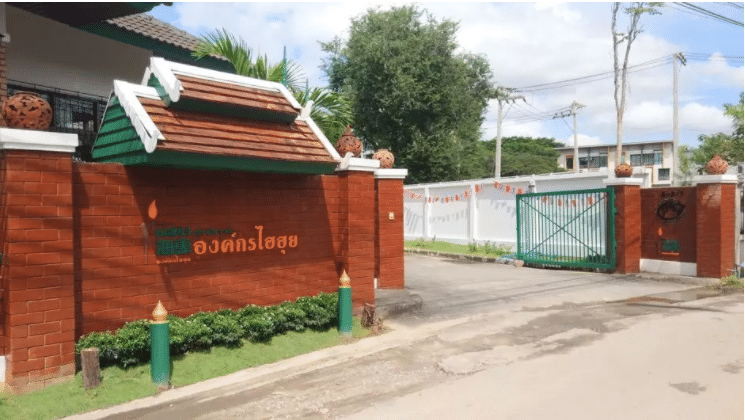 Haihui International Charity Garden was launched on the 25th October 2018, serving as a platform to connect local and overseas NGOs (Photo: Sichuan Haihui)
Another one of their projects, the Haihui International Charity Garden located in Chiangmai, is regarded as a base camp to connect Chinese and International NGOs through experience and network sharing. According to Chen, the project grasps the opportunities arising from the Belt and Road Initiative with the ultimate aim to build an international charity circle in Thailand.
To many Chinese NGOs, the most difficult part of "going out" is the lack of connections overseas. This never bothered Chen, as he has been travelling to Thailand frequently since 1995 to facilitate multiple programs by Heifer International. His advice to Chinese NGOs with a plan to go global: always partner with local NGOs and people, and make good use of their expertise and experience in local policies and networking.
"That's why we started the Haihui International Charity Garden, this is the platform where we bring local and overseas NGOs together." Currently, the charity garden hosts seven local college students. The students, serving as volunteer, help manage the garden as well as carry out day to day operations.
In Chen's plan, the charity garden also serves as an educational center that provides hands-on experience for Chinese students majoring in International NGO Management. As a mentor for the Southwestern University of Finance and Economics of Chengdu, Chen provides guidance to the students throughout the implementation process of overseas charity programs, including background research, project planning, fundraising and impact assessment.
"Once their proposals pass the standard, they get the chance to turn ideas into reality in Chiangmai, taking the Haihui International Charity Garden as their project base camp", Chen says, adding that the China Global Philanthropy Institute plans to take their students to the charity garden, rolling out a community project targeting the local Thai Chinese community.
Of all the projects by Sichuan Haihui, 90% are China-based and 10% have an international focus, according to Chen. He admits that it is in their plans to get registered in Thailand, however, being restricted by their registration status in China, they are not yet allowed to do so.
To Chen, the policies are the part which he has found challenging when implementing international projects. There's a clear work scope and work area defined during the registration of a Chinese NGO, making it difficult to start international projects and raise funds for them. "The government encourages us to 'go out', but currently there's still lack of clear policies and financial support. Many of my overseas friends are looking forward to partnering with us, but without sufficient money we are unable to start projects there."
He stresses that it is not that Chinese society doesn't have enough money to support international charity work, but rather it is due to policy restrictions. He believes that along with China's economic rise, a comprehensive policy that supports Chinese NGOs wanting to go out will be in place soon. By then, Chinese NGOs will have sufficient funds to carry out more meaningful projects that help solve global issues.
That's also the reason why Sichuan Haihui started their Thailand project at a smaller scale and slower speed. As Chen says, "when our pilot project has a solid and strong foundation, only then our work will be recognized by the local government as well as the Chinese government. Once we get support from our government and society, we will then be able to duplicate similar projects in the neighbouring countries, such as Myanmar and Laos."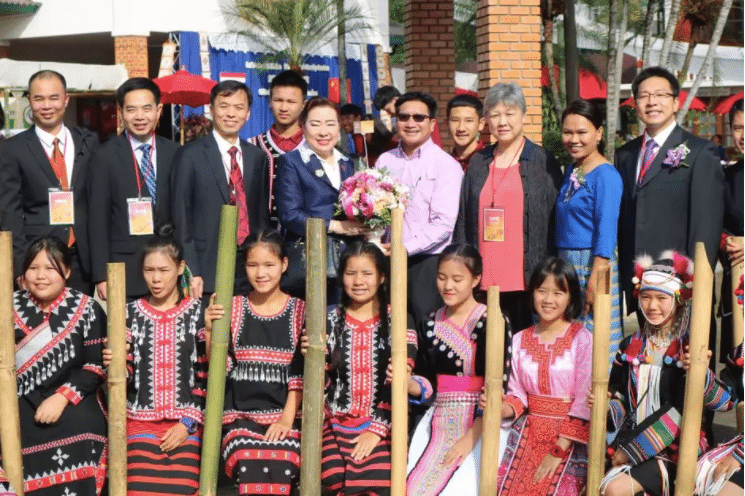 The Haihui International Charity Garden also serves as an educational center that provides hands-on experience for Chinese students majoring in International NGO Management (Photo: Sichuan Haihui)
Despite all the challenges the Chinese charity sector is facing, as one of the front runners of the sector Chen shares what he thinks the advantages of Chinese NGOs are when conducting international projects.
From his perspective, a group of talented people have been working for international NGOs for decades since China's Reform and Opening Up. "Their expertise is becoming valuable today", he says, "and now is the right timing for them to contribute their skills to international projects led by Chinese NGOs."
He adds that, as more and more Chinese corporations expand business to overseas countries, the emerging opportunities for NGO-business partnerships creates a win-win situation for both Chinese corporations and NGOs. Such partnerships provide NGOs with a new source of income, while their work could help Chinese companies to improve their relationship with the local governments and people through a series of community-building projects.
Based on his observations and experience, Chen believes that the huge number of overseas Chinese, estimated to be 60 million, is another advantage for Chinese NGOs starting overseas projects. "Overseas Chinese have built a wide social network everywhere. They used to see local communities receiving help from western international NGOs, so now when they see Chinese NGOs going to their communities they feel a sense of closeness and may have a tendency to support our work."