Disasters and emergencies are often significant for an emerging NGO sector. They can act as markers of growth, forming a window to assess the maturity of a sector. They can raise important questions about the value and role of civil society. And they can act as catalysts, providing opportunities for new organizations and alliances, lessons to be learnt and shared, and public awareness to increase.
Dotted along the growth trajectory of Chinese civil society are several such events: for example the SARS outbreak in 2003 where the role played by domestic NGOs demonstrated the value of having a strong civil society. However it is earthquakes that hold a particular significance for China. The 2008 Sichuan earthquake is often referred to as a 'watershed' moment. At the time, the mass involvement of NGOs was placed in stark contrast to the absence of non-state involvement after the huge 1976 Tangshan earthquake. Now, seven years after the Sichuan earthquake, will the devastating and tragic Nepalese earthquake be seen as a new milestone for Chinese civil society?
"All necessary disaster assistance"
The earthquake in Nepal is rapidly becoming China's largest relief effort outside its own borders. The Chinese state response has been swift and strong with President Xi Jinping offering to provide "all necessary disaster assistance to the Nepalese side." The morning after the earthquake the China International Search and Rescue Team (CISAR) sent 62 experienced rescuers to Nepal ((http://news.xinhuanet.com/english/2015-04/26/c_134184503.htmhttp://gb.cri.cn/42071/2015/04/26/6351s4943191.htm)). Later in the day they would be followed by detachments of PLA soldiers and the Ministry of Commerce announcement that 20 million RMB of material aid would be dispatched ((http://news.xinhuanet.com/english/2015-04/26/c_134186099.htm)).
This strong response would have been easy to predict. It is indicative of China's growing strength and international presence. It also aligns perfectly with Chinese foreign and trade policies. Nepal is strategically important to China, has significant natural resources, and last year China became Nepal's biggest source of FDI. Strengthening trade and transport links with Nepal is part of China's "new silk road" project and much of the aid will be delivered along highways that China has been building over the past few years ((http://english.cntv.cn/2015/04/26/VIDE1430036401305320.shtml)).
China's civil society mobilizes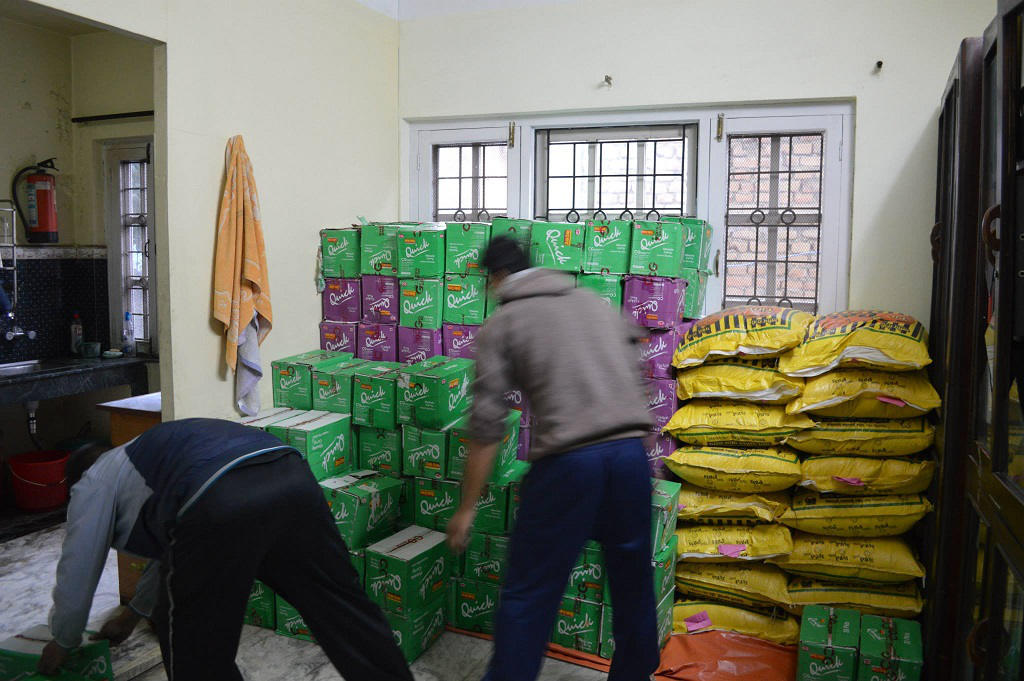 However if China's strong state response is unsurprising, so too is the strong response from China's civil society. China's GONGOs (Government organized NGOs, organisations with strong links to the state) were quick to get involved. The Red Cross Society of China started to deliver the first batch of relief supplies to earthquake-stricken Nepal from Beijing on Monday ((http://news.xinhuanet.com/english/photo/2015-04/28/c_134189904.htm)). More notably, organizations with more of a grassroots background were also very quick to respond. At the vanguard are three public-fundraising foundations: The One Foundation, the Amity Foundation, and the China Foundation for Poverty Alleviation (the CFPA, which has a state background but now operates relatively independently).
These foundations, as well as some others, are operating through alliances, both domestic and international, pre-existing and newly-created. One important domestic alliance is the Disaster Relief Coordinating Alliance of Foundations (基金会救灾协调会). This was founded in 2013, ten days after the Ya'an earthquake by the China Youth Development Foundation, the CFPA, the Narada Foundation, the Tencent Foundation, and the One Foundation. In the wake of Nepal's earthquake it set up the "Chinese NGO Coordinating Center for the 4.25 Nepal Earthquake" along with international organizations such as the UNDP (China office), the Asia Foundation, and Save the Children. The domestic office of the Center, which is based at Beijing Normal University, will build a joint information platform sharing the latest progress in Nepal and the relief work done by Chinese NGOs. The CFPA will also set up a field office in Nepal with the help of Chinese government rescue teams, that will be responsible for bridging the relief work between international and Chinese NGOs.
The Amity Foundation is a founding member of an international alliance – the ACT Alliance. It made the decision to participate in the earthquake relief effort after discussion with the Alliance's secretariat in Geneva and it's Nepalese partners. Amity first did research and evaluation in the earthquake stricken areas together with local partners in Nepal before sending their first rescue team on April 26th ((http://www.chinadevelopmentbrief.org.cn/news-17416.html)). New partnership alliances were also created as a result of the earthquake, such as the "Shanyuan Disaster Relief Initiative" (善缘4.25赈灾行动) initiated by the The Shanyuan Foundation of Tibet (西藏善缘基金会) with the CFPA, Narada Foundation, China Fortune magazine, and Recende CSR. Other activities by domestic foundations include foundations donating money through the One Foundation. For example the Dunhe Foundation allied with the One Foundation to develop a disaster relief mechanism, as well as donating 500,000 RMB for the relief work. Similarly the Tencent Foundation donated 1 million RMB through the channels of the One Foundation for emergency use.
On the fundraising side, public-fundraising foundations were quick to utilize the new online and social media channels that have become very effective in recent years. Just hours after the earthquake foundations began to set up accounts for their relief work on popular online fundraising platforms such Tencent Gongyi, Alipay Gongyi, and Sina Gongyi ((http://mt.sohu.com/20150427/n411940669.shtml)). Tencent Gongyi, has raised more than 18 million yuan as of April 29 from more than 241,000 contributors, and the numbers are still climbing exponentially. People can give money to the public fundraising foundations they choose through the platform (see below) ((http://gongyi.qq.com/succor/jz_zt.htm?id=39))
Alongside fundraising and project work, there were also research and information gathering initiatives undertaken by NGOs that aimed to support Chinese involvement in the relief effort. The Zhuoming Disaster Information Center (卓明灾害信息服务中心), a volunteer organization that was set up after the 2008 Sichuan earthquake and specializing in processing disaster-related information and coordinating resources, published an emergency report less than four hours after the earthquake. Just 24 hours later they released a comprehensive brief on the earthquake and the rescue work. The center also started recruiting volunteers through online social media right after the earthquake to update and distribute information. Another information-gathering initiative was undertaken by Anping (Anping Public Communication and Social Development Charitable Fund, 安平公共传播公益基金) which is funded by the CFPA and based at Peking University and aims to monitor the actions of Chinese non-profits as well as promote good reporting on the sector. Anping sent staff to Nepal to cover the activities of Chinese NGOs there ((http://politics.caijing.com.cn/20150429/3871656.shtml)).
A step forward for Chinese civil society?
When contextualizing the Nepal relief effort it is important not to forget that Chinese NGOs have also responded quite strongly to another recent Asian earthquake – the one that hit Japan in 2011. During that relief and reconstruction effort, Chinese NGOs primarily  donated money, and a few even partnered with Japanese NGOs. The dynamics of that assistance was different to that in Nepal: Japanese civil society is more developed and better resourced than that that exists in China. Nepal may be different because Chinese organizations could find themselves as senior partners in some situations, and having to draw on their own experience participating in an increasingly long list of relief efforts.
The speed of the response is certainly a sign of the maturity of some actors within Chinese civil society. Within 24 hours, various types of relief associations, rescue teams, and information centers were established for the purpose of fund-raising and rescue and relief work. The One Foundation convened an emergency meeting just ten minutes after the earthquake ((http://www.sxdaily.com.cn/n/2015/0428/c142-5672239.html)). The China Foundation for Poverty Alleviation (CFPA) started an initiative (人道救援——尼泊尔特大地震及西藏地震响应救援) just half an hour later. This speed shows how well-resourced and professional these organizations have become.
Concordantly the speed and strength of the response is also demonstrative of a growing internationalization of the sector. Some organisations within Chinese civil society have now reached the stage where they are beginning to desire to tackle issues beyond their own borders. In recent years this has been a trend confined to GONGOs or a very small number of NGOs mainly working on environmental issues (for example the Global Environmental Institute). In the future this trend for Chinese involvement in global civil society will hopefully spread. As one of the world's least economically developed countries, Nepal is not well placed to reconstruct itself. In a similar way to how a prolonged involvement in Nepal aligns well with Chinese state foreign and trade policy, it also aligns well with the internationalizing aspirations of some of Chinese civil society's elite. Hopefully therefore, a sustained civil society involvement will accompany that of the state.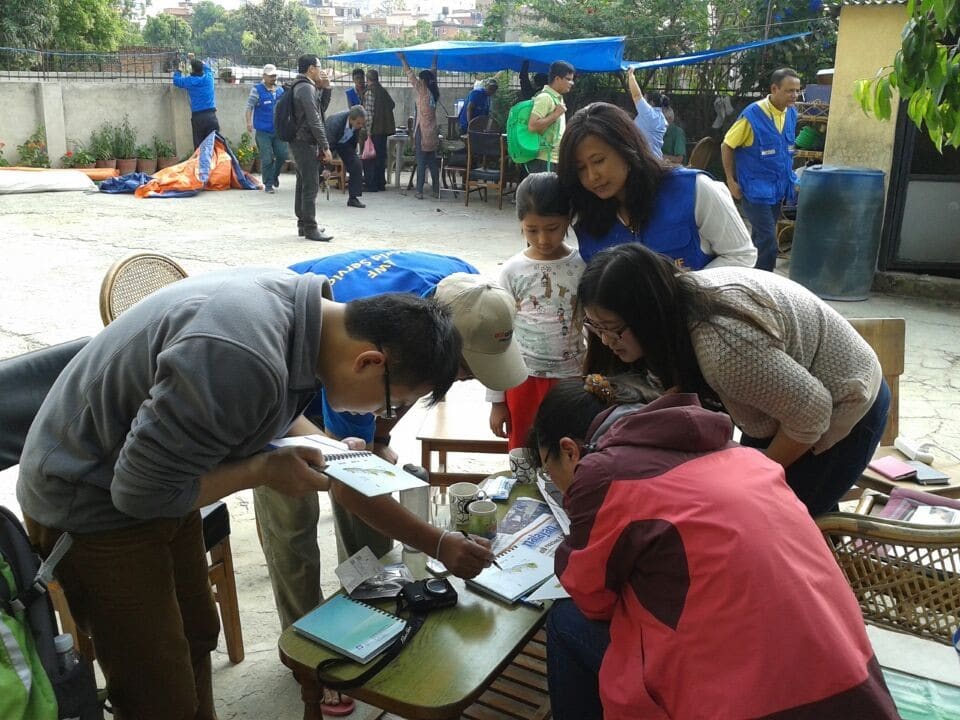 The initial stages of the relief effort also highlight the development of organisations that support the sector and facilitate a more strategic, informed, and even collaborative approach. Concordantly it also shows the impact of greater flow and access to information. The latest developments from the earthquake stricken zone, including needs analyses and information about transportation and accommodation in Nepal were widely disseminated through online social media and through NGOs like Zhuoming. This contrasts with the efforts of volunteers and NGOs after the 2008 earthquake, when a lack of information and coordination meant that they sometimes created just as many problems as they solved.
However there are important caveats. The strength and speed of the civil society response should not be taken as a measure of the development of the whole sector. Disaster relief is one of the main areas that domestic NGOs and foundations feel that they can operate in and be guaranteed of state and societal support. It is tough and essential work and NGOs can contribute a great deal. However it represents a very small part of what Chinese NGOs do.
As of 2015 China has several million NGOs and several thousand foundations. The vast majority of these remain under-resourced with many – especially those operating in peripheral and "sensitive" areas – barely able to survive from day to day, let alone contemplate managing a cross-border relief effort. For fundraising organisations, questions still remain over how comfortable the Chinese public is with contributing funds for projects that are not related to a disaster. Increasingly this is not the case for money spent within China but remains a problem for raising funds to be spent overseas.
While the alliances that have sprung into action are a positive development for Chinese civil society they are also not representative of the entire sector. Jin Jinping, Director of the Center for NPO Law at Peking University, said that in contrast to predominantly unilateral participation after the 2008 earthquake, non-governmental organizations started cooperating together in disaster relief work after the 2013 Lushan earthquake ((http://www.sxdaily.com.cn/n/2015/0428/c142-5672239.html)) . However Professor Jin also said that NGO alliances remain primarily relevant for disaster situations and outside of this field NGOs rarely cooperate with one another. Even in disasters, often the alliances only appear solid online. Offline they fall apart due to a lack of cooperation and communication. Whether the Nepalese earthquake alliances are more resilient remains to be seen.
It is too early to make firm conclusions about the significance of the Nepalese earthquake for Chinese civil society. It comes at a time when the general narrative and future prospects appear understandably gloomy. The actors involved in Nepal represent a significant and privileged minority. For those NGOs that operate in the safe centre of Chinese civil society – dealing primarily with service provision – it is a glimpse of a positive future filled with better resources and international collaboration. For those NGOs that operate on the periphery it is less relevant. A looming question mark still remains over their future.