The 23rd Chinese medical aid team in Benin have succeeded in conducting a remote guidance surgery for a patient with a large thyroid tumour at the central hospital of Lokossa, Mono and Kouffo Department, on the 21st of March, in cooperation with Beninese doctors. This was the first remote surgery provided by a Chinese medical aid team, and it was guided remotely by Chinese oncology surgery and anesthesiology experts via video.
The patient was a middle-aged woman who had suffered from a thyroid tumour for 15 years. As the tumour severely affected her life, she was in need of a surgery to get rid of it, but the tumour was very large and in an unusual position, so the risk of complications during and post-surgery was very high. To make sure the surgery was successful, the medical team established an expert group and a surgery group to develop detailed treatment plans and remote surgical guidance programs. They also clarified the surgery and anaesthesia program after discussing the details with oncology surgery and anaesthesiology experts in China.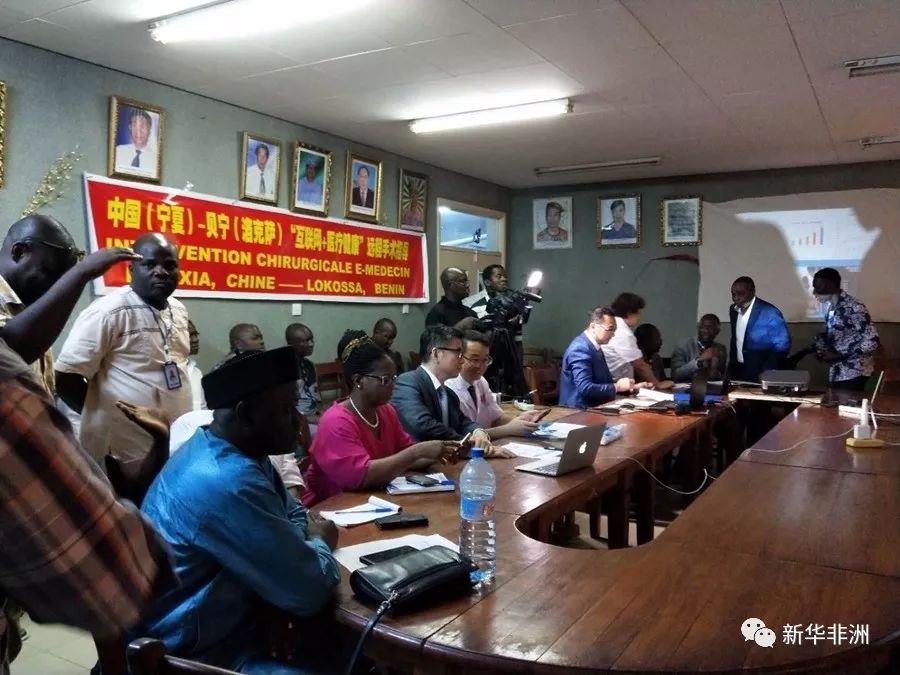 There was however another tricky problem. For remote video transmission the recommended broadband connection speed is at least 20 Megabits per second, a speed which generally cannot be achieved in Lokossa. Huawei Technologies Benin gave a hand however, and sent their network technicians to Lokossa twice to test the broadband connection speed for the medical team. There were also technicians from Huawei on site on the day of the surgery to make sure there was a stable connection.
The surgery took 4 hours and 14 minutes, lasting from 9:00 am until 2:30 pm. The director of the information technology department in Benin's Ministry of Health sincerely thanked the Chinese medical aid team in Benin on behalf of the ministry. She said that the remote guidance surgery this time was fantastic, not only extending the scope of medical collaboration between Benin and China but also bringing telemedicine to the central hospital of Mono and Kouffo Province. She also expressed the hope that Chinese doctors can provide better medical service for Beninese patients with telemedicine and bring more medical experience to Benin.
Peng Jingtao, the Chinese Ambassador to Benin, spoke highly of the 23rd Chinese medical aid team in Benin, praising their courage and hard work. Over 500 Chinese medical professionals have worked in Benin and more than three million patients have been treated since the Chinese medical aid team first came to Benin 40 years ago. The remote guidance surgery is innovative and pioneering for the Chinese medical team, Benin and even West Africa. It is an excellent example of telemedicine for other departments, and represents a step forward for Chinese foreign medical aid.