Editor's Note:
This is CDB's translation of an open letter that was jointly signed by a number of Chinese environmental protection organizations, and addressed to the leaders of the World Wildlife Fund's China office. The letter is critical of the recently announced cooperation project between WWF and Jingdong, one of China's largest E-commerce companies, in view of the company's trade in endangered fish.
Dear Executive Director of WWF in China Mr. Wang Shi and Secretary General Mr. Lu Sicheng,
We belong to several domestic environmental protection organizations. On June 8th, we observed that the Jingdong Group had formed a strategic partnership with WWF — together the two parties would work on material recycling, carbon reduction, sustainable supply chains, green logistics and other relevant fields — to promote the concepts and actions of sustainable development and lifestyles globally from the point of view of production, circulation and consumption. At the same time, Jingdong Group announced that they would provide 10 million yuan to support the operation of bilateral cooperation projects, including developing revolutionary management plans and technologies for recyclable goods, promoting the reuse of recyclable and second-hand goods etc…
It is gratifying for China's environmental sector to see that more and more enterprises have raised their awareness of environmental protection, which will benefit the work of environmental protection in China.
On the 9th of June however, the chairman of the board and CEO of Jingdong Group Mr. Liu Qiangdong announced in a lofty tone that "for the first time, one of the world's top ingredients, Australian Bluefin tuna, is introduced to China", as can be seen in the following screenshot: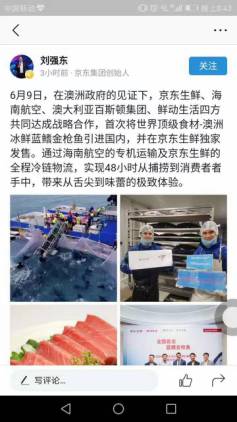 According to the sources we have obtained, this Australian Bluefin tuna is one of the three subspecies of southern bluefin tuna, which are ranked as "critically endangered" by the International Union for Conservation of Nature's Red List. Your own organization's expert John Tenzi has also claimed in front of the media that all kinds of bluefin tuna have become "endangered". As one of the world's largest environmental agencies, we believe that WWF should have an assessment mechanism in choosing strategic partners: has this partner done any damage to the image of WWF? Does this partner have any plans, projects, and/or actions that contradict the mission of WWF? Do the executives of this partner have a background knowledge of ecology or a willingness to learn the related knowledge? Does this partner have any willingness and plan to educate its employees about nature conservation, sustainable consumption and other related topics? If none of the above points has been fulfilled, does WWF have corresponding intervention plans and actions? Should this type of intervention happen prior to the partnership or after?
"Business is the pursuit of profit" is a hard truth for enterprises. The first thing they want to understand is economics, not ecology. However, environmental protection organizations, as companies' strategic partners, should not only upgrade the brand image of enterprises, but more importantly push enterprises forward on fulfilling corporate social responsibility. If this can't be fulfilled, then WWF can only provide the enterprise a green hat.
Of course, our colleagues also received a personal reply from Mr. Lu Sicheng, stating that "WWF has been in touch with Jingdong in the fist place, expressed their position against selling bluefin tuna, and asked them to stop and remove it from the shelves. They [Jingdong] are also confirming the source of the products, and have promised to reply as soon as possible." However, by press time, we have not seen any official statement from WWF. In a friendly manner, we appeal to WWF to express its position openly to Jingdong. If the problem cannot be solved in a friendly fashion, then we propose that WWF should stop its cooperation with Jingdong.
Looking forward to your reply!
Jointly signed by the following organizations:
China Green Development Foundation –Endangered Species Fund
Qinghuan Volunteer Service Center
Daorong Nature Conservation and sustainable Development Center
Lingshan Charity Foundation — Environmental Action Fund
2017/06/11