A workshop on the registration of overseas NGOs in China took place in Beijing on July 28, organized by China Development Brief, with nearly 80 representatives from different overseas NGOs attending the event. Speakers including important figures in overseas NGOs, legal experts and academics took the stage in turn and shared their views and discussed the challenges faced during the registration process.
Dr. Jia Xijing, from Tsinghua University, presented her observations on the first half-year of the ONGO law's enforcement. She believes that the growth in the number of ONGOs' representative offices in China will remain relatively stable over the coming period of time. Mr. Albert Yu, the operations director of Word Vision, shared his organization's experience of registering in multiple provinces.
Dr. Wang Chao, as the chief representative of SCF, pointed out that it is important to establish a long-term cooperative and trustful partnerships with relevant government departments. Dr. Smiley Wang, the country director of the Fred Hollows Foundation, recommended that ONGOs maintain frequent communication with their professional supervisory units and value their professional supervisory units' attitudes and responses. Dr. Zhang Lingxiao, as the director of the Jingshi Law Firm, explained the new law's practical implementation from a legal perspective.
In the afternoon a panel discussion took place, in which Ms. Katherine Wilhelm from the Ford Foundation's Beijing Office, Mrs. Winne Lu as the COO of WWF, Ms. Hu Wenxin from TNC, and Mrs. Zhang Hongman, program director of Plan International, shared their views about the Overseas NGO Management Law and their personal experiences in dealing with problems that came up under the Law's enforcement. The panelists then took questions from the audience.
One point made by many of the guests was that successfully getting registered is not the end of the work, but just the beginning. Overseas NGOs in China will need to move forward step by step and maintain a spirit of exploration to confront the future together.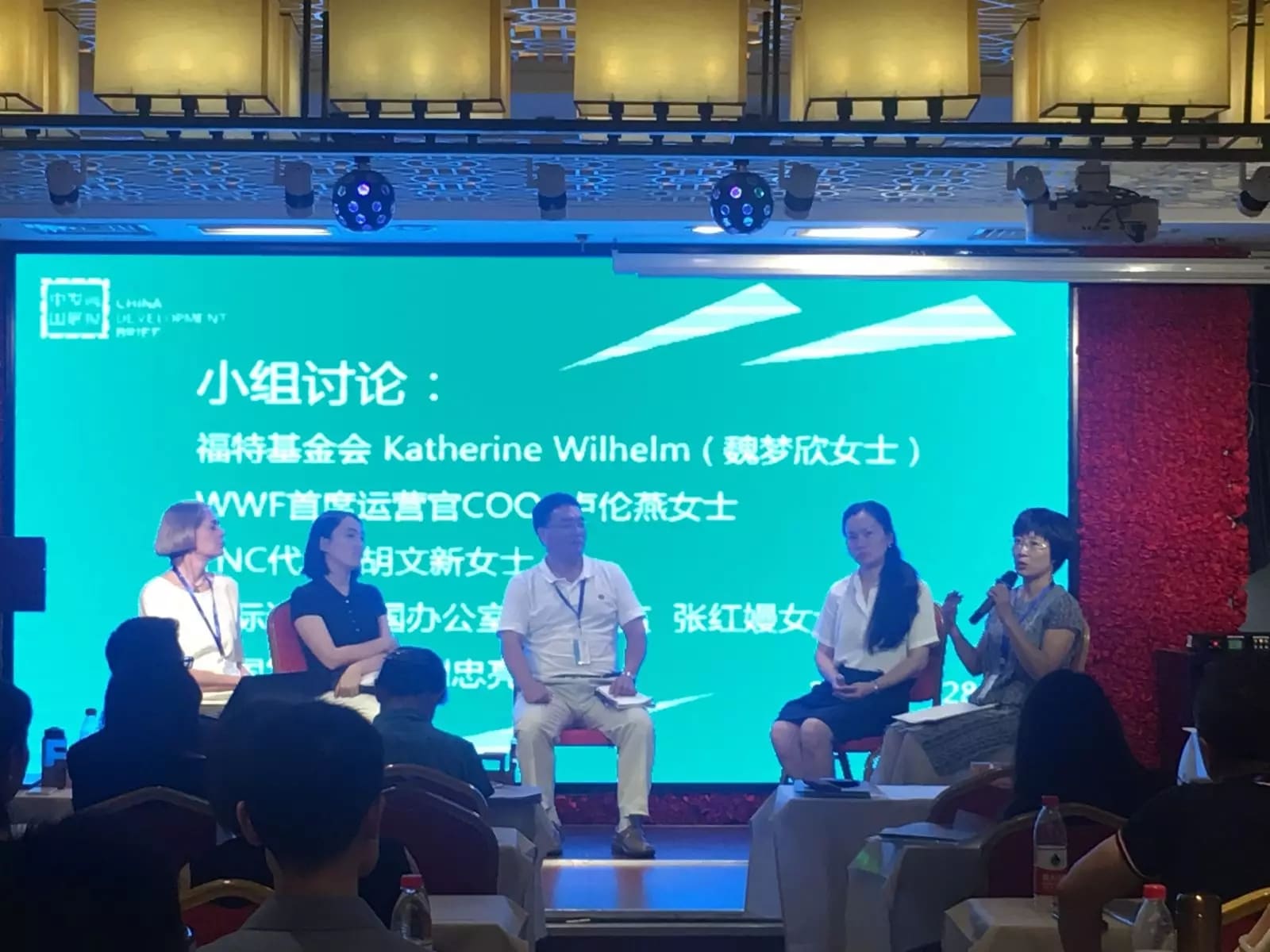 A shot from the panel discussion