Hans Galliker is an "ecopreneur" and expert on sustainable agriculture. Originally from Switzerland, for the last decade Hans has been based in China, where he has worked on a variety of projects focused on the theme of environmental sustainability. While in Beijing Hans co-founded the eco-fashion brand NEEMIC, which designed sustainable fashion. He recently moved to the newly created Huadao ecovillage in Sichuan, to help get it off the ground and provide a model for ecovillages around China. In this interview, Hans speaks to CDB about his work, his views and his plans for the future.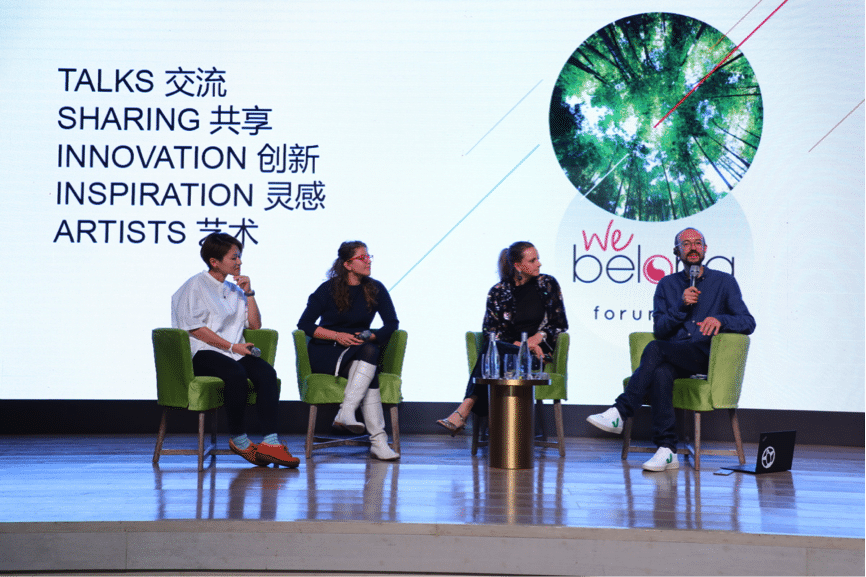 How has 2020 been for you so far?
I was blessed because I arrived here, in the Huadao eco-village in Sichuan, in mid-January, roughly ten days before the lockdown started. I wanted to be here all the time anyway, and I had no travel plans, so I think I have been rather unaffected by the pandemic. Compared to what others have been through, losing their jobs and being unable to see their family and children or even getting sick and dying, I would say that I have not been very affected. I'm living in an eco-village, so we produce most of our own food. It's very peaceful, there is a lot of greenery, and there is little need for other people to come here or for us to go out, so it was almost an idyllic island for us to sit out the lockdown.
Could you tell us a bit about how and why you moved to China?
I moved to China in October 2010, so it's been almost ten years now. My first time in China was in 2004, but the big moment of discovery came in 2009, when I rented a car with an American business partner and two translators, and we travelled to 17 provinces to research the Chinese agricultural supply chain. We visited farms, factories, vegetable trading places and anywhere else even remotely connected with agriculture. We did 45 meetings and drove 15,000 km for almost two months. It was possibly the adventure of my life.
It was a big deal for me, in the sense that I had been a farmer in Switzerland, I knew about conventional farming, and then I came to China in the middle of a food safety crisis, with all of these scandals like the exploding watermelons and the melamine milk scandal. People were concerned and didn't know where to find clean food. Previously people just thought the food was fine, because they bought it in the supermarket and it looked quite good, and they didn't realise that it might be pumped up with fertilizers or growth hormones.
While doing that research I saw these problems first hand, and I thought, "why should I spend the rest of my life in Switzerland?" When you think about the ecological footprint that every citizen has in Switzerland it's quite crazy, but at least everything more or less functions, and it's more or less of safe and comfortable. I thought I can come to China and with every hour of work I can help make life better for so many more people than I would in Switzerland, because in Switzerland nobody's looking for change, while in China the consensus is: "something needs to be done".
I also realised that as China solves these problems, there is a risk that at the same time they could cause the same problems somewhere else, especially in Africa, because Chinese companies produce a lot of food there alongside local governments and companies. What's more they are probably using the Western "green revolution" model of chemical fertilizers and pesticide, what is known as "input-output" farming. In the sixties and seventies the American agronomist Nils Borlaug popularised this paradigm shift towards producing more at any cost while ignoring the ecological debt. Even now in 2020, when we know more about alternative and ecological ways of doing agriculture such as organic or natural farming, the chemical-intensive approach is still prevalent and referred to as "conventional farming". To improve the status quo, the FAO and other United Nation organisations have luckily changed course and have been substantially promoting smallholder, agroecological and organic farming over the last ten to fifteen years.
So my idea was to spend ten years in China, build up a network of contacts, and then get sent by a Chinese company or NGO to help carry out permaculture projects in Africa, using best practices to create a nice compromise. If food has to be produced in Africa for an ever-hungry China, let's do it in a way that won't destroy the ecology, as happened in the US, in China itself and to some degree in Europe. In the end this ten-year plan developed very differently from how I had imagined. I was planning to become an organic food expert in China, and after ten years I would be all set and some organization would be more than happy to provide me with a mandate in an African country they work with. Instead it all went quite differently.
Now I'm still here, and I'm not sad about it. I like living in China, I like my Chinese friends, and it is my second home. In my heart I would like to stay here, but from the ideological point of view, looking at the world's development, I think someone with my versatile skills (technology, agriculture and design) is probably still needed in order to make those large-scale projects which Chinese organizations do in Africa more holistic. There already are experts in agriculture, construction and every other field, but there are probably no sustainability experts in the holistic sense, connecting the dots. It's probably still quite input-output oriented, rather than circular. That's why I think I might be needed there. I'm very busy doing things here in China, but my long-term goal still has to be to arrange to be sent to Africa.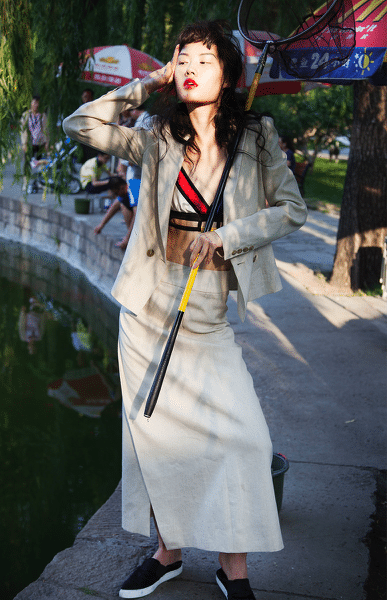 So you came to China with the idea of getting involved in agriculture, but then you spent much of your time as an eco-fashion entrepreneur. Could you tell us how this transition came about?
Yes, some also call me the "fashion farmer", and there are all kinds of other combinations. I moved to China with the intention of finding other entrepreneurs who have a green heart and want to do something meaningful, and I wanted to look into organic agriculture and permaculture. Unfortunately I couldn't find many people, because the domestic organic agriculture market was still in its infancy and most consumers were not familiar with the organic concept.
In the West we have the four major principles of organic farming, which are basically about being holistic, and taking care of the soil, animals, people and soil fertility on a holistic level. In China on the other hand, "organic" basically means "pesticide and chemical-fertilizer free". In the West organic is usually associated with family farms and smallholders, whereas in China the reality is that it is usually done by large companies that have economies of scale and can afford the relevant certifications, which are quite costly. Also, outside of China, there are requirements set by the major national organic certifiers that the whole farm has to be run organically, which is essential if you want to have a holistic system. In China, on the other hand, it is just a particular field that gets certified, so you want to use a big field and do it for as many years as possible, because every certification is expensive.
There are many organic practices, like crop rotation, which are hard to do when you are not running the whole farm organically. As a result there are hardly any smallholder organic farms in China. This is a big problem from a sustainability point of view, but also for civil society, because an organic farm theoretically has more ways to make a living, you can actually have quite a high output after the conversion, you have more ways to engage with your neighbours, and you have eco-systemic advantages like more resilience and better soil quality. This is something that doesn't happen that much in China, because it's basically large-scale organic farming only. This is certainly better than nothing, because we have pesticide and chemical fertilizer-free food, but it's not as good as it could be.
I understand why they are doing it this way, because it's probably easier to manage a few thousand big organic farms than a few million small ones. It's also a mindset similar to the famous "let some get rich first" slogan, there needs to be a pilot you can control, and once it works you can adjust the system to work for everyone else. This is only my interpretation of course, I would not call myself an organic farming expert, and in fact I have more expertise in the field of independent fashion and also organic textiles.
So I wanted to support the organic movement in China, but I quickly realised that it's very hard to find the right contacts and business model and make a living out of it. Then my Swiss friend Amihan Zemp, a designer with a strong artistic streak, approached me and said "why don't we create an organic fashion brand, so then we can support the organic movement and do something both of us like, which is design?" At first I said I didn't have time, but within a few months I was on board and totally involved. The challenges were manifold, because it was very hard to source organic cotton, linen and other fabrics, and it was equally hard to find production partners for making samples and later for production. As if that wasn't enough, we also had to build up sales and distribution in parallel, and convey our message to media organizations that were yet to be eco-sensitivised.
We started the company in Hong Kong, because I was living in Shenzhen at the time, but after a few months we decided to move to Beijing, the cultural capital, because we thought that cultural exchange must be an important aspect as well. That's how NEEMIC started. We built up a few collections over roughly five years, and we made a name for ourselves in the field of independent sustainable fashion in China. We sold our pieces in some of the best places, like UCCA, Brand New China, and a few other independent designer shops, and we also started our own website and web-shop, which was important back then because there was no Weidian in 2011.
It was very big work, and we influenced hundreds if not thousands of fashion designers, talking at fashion universities, going to fashion organic trade fairs, sometimes organising our own exhibitions with other small brands and independent designers and artists. This made us very familiar with Beijing and Shanghai's independent art and design scene, because the circles are quite small and you get to know the shakers and makers. It was a beautiful time, but I lost a lot of money and didn't sleep much. By 2015 Amihan was increasingly suffering from the pollution and decided to return to Switzerland, and I could barely keep it up. I kept running the company on my own until 2017, after which I stopped operations.
During the years I kept working on other projects as well, for instance I got involved with Interactive Beijing, an NGO created in 2012 by professor Fei from the Central Academy of Fine Arts, and an artist, Lulu Li. It was a platform to raise environmental awareness about air pollution. We attended the Beijing Design Week with a fun installation, the Eco Air Bubble, which included four stationary bicycles of the kind you use for exercise, and then generators attached to these bicycles, so that as you cycled you could produce enough electricity to power an air purifier. In these bubbles, with a diameter of 9 metres, we would put 264 plants of different species and varieties, some would produce a lot of oxygen, while others were against the environmental hazards, filtering out heavy metals and so on. It was a lot of fun, but also a lot of work, and it rather distracted me from concentrating on NEEMIC. Perhaps if I had fully focused on it we might have been able to sustain it. The thing is I lack the money-making focus of a businessman, I'm just a hopeless idealist.
In any case that is the story of NEEMIC. It was very rewarding, because we learnt about supply chains and about design, art and cultural media, and the people mingling with us were sometimes quite interesting. I don't regret it, it was a very big investment but still unforgettable.
When it comes to the concept of sustainable fashion, or eco-fashion, would you say the attitude of Chinese consumers has changed since you first got into this field?
Yes, it has changed a lot, because in 2010 the concept of organic or sustainable fashion hadn't reached the mainstream, except in the baby clothing segment. Recently the concept of organic food has started becoming popular, because it's about doing the best for your health and your children's health. In fashion there are some choices that have an effect on your health, for instance using natural fabrics that don't have any hazardous substances left over from the processing phase. This can have an effect on having or not having an eczema or allergic reaction, but it's not very clear and science is still unsure how much of an effect it really has. Back then it was just not a topic, and for us it was difficult to advertise and showcase our benefits, because when you spoke about how organic agriculture means paying a better price to the farmer, how it takes better care of the factory worker and all of these holistic aspects, the consumers generally didn't care.
Our approach was to always focus on design first. We were taking the position that our production was as sustainable as possible, but we were focusing our external communication on its beauty. If you look at our articles or our website, we mostly showcased this aspect. We tried to find this balance, to make something beautiful that was also sustainable. We had some success; there was a fashion crowd and a culture crowd that were receptive to something beautiful but also sustainable.
There are many aspects in which younger consumers are starting to behave differently. We realized people under 30 were a lot more interested and open to the kind of story and value-proposition we had to offer as a sustainable indie fashion brand. They thought it was something new, meaningful, and we had a minimalist style that was rather new and avant-garde at the time. This young generation seemed to think very differently from the people 10 years older, the ones now 40-45 years old. That generation seems to have been much affected by looking at the USA as some El Dorado of consumption, and they took in that value system where everything has to be bigger and faster.
Those under 30, on the other hand, who had the chance to have a more diversified education and life experience, perhaps from traveling or even exposure to urban subcultures, are open to the idea of China having meaningful brands of its own again, which they find cool and allows them to value their own culture, traditions and history. There is some connection with rising nationalism, but more than that it's young people asking themselves the meaning of life, their position in society, what society can do for them as citizens and what they can do for society. The younger generation doesn't have to struggle to survive anymore, and so they are looking for something more, something meaningful, whether it's mindfulness classes, farmers' markets or things which bolster their cultural identity. In ten years I have seen a lot of swift changes in terms of the younger generation getting interested in local quality products with a story behind them. This is one of the reasons I love being in China, there is such big change going on, and I want to help these young people sharpen their consciousness, improve their access to sustainable alternatives and co-create solutions which contribute to an ecological civilization.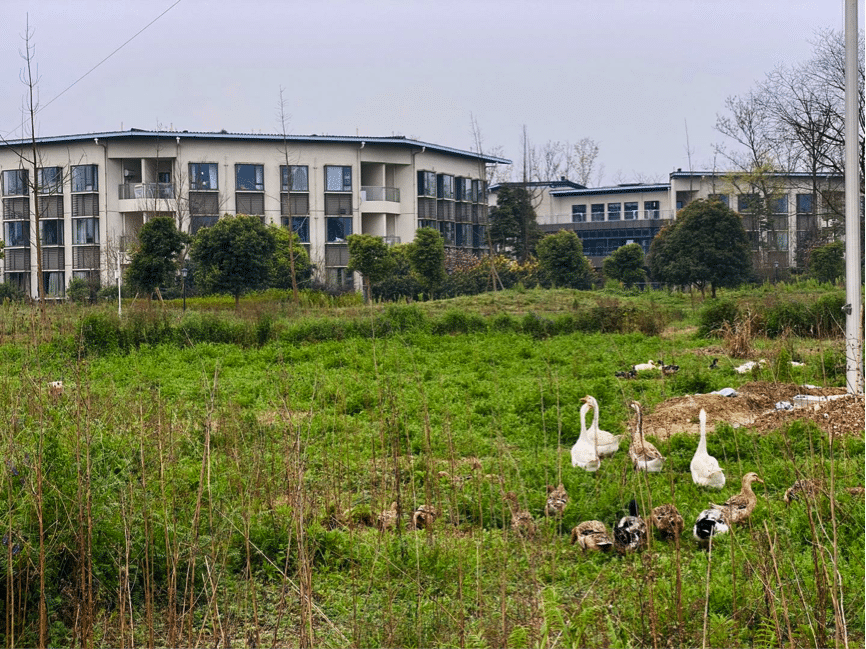 Could you tell us a bit about Huadao Ecovillage where you currently reside?
The Global Ecovillage Network has Huadao listed as one of nine ecovillages in China. We are located in Sichuan, 50 km outside of Chengdu and near the Anren old town, which is also worth a visit. At Huadao we strive for many aspects of what can be seen as typical ecovillage characteristics, such as embracing sustainability and fostering inner growth. When some of your readers hear of an eco-village they might think of strict self-sufficiency, self-made clothes and feasting around a fire, but we at Huadao are actually living in modern housing. It's a new settlement surrounded by a scenic landscape, built in a round shape similar to the tulou in Fujian, yet instead of rammed earth and wood it is built with pre-fabricated composite modules that save a lot of carbon. Our two main housing complexes have spacious basements that we are currently furnishing so they can hold enough food and water to sustain us for at least six months. Most of our food we grow in our herb and vegetable gardens, and on our roughly 180 mu farmland.
Our residents come from diverse backgrounds and while some have localized their operations, others still need to commute into the city for independent business or employment. Right now we are just a few dozen people, and not all apartment owners are living here for the majority of the time. There are plans to extend our settlement so it can hold up to 1,400 people. So basically it will be a micro-city on green land. It's unseen in the international ecovillage world, and it's also maybe not organized according to the ideals of the permaculture movement, which are typically applied in ecovillages. 1,400 people living in one place can lead to centralized bottlenecks and also create other challenges for becoming truly sustainable and resilient.
However, when looking at the Chinese characteristics of its development model, Huadao's model could perhaps be a good fit and become a blueprint that the government can promote all over the country. There are very few ecovillages in China, and none are truly functioning in the sense of being very sustainable and very profitable at the same time, as well as easily scaled. So there's no fully functioning model yet, which means there is still the opportunity to make a model that fits the requirements of the government's ecological civilization vision. In Huadao's case, even if it eventually is going to become quite populous, a kind of "ecovillage city", the effective total environmental footprint per citizen can be very low if we optimise our local circular economy.
My position at Huadao is "ecopreneur-in-residence", and my main role is to act as a sustainability consultant. For example, one of the projects I'm responsible for is our zero-waste program. Hence I'm helping to optimise our infrastructure and processes for the closed-loop handling of materials. Moreover I'm helping to shift our mindset away from consumerism, towards growing our own natural resources. We especially try and target the one-use throwaway culture by preaching and practicing the 6R values (Rethink, Refuse, Reduce, Reuse, Recycle, Replace).
The urge to shop online, the kuaidi mania, sometimes also strikes some of our residents, and it leaves plenty of rubbish which we cannot reasonably reuse or recycle. In order to further increase the consciousness of our lifestyle we are also seeking spiritual advise by studying Laozi's Daodejing and the works of other sages of Eastern philosophy.
What is also interesting is that the local governments still have mostly GDP goals, but at the same time they increasingly must achieve qualitative goals regarding a sustainable lifestyle. That includes the need to report inspiring stories of eco-pioneers and other green achievements that can help to promote the mantra of the ecological civilization. As an example, a few months ago a group of government workers from a neighboring city with slightly more than half a million inhabitants came to Huadao for a day. Most were from the department for social security, and I had the chance to introduce aspects of sustainability such as Huadao's zero-waste program, and most seemed sincerely interested. They weren't shy about asking questions, which made me feel very positive, and they obviously seemed to think this was something which will have a relevance for them in the future, maybe on the professional level, but certainly also on a personal level. They were between 20 and 30 years old.
The Huadao ecovillage grew out of an umbrella organization called the SDC (Sustainable Development Committee), a nonprofit started in Beijing in 2005, which combines people from industry, media, and the grassroots looking for a more sustainable China. The SDC maintains a network with many European projects, including ecovillages and sustainability foundations, so there is quite some exchange. Sometimes SDC hosts conferences at Huadao, for instance in June we held a four-day conference with IPR, a government-owned Shenzhen architectural company with 700 employees. It's one of the biggest Chinese green architectural companies. They are the ones taking care of the sustainability of Daxing airport and the Xiong'an New Area, and they are considering getting on board with Huadao and helping make it succeed, so that they can then roll it out all over the country.
So there are these cross-sector collaborations, with the goal of spreading the "ecovillage" concept further in China. And this is another thing I find very interesting, China may make it a national policy to become a global leader in building ecovillages, in a way that I have never seen or heard of anywhere else in the world. There would have to be many compromises of course, but it could still be positive and beneficial in the long-term.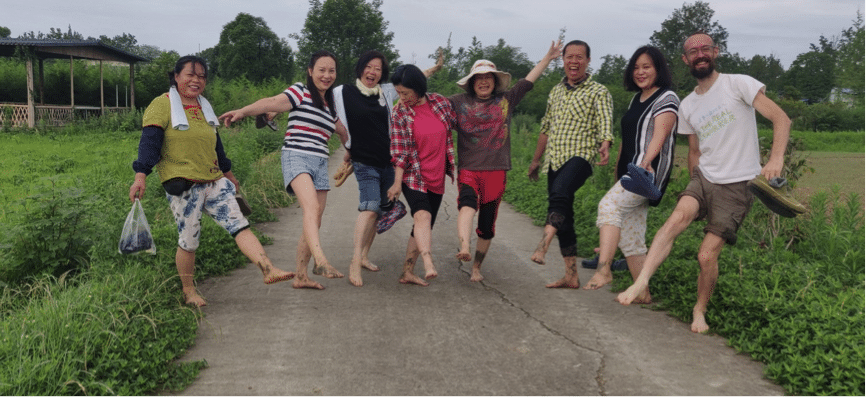 What have you been most busy with recently?
I was looking for ways to strengthen Huadao's zero-waste program, and foster the mindset shift in an effective yet playful way. I found inspiration in the Repair Café movement which started 2009 in the Netherlands, and in the meantime has over 2,000 local adaptations on nearly all continents. The underlying idea is to organise low-key meeting events where neighbors could repair their broken items themselves, supported by specialists and in a relaxed atmosphere.
While preparing our first edition I realised that there hasn't yet been a Repair Café event taking place in Chengdu or even in the whole of Mainland China. Hence on September 5, 2020 around 35 motivated young people joined the first edition taking place at our Huadao Ecovillage, and became the starting point of our newly created Repair Café Chengdu community.
On September 19 we held our second Repair Café event, and one of the challenges that presented itself was attracting competent craftspeople/artisans who are willing to voluntarily share their skills, because the eco-systemic value is not obvious to everyone. Also the desired "teaching to fish" approach between the craftsperson and the participants seems to require a mental exercise for both sides of the table, because the concept is an unconventional model that is novel to China.
Nonetheless, both editions were well received by everyone who participated, and many goods found a new life. Hence I decided, and luckily Huadao is supporting me, to try and spread the Repair Café concept to other parts of China. So far we are in talks with independent zero-waste advocacy organisations such as GoZeroWaste in Beijing and GreenDrinks Shenzhen.
Attentive readers may ask themselves how I and my colleagues get paid for all of our efforts, given that the Repair Café concept requires voluntary work from everyone involved! Initially we didn't know either, we just wanted to make it happen. But then something unexpected happened. We got approached by several district-level governments that aim to holistically engage communities in their territory with that concept and enhance it with related education (e.g. zero-waste management) and fitting commercial offerings (e.g. farmer markets). When such combinations of events are organised in a coherent and effective way, it can lead to meaningful empowerment for which government budgets can be created, with Huadao giving a hand to settle the transactions. This business model is a good match for my ecopreneurial dream of scaling up sustainability while making it lucrative enough to attract countless followers.