On November 7th 2015, the Amity Foundation's 30th anniversary gala dinner was held in Nanjing. Qiu Zhonghui, current vice president and general secretary of the Foundation, pointed out at the ceremony that philanthropy should go beyond national boundaries, languages and races, and mutual respect and equality should be the consensus for charities of all kinds.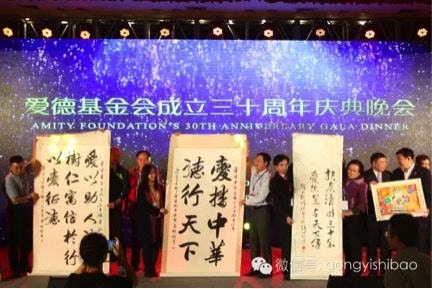 Photo taken at the 30th anniversary ceremony
The Amity Foundation, founded in 1985, has developed from a three-people team to one with more than one thousand staff over the past 30 years. In 2004, the Foundation started to establish its own fundraising team, and the team has raised up to 2 billions yuan till the end of 2015. Also, with the implementing of the "going-out" strategy, it has provided overseas services to many countries such as Nepal, Philippines, Kenya, Ethiopia and Madagascar. It has also registered two oversea offices: one in Addis Ababa, Ethiopia and the other one in Geneva, Switzerland.