August 1, 2013 China Development Brief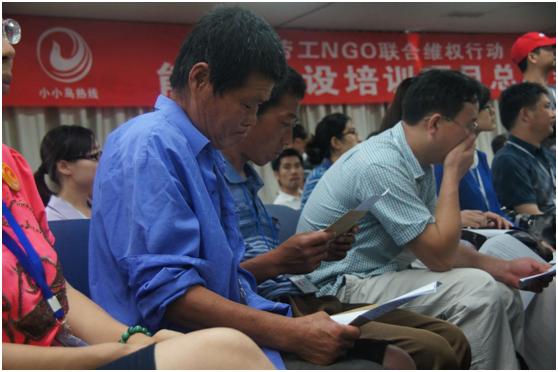 Worker Representatives of the Participants
Mr. Wei Wei is making a summary statement.
In the afternoon of July 29, 2013, Little Bird Mutual-Aid Hotline for Migrant Workers held the closing meeting of the Project on Capacity Training for Chinese Labor NGOs'United Rights Protection Campaign. A total of 58 representatives participated in this meeting including the beneficiaries of migrant workers, lawyers, NGOs, the representatives of associations from higher institutions and enterprises.
In the meeting, Little Bird Mutual-Aid Hotline for Migrant Workers shared the project's progress with all the participants which further enhanced people's understanding of the 10 labor NGOs from nine cities, namely, Shenyang, Beijing, Shanghai, Shiyan, Chongqing, Yongkang, Shenzhen, Fanyu and Foshan. Since May of 2012, the 10 labor NGOs have been publicizing their basic service information including human input, the number of receiving hotlines and visits, the amount of wages that were claimed back, the number of direct beneficiaries and other indicators, all together 10, through the media. By doing so, a inter-city network of mutual aid platform which provides free legal services for migrant workers has been established. Furthermore, the platform also increases the transparency of labor NGOs' work, reduces their sensitivity and improves their social credibility. It enables labor NGOs to better service the migrant workers and also effectively promotes the development of Chinese civil society.
Besides, representatives from Narada Foundation, Misereor Germany, Canada Fund, PILnet(The Global Network for Public Interest Law), Embassy of United States of America in China, Embassy of France in China, Embassy of Japan in China and Embassy of Switzerland in China also participated in the closing meeting and had a chance to interact with the labor NGOs thereby providing them with a good fund raising platform. Therefore more NGOs are able to participate in a positive development trend.
This project was funded by AusAID. According to statistics, since March of 2012, this project was reported by 45 times by 11 media outlets. The ten labor NGOs answered 34,457 hotlines, received 8,340 people's visits, helped 65,359 migrant workers claim back wages amounting to RMB 100,998,182.96 (US$16,462,704).