The National Committee is very pleased to be working in partnership with the China Global Philanthropy Institute in Beijing, the Hong Kong America Center in Hong Kong, and the Chiang Ching-kuo Foundation for International Scholarly Exchange in Taipei to administer a two-way exchange for emerging leaders in China, Hong Kong, Taiwan and the United States in the fields of environment, philanthropy, legal aid, and community building among marginalized populations. The program, funded by a grant from the U.S. Department of State's Bureau of Educational and Cultural Affairs, is a capacity-building project for professionals in the non-governmental sector.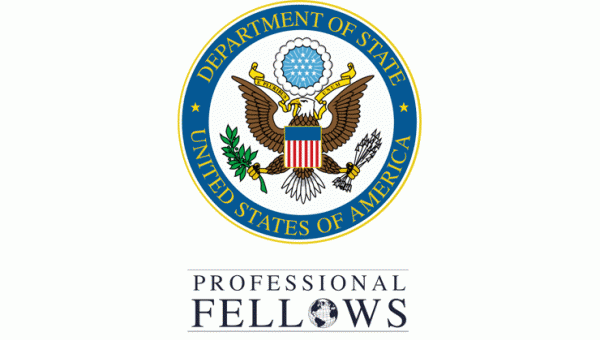 The Professional Fellows Program (PFP) comprises four rounds: 14 fellows from China, Mongolia, Hong Kong, and Taiwan traveled to the United States in April-June 2018 and three Americans traveled to China in August 2018. Similar numbers traveled in October-November 2018 (Fellows from China, Hong Kong, Taiwan to the United States) and ten Americans will travel to China, Hong Kong, or Taiwan in spring 2019. All Asian participants take part in pre-departure and post-arrival orientation programs, a four-week fellowship at a relevant host organization in the United States, a two-day wrap-up and evaluation session, and a Professional Fellows Congress in Washington, D.C., for fellows from more than 60 countries and territories around the world participating in similar programs. After returning home, fellows will develop and implement a project based on and informed by their fellowship experiences.
This is a program of the U.S. Department of State, administered by the National Committee on U.S.-China Relations.
October 15, 2019

 to 

November 23, 2019

Applications due March 30, 11:59 pm Eastern Standard Time, 2019.
Applicant Criteria:
Emerging leaders from the NGO sector 25-40 years of age who work in the fields of environment, philanthropy, legal aid, or community building. Outstanding applicants from other fields will also be considered. A limited number of slots for academics or government officials may be available
Demonstrated proficiency in written and oral English (able to live and work independently in the United States)
Genuine commitment to developing and implementing an independent project in home country after the conclusion of the fellowship portion of the program
Demonstrated professional excellence
Independent and self-directed, able to complete an independent 5-6 week fellowship
Limited previous experience in the United States (less than three months)
The National Committee on United States-China Relations will work with participants to obtain visas and make all travel and lodging arrangements. Lodging during the fellowship period may be in homestays, dormitories or shared apartments. All costs for participation in the program will be covered.
Fall 2019 Inbound Program Schedule
October 15: Pre-departure orientations – Beijing, Hong Kong, Taipei
October 16: Travel to the United States
October 16-19: Post-Arrival Orientation, Washington, D.C.
October 20: Travel to host city
October 21-November 15: Fellowship placement
November 16: Travel to Washington, D.C.
November 17-19: Program wrap-up
November 19-22: Professional Fellows Congress
November 23: Travel to China/Hong Kong/Taipei.
To apply, please click here