What are the similarities and differences between everyday life on the roof of the world and in the mountains of Africa?
Wang Jing, director of the public relations department at Peaceland Foundation, is probably one of the best people to answer this question. She was born on the Tibetan Plateau, and has been promoting community development assistance projects in the city of Moshi, located in Tanzania's Kilimanjaro Region since last September.
"Sunshine, clouds, blue sky, and the prairie with cattle and sheep leisurely eating grass. Everything here in Kilimanjaro reminds me of my childhood in Qinghai," said Wang Jing.
She emphasized that the slow pace of life is the biggest thing that the two places have in common: "Both the ethnic herdsmen in the Himalaya Region and the Maasai people here are happy and carefree."
"I have to say, the rhythm of life in the mountain regions is very different from that of the cities, especially compared to economically developed regions in eastern China," Wang added.
Wang had never visited a big city until she passed the college entrance examination. Wishing to see outside her hometown, she applied to colleges in eastern China and was admitted to Nanjing Hohai University, where she majored in water engineering.
Deciding to work for a charity
Wang has been interested in charity since she was in middle school and has volunteered in nursing homes and orphanages, something she continued to do during her college years. But at that time, she had little knowledge about the NGO sector.
Curious about the world outside China, she decided to study abroad in her senior year, and was accepted by the University of Melbourne, Australia, where she studied global media communication, which included researching NGOs.
As her understanding of the nonprofit sector gradually deepened, she found that this was exactly the cause she wanted to devote herself to, so at the end of her studies she started looking for work at NGOs.
In 2018, she noticed a job advert posted by the China Foundation for Poverty Alleviation (CFPA)'s education aid department.
After a preliminary phone call, Wang made a special trip back from Australia to attend the face-to-face interview in Beijing, where she was able to gain a better understanding of the position. However, this presented her with a dilemma: on the one hand, she was very interested in CFPA's projects, but on the other, she was slightly disappointed when she learned that the position was office-based rather than in the field.
Just when she was considering not taking the job, another department at CFPA, the newly formed emergency rescue team (ERT), offered her a position, which led to her subsequent years working in the disaster relief sector.
CFPA, which focuses on poverty alleviation, has also played an important role in disaster relief over the years, such as during the 2008 Wenchuan earthquake in Sichuan Province, the 2010 Yushu earthquake in Qinghai, and the 2013 Ya'an earthquake. The ERT was established not only to focus on disaster relief, but also to respond to social emergencies.
Wang accepted the position with the ERT. Her first task was to visit CFPA's partner NGO, the Xiamen Shuguang Rescue Team (XSRT), to participate in related training and daily rescue work.
Together with experienced XSRT members, Wang participated in rescue work such as saving people from drowning, finding missing senior citizens, and offering psychological support to people feeling suicidal.
During her training, Wang had the unforgettable experience of helping a young mother with postpartum depression, who drowned her three-year-old stuck in a pond and was about to kill herself.
Wang and other team members rushed to the scene to intervene, but failed to prevent her suicide.
The face of the drowned child was left etched in Wang's mind, leaving her with nightmares. It was not until after a long period of counseling that Wang gradually escaped the shadow of this incident.
Joining Peaceland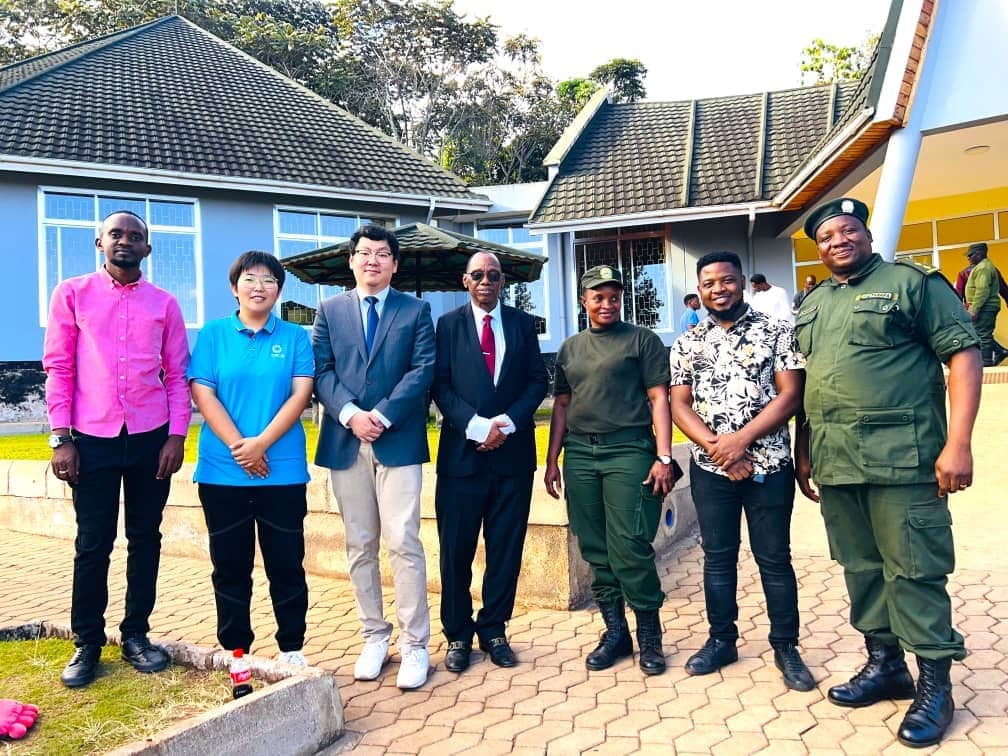 By 2019, Wang had gained some experience of conducting rescues, and she decided to join Peaceland Foundation (PF), an ambitious civil society group specializing in disaster relief and emergency response.
In the same year, PF sent a team to participate in rescue work following an explosion in Beirut, supported Syrian refugees in Lebanese camps, helped clear mines in Cambodia, and started restoration work on the Bamiyan Buddha in Afghanistan.
(see also: https://chinadevelopmentbrief.org/reports/chinese-donations-keep-conservation-work-going-in-afghanistan/)
As a newly established NGO without the support of the government and large companies, the annual project funds available to PF are only one-twentieth of CFPA.
To overcome the funding and resource bottlenecks, international communication work is critical. Having majored in international communication at college, she was appointed head of PF's public relations department.
Wang worked hard promoting the organization's activities to a global audience, but also assisting with PF's application for special consultative status with the Economic and Social Council of the United Nations (ECOSOC).
From September 2019 to March 2020, bushfires heavily impacted various regions in Australia. Wang was sent to Australia on Jan 18, 2020, to learn how local NGOs assisted with emergency relief work.
During her 20-day stay in the country, she visited many local organizations to build an international partnership network for PF.
Wang originally planned to use this newly established channel to raise funds in China to donate to Australian NGOs for the reconstruction work following the bushfire. However, due to the Covid-19 outbreak in China, Wang instead received donations such as anti-epidemic supplies for China from the Australian organizations.
During the epidemic, international transportation was greatly reduced, and many overseas projects were impacted.
When the delta variant began to spread around the world, PF provided anti-epidemic supplies to several countries where PF's existing projects were advancing remotely.
At the same time, more activities were carried out in China. In the summer of 2021, when a flood hit Zhengzhou, Wang also joined the PF disaster relief team to help with rescue work.
Dispatched to Tanzania
By the second half of 2022, Wang finally got the chance to go abroad again. She was sent to Tanzania in September to help with disaster relief work in the Kilimanjaro Region.
(see also: https://chinadevelopmentbrief.org/reports/chinese-ngo-helps-with-disaster-relief-in-tanzania/)
Wang has now been in Tanzania for more than half a year. In addition to disaster relief work such as responding to wildfires, she has also conducted several training sessions for local partners.