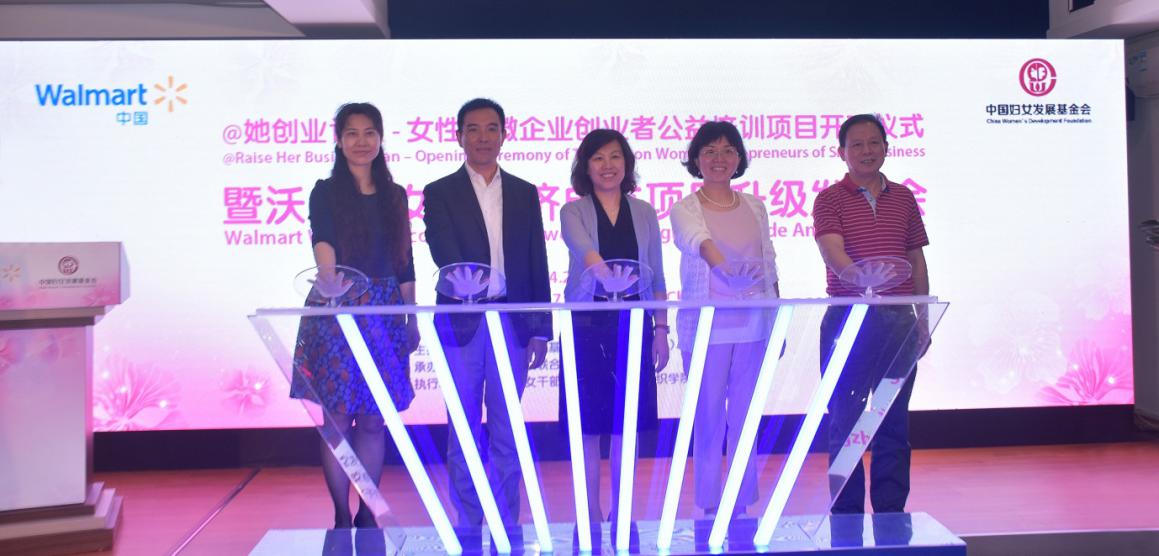 On April 25, Walmart collaborated with China Women's Development Foundation (CWDF) to launch a program which aims to foster the financial and professional strength of women entrepreneurs in China. The program draws on Walmart's vast array of global resources and China Women's Development Foundation's expertise to raise women in all walks of life to a level of financial independence. The first event on the agenda was a public welfare training seminar in Guangzhou, which was also held on April 25.
What makes this program different from previous programs are its efforts to combine targeted poverty relief efforts and innovative entrepreneurship to set forth a creative and purposeful assistance plan which will work to assist women living in rural poverty, support female micro-entrepreneurs and eradicate gender inequality in the workplace. Since Walmart established its Walmart Women's Development Foundation in 2010, Walmart has contributed over 9 million yuan to a project called "Revolving Fund for Mothers' New Ventures", with plans to donate another million yuan to women empowerment in coming years.
Walmart and CWDF first collaborated to launch a women's micro-entrepreneurial training event, which utilized a combination of online and offline training courses to develop women's professional and entrepreneurial skills with a focus on nurturing a sense of social responsibility. In addition, Walmart plans to extend the goals of "Revolving Fund for Mothers' New Ventures" to alleviate women living in rural and household poverty. Walmart also announced plans to launch a survey on the lives of mothers in first tier Chinese cities this June, which the company hopes will shed light on female social issues, foster innovative projects and alleviate fears that women may have in the workplace.
Walmart's plans to empower women in China is one of the company's three corporate social responsibility strategies in China. The company's CSR strategy aims to use the might of its global network of supply chains to give more developmental opportunities to the 670 million women living in China by ensuring workplace gender equality, improving gender hierarchy in the workplace and decreasing the wage gap between men and women. From 2010 to 2016, Walmart donated over 91 million yuan to women empowerment projects in China alone, which benefitted 170 thousand women.