In early March, at a village in Rwanda's Southern Province, a borehole in a schoolyard was repaired after lying abandoned for many years. As the well water gushed out, people cheered, sang and danced in celebration with the realization that they would no longer need to drink rainwater.
After speeches by officials from the local education bureau, Han Jin, a donor representative from China, was soon surrounded by curious and well-mannered local children.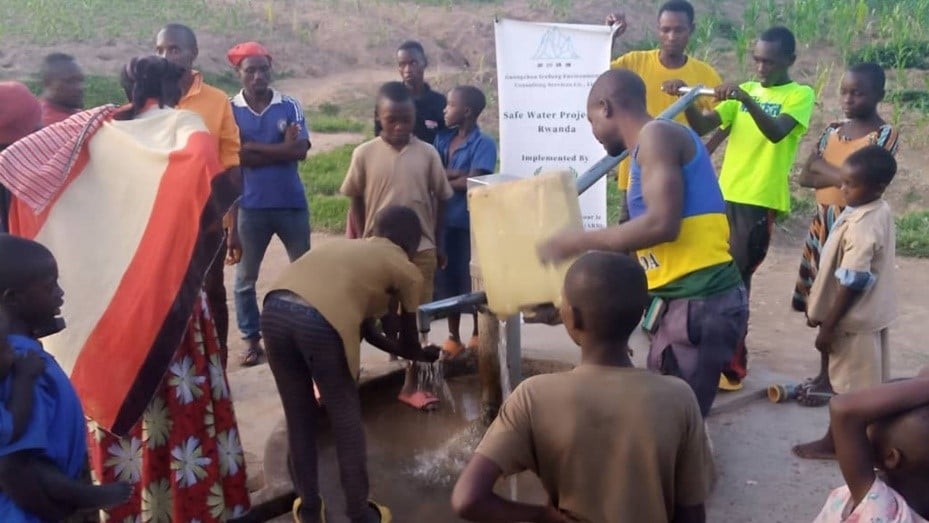 Iceberg and the market mechanism
From the United Nations Framework Convention on Climate Change in 1992, to the Kyoto Protocol in 1997, and then to the Paris Agreement in 2015, the model of promoting global carbon reduction through market mechanisms has been gradually established over the past three decades.
In China, after the government officially announced the dual carbon goals last year, "carbon emissions trading" quickly became a buzzword. Before that, a number of pioneers had already started to practice it, including Han Jin and his friend Bao Ji.
Han previously worked at the UNHCR in 2009, helping with refugee relief. In 2011, during a meeting with colleagues from UNEP, he began to think about mobilizing the resources from developed countries through market mechanisms, to promote sustainable development projects in poverty-striven regions.
Bao used to be a volunteer teacher in one of the world's largest slums in Kenya, and after returning to China he worked as the market director of Guangzhou Carbon Emissions Exchange.
The two have been engaged in the development of carbon emission reduction projects such as forestry carbon sinks, hydropower stations, wind power stations, and biogas utilization for about a decade.
In April 2020, they set up Guangzhou Iceberg Environmental Consulting Services, aiming to realize carbon emission reduction by operating livelihood assistance projects in underdeveloped areas, and to trade the carbon credits in international carbon markets to sustainably invest in their poverty alleviation projects.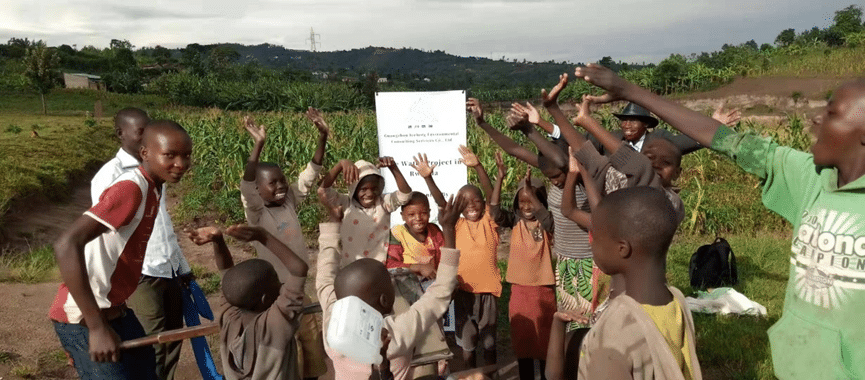 Impact of the projects
One of Iceberg's main projects involved the maintenance of hundreds of boreholes in the Chittagong Division of Bangladesh and the Southern Province of Rwanda, from 2020 until earlier this year.
Many people in the two areas rely on wells to provide clean water. Unfortunately, a lot of boreholes have fallen into disrepair due to poor maintenance capacity, organization or funding.
Iceberg cooperates with local NGOs to repair the wells to provide safe water to local communities and ensure the water quality meets related requirements. Chemical disinfection will be applied if the water quality doesn't meet the requirements following borehole maintenance – with water quality measured by a local accredited lab.
"The project can bring significant improvements to the local people," Han explained. Before the project, local communities used fossil fuels and/or non-renewable biomass to boil water for purification, which made local people vulnerable to the negative effects of poor indoor air quality.
In Rwanda, 31 percent of its population lack access to clean water and about 3,000 children die each year from diarrhea. In Bangladesh, the morality rate due to diarrhea is 7.5 deaths per 100,000.
Boiling water with wood also results in significant greenhouse gas emissions through the use of non-renewable biomass, causing deforestation and threatening biodiversity.
In addition, it is usually women and girls that take the unpaid work of fetching and purifying water, which minimizes their time for rest and study, and even their opportunities to have paid jobs.
The project provides a solution to mitigate the above problems, in line with many United Nation's 2030 Sustainable Development Goals (SDG), including SDG 13 Climate Action, SDG 3 Good Health and Well Being, SDG 5 Gender Equality, and SDG 6 Clean Water and Sanitation.
Besides, money from the sale of carbon credits generated by the project will make it sustainable and extendable.
Another of Iceberg's projects is the distribution of improved, fuel-efficient cooking stoves.
In many less developed regions of South Asia and sub-Saharan Africa, local residents still cook with three-stone fires which burn at a very low rate. Limited by their economic circumstances, they are unable to enter the era of clean energy in the short term. In this situation, popularizing fuel-efficient improved stoves is the best choice and can reduce carbon emissions by about 40 percent.
So far, the project has been carried out in Cambodia and Bangladesh, and will be soon implemented in Kenya, Madagascar, Rwanda, Laos and other countries, with at least 100,000 stoves expected for each country.
The promotion of sustainability
Iceberg's original plan was to raise funds from companies and NGOs to cover the expenses of aid projects. This could be revolutionary, because their donations to the beneficiaries could be refunded once the carbon emission reductions are certified and sold.
But it always takes time for new things to be accepted by society and the market. Regarding the future, Han said the feasibility has been proved by the company's practice in the past two years. He hopes that their model will be understood and recognized by society, attracting more donations for the projects.
In addition, there is always lots of basic work in urgent need of talented staff who speak foreign languages, understand the logic of carbon trading, and have the ambition to engage in environmental protection work.
He explained that after being certified, the project can provide a steady stream of carbon credits that can be sold, as long as the wells work well. Therefore, what Iceberg has to do, is to put more effort into helping local communities and reducing greenhouse gas emissions.
"That's why I believe in this mechanism, it naturally promotes sustainability."