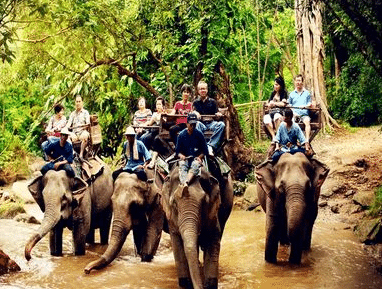 Following a report by World Animal Protection, three Chinese travel agencies have agreed not to continue promoting activities based on the exploitation of elephants. On August 9 Caissa Touristic, a popular Chinese tourism services provider, officially signed an "elephant-friendly tourism" commitment, and announced that the company will gradually stop offering "elephant riding and performance" entertainment products in certain countries and regions. Starting from November this year, Caissa will cease offering any such activities in South Asia, including India, Sri Lanka, Nepal and other countries. The company announced that they will cooperate with World Animal Protection to actively promote awareness of elephant protection among tourists.
Prior to this another two Chinese online tourism platforms, "fxtrip.com" and Zannadu, had also signed the same commitment. Elephant riding is a very popular activity with Chinese tourists in countries like Thailand. However animal right groups have long discouraged people from engaging in it, claiming that the elephants are trained in cruel ways as cubs, and often live in harsh conditions. What's more elephants are not in fact made to support the weight of human beings on their backs, as hard as this may be to believe given their size.
World Animal Protection's investigative report was released this July, focusing on elephants' living conditions in Southeast Asia. According to the report, nearly 3,000 elephants are currently being used for tourism and entertainment purposes, and over three fourths of them are kept in environments described as very harsh. Between 2010 and 2016, the number of elephants used in tourism in Thailand went from 1688 to 2198, increasing by 30%.
Some experts have however expressed opposing views on the matter. Wang Haibin, an ecologist from the Chinese organization Eco-bridge Continental, claimed in an interview that the public and society generally only care about wild animals when they have some sort of economic value. Economic value can include both expendable uses (such as hunting) and non-expendable uses (such as performances). Following the growing awareness of wildlife protection issues and the increase in standards of living, the public has begun to care more about the welfare of animals and wants to improve their living conditions. However, Wang Haibin said it must be remembered that there are very few Asian elephants living in the wild. If elephant performances are not allowed anymore in South-East Asia, the local people may lose any enthusiasm for raising Asian elephants, and this will harm the prospects for the sustainable continuation of the species.