Beijing's Public Security Bureau (PSB) has awarded registration credentials and chief representative certificates to the Beijing representative offices of 15 overseas NGOs on June 30th. In addition to the Ford Foundation, other organizations registered included Give2Asia (USA), the Asia Foundation (USA), the Caterpillar Foundation (USA), the Environmental Defense Fund (USA), the Motion Picture Association of America, the International Federation of the Phonographic Industry (Switzerland), the Pacific Asia Travel Association (USA), the United States Information Technology Office, the China Cable Chamber of Commerce (Hong Kong), the World Trade Centers Association, the Japan-China Investment Promotion Organization (Japan), the Japan Iron and Steel Federation and the Korean Film Council.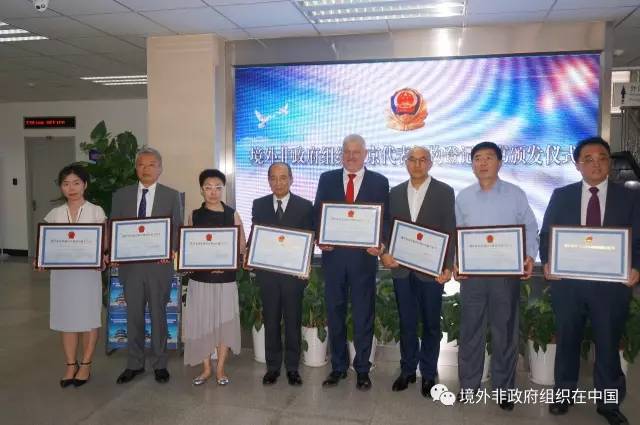 Officials from the Ministry of Public Security, the Ministry of Environmental Protection and the National Friendship Association attended the ceremony as representatives of the Professional Supervisory Units. The Overseas Non-governmental Organization (ONGO) Management office of the PSB congratulated the organizations on their successful registration and expressed the wish that they would conduct their activities by strictly following the Overseas NGO Law and playing a positive role in their own field.
CDB is holding a workshop on the registration of overseas NGOs in China on the 28th of July. For more information, please see here.